Xiamen, formerly known as Amoy, is a provincial city in southeastern Fujian, China, beside the Taiwan Strait. It is divided into six districts: Huli, Siming, Jimei, Tong'an, Haicang, and Xiang'an. Altogether, these are embraced at an area of 1,699.39 square kilometers (656.14 sq mi) with a population of 3,531,347 as of 2010. The city is known for its mild climate, rich local culture and modernized architecture, as well as its relatively low pollution. In 2006, Xiamen was ranked as China's 2nd -"most suitable city for living in 2011.
Surrounded by lush gardens and beaches, and hip boutique cafes and hotels, this city is also recognized as the kind of Chinese Mediterranean, in all its wonderful landscape, and excellent infrastructure. This vibrant and modern city was named the most livable city in the world in 2002 and one of the first cities to be named a Special Economic Zone. Xiamen is best known for being home to Gulangyu Island, a beautiful island full of historic colonial buildings and lovely walking paths.
Xiamen has a monsoonal humid subtropical climate, followed by long, hot and humid summers (but moderate compared too much of the rest of the province) and short, mild and dry winters. The warmest month is July, and oddly, the coolest month is February.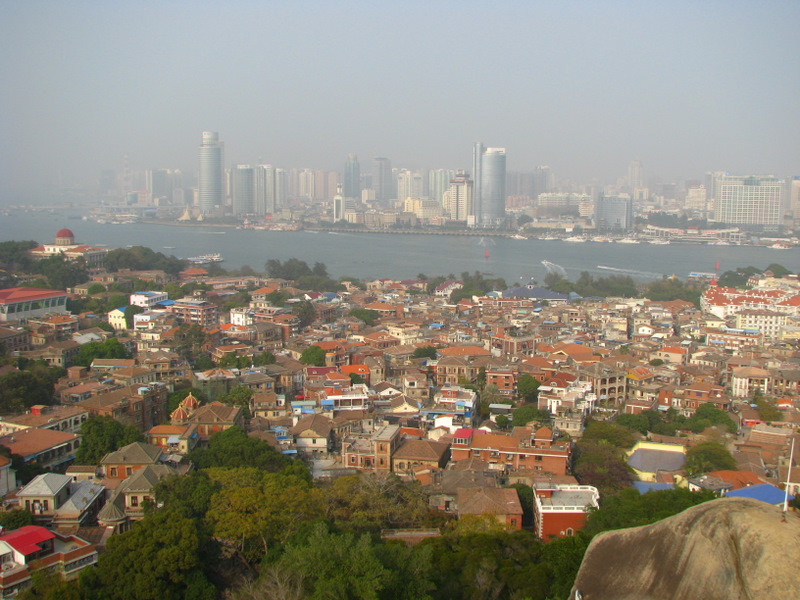 Studying in Xiamen would be a wonderful experience as it has a nice ambiance that is productive for learning and student life. Universities and schools have good student facilities and classrooms. Some institutions are right in the distance. Student accommodation inside campus has proven to be impressve. Universities usually have separate dorms reserved for overseas students. There are many apartments that you can occupy nearby, should students live off-campus. Rooms that are available range from the plain, studio-type ones to the 3-bedroom units. Both in-campus and apartments outside are fully furnished, available hot showers, TV, study table and shelves. These rooms are also internet-ready, and most in-campus dormitories already have a connection to the university network.
Xiamen offers universities with Chinese programs ranging from a month to a year to foreigners, which has proven to be helpful because of their stringent teaching methods. Universities include:
· Xiada Unversity
· Jimei University
· Xiamen University
All courses are taken in a semester, including major and optional courses, which add up to 18—24 credits. As for the credit hours, depending on their Chinese levels, students can choose their own courses with a maximum credit hours of 24/semester.
| | |
| --- | --- |
| Elementary Chinese | Intermediate Chinese |
| Advanced Chinese | Oral Chinese |
| Chinese Listening | News Listening |
| Chinese Reading | Chinese Writing |
| HSK lectures(elementary & intermediate) | Chinese Customs |
| lementary Oral Chinese for Economy & Trade | Computer Application in Chinese Language |
| Newspaper Reading | Modern Chinese Phonetics |
| General Introduction to Chinese Character | Modern Chinese Grammar |
| Modern Chinese Rhetorics | Chinese language and social culture |
| Peoples and Customs in China | Translation |
| Poems of Tang Dynasty | Chinese Movies |
| Chinese Music | Chinese Calligraphy |
| I-go Game | Minnan Dialect |
| Chinese Kungfu | Chinese Dances |