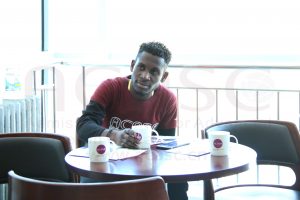 ACASC Representative: What were you doing before you came to Hebei North University?
Prince: I graduated from SDA Nurses Training College, Ghana with a Diploma in Nursing in December 2010.
ACASC Representative: Why did you choose to come to China to study in Hebei North University?
Prince: My aim was being a medical Doctor so I heard about Hebei  North University and was very determined to be a part of Hebei North University . I am most interested with the international education focus along with the challenging and rewarding environment of the program. This is the main reason that I choose this university. Additionally, living in Zhangjiakou  will let me experience different diverse cultures and traditions and also enrich my Chinese language skill.
ACASC Representative: What do you most like about your course?
Prince: My experiences studying this course are exciting. I have the opportunity to interact with a number of students from many different countries. What I like most is the professional attitude and the study environment that was provided for me. Another thing I liked was the close knit and interpersonal communications that were prevalent between professors and students. Every professor also believed in their students and seemed to really think about students' future growth and professional progress.
ACASC Representative: How do you think your course will help you with your future career?
Prince: Currently, China has evolve into one of the most important countries for studying medicine. China has fascinated me for a very long time especially in the areas of language and culture. I decided to advance my education by attaining my Bachelor in Medicine, Bachelor in Surgery and especially here in China because their medical schools are recognized by World Health Organizations (WHO) and Ghana Medical Association (GMA). Even after just two years of studying at Hebei North University, I have been enhanced in the medical field with some clinical experience.
ACASC Representative: What do you do in Zhangjiakou on vacation?
Prince: There are lots of things to do with free time in Zhangjiakou. Activities such as sightseeing with friends, exploring Chinese food by eating outside, or taking Chinese language classes.
ACASC Representative: What is your future plan?
Prince: I want to be a good Medical Doctor. My country is developing and need doctors to improve the health sector. Ever since I was a child, I have tender loving care for people who needs help. After completing my course I will do my best to serve my country well to eradicate diseases. I like being a health care personnel and studied nursing after high school.
Save