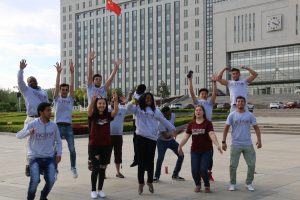 The first day of school is usually a mix of feelings. The excitement of the new things, the nervousness of the change of environment, and determination to start classes and make new friends are just a few of them. For an international student, a new semester means a new opportunity try new things and getting out of your comfort zone. After all, that's the basics of traveling to another country. Developing a social life can be challenging when you travel alone but thanks to technology, the distance between people have become shorter.
Nowadays, we have many ways and fewer excuses to join a new club or learn new skills. As someone in a foreign land, it might be hard to find the right niche but this task can be very fun!
The Student Union on Campus
Almost every college or university in China is equipped with an international students group called "Students union." That is where most events around campus will be organized or will be announced since it's a high traffic area. During your weekend or vacation, if you are looking for groups to join or things to do, make sure you visit your on-campus student union. Some student unions will have soccer to play, watch a movie in theaters, study groups, partying, visiting some exciting places and popular restaurants for your convenience. If you don't have any schedules, the student zone makes it easy for you to find something to do and socialize.
Meeting up with friends
Once you begin your search for something that might interest you, technology is your best friend. Ninety-nine (99%) percent of the time, there will be an app connecting you to nearby events, groups in the proximity, and places of interest etc. For example, WeChat is a great app for your mobile phone where anyone can create an interest group and be joined by people around your city, within the country or outside china. Another convenient app if you need a ride somewhere is Didi (Uber). Didi is quickly replacing public transportation in most cities. They arrive in just a short time and are more convenient and cheap. Didi drivers are regular people with a car that will give you a ride, sometimes, for a fraction of the cost of a taxi.
Ask your colleagues
If you live on-campus, you probably come across different kinds of people every day. While some people are social butterflies, others may prefer hanging around one or two friends. However, the residence halls or dormitories are a great place to find out about activities or the nightlife during the weekend. It serves as a good place to start since most people around you will be looking for something to do. Never feel like you are the only one trying to explore and try new things when you live in the dormitories.
Now that you have a place to start, you should be able to change scenery and do new things. Go from your bed to recreational parks to learn new dance move and making lasting memories on this exciting time of your life. Feel free to take a chance out there and never fear going to an event or joining a group. The only thing you might lose is the boredom of staying home.