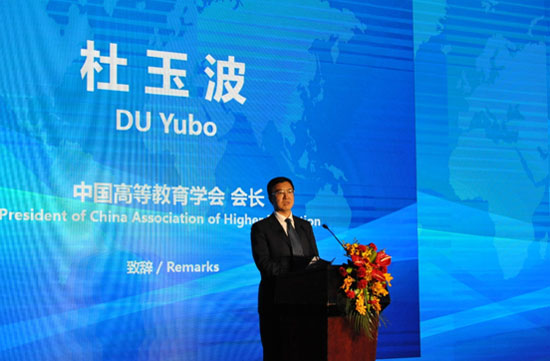 On March 23, 2018, the "2018 China Study Abroad Forum" sponsored by the China (Ministry of Education) Overseas Study Service Center was successfully held at the Beijing Liangma River Conference Center. The theme of this forum is "To join hands in creating a new era for studying abroad."
More than 50 overseas universities, embassies and overseas educational institutions from Australia, the United States, Canada, China, Malaysia, New Zealand, Spain and the United Kingdom, as well as more than 50 institutions of higher learning in the country About 300 guests attended the China Study Abroad Forum.
The main forum consists of two parts. Mr. Du Yubo, Member of the Standing Committee of the 13th National People's Congress, Deputy Director of the Education, Science, Culture, and Hygiene Committee and President of the China Higher Education Institute, Mr. Tao Hongjian, Deputy Counselor, Department of International Cooperation and Exchange, Ministry of Education, USA, International Education Association of America, East Asia Regional Director Paul Turner, Ms. Adele Bryant, Education Counsellor of the New Zealand Embassy in China, and Dr. Janet Brown, Managing Director of the Scotland Qualifications Management Board, gave keynote speeches on the theme of the forum in the first part from the government and institutional perspectives.
Prof. Ni Xierli, Vice President of Beijing Institute of Fashion; Neil Albert Salonen, President of Bridgeport University, USA; Dr. David Pilisbury, Vice President, Coventry University, UK; Ms. Liz Bromley, Executive Vice President, University of Central Lancashire, UK; Ms. Winnie Eley, Vice President, University of Newcastle, Australia Professor Ammar Kaka, Vice Chancellor of Heriot-Watt University, United Kingdom, gave a speech on the theme of the forum from the perspective of institutions in the second part.
The New Era of Studying in China: Creating Closer Cooperation and the International Forum on Internationalization and International Certification of Business Education in China, and other supporting activities such as the Beijing Fashion Institute and the University of Central Lancashire, UK, and the Sino-British Cooperative Fashion Design Achievements Exhibition were also held in March. On the afternoon of the 23rd, it was held smoothly.