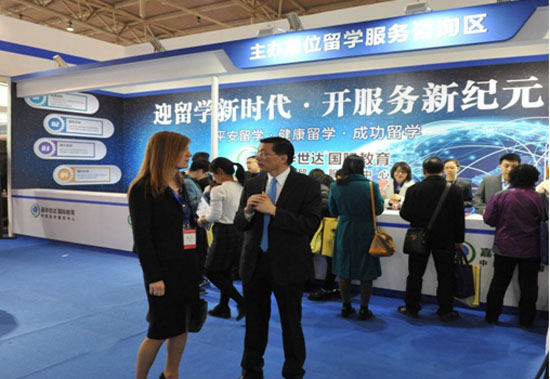 The 2018 (23rd) China International Education Tour Exhibition (Beijing Railway Station) hosted by the China Study Abroad Service Center was held at the National Agricultural Exhibition Center (New Hall) from March 24th to 25th.
This year's education exhibition attracted more than 200 universities and educational institutions from 23 countries and regions around the world. Among them, exhibitors from Canada, Ireland, Italy, Malaysia, New Zealand and the United Kingdom participated in this exhibition in the form of national exhibition groups.
More than 10 colleges and universities from 6 countries along the "Belt and Road" in ASEAN, Central Asia, West Asia, and Central and Eastern Europe also participated in this exhibition. Through various forms of display and introduction, overseas students have gained an understanding of the latest educational information and information on studying abroad in the countries in the region and strengthened the interconnection of China's educational information with countries along the "One Belt and One Road".
On the day of the exhibition, some of the country's diplomats in China and the important officials of the embassy's education department came to the exhibition site to have a cordial exchange with participating institutions, viewing students, and parents.
In order to enrich the contents of the exhibition and meet the needs of the audience, during the exhibition, the center provided on-site consultations on related issues such as studying abroad projects, depositing files before studying abroad, degree certification of overseas (out-of-bounds) diplomas, and employment registration procedures for returning overseas students during the exhibition. service. Some of the countries' embassies (consulates) and participating organizations in China will, through the seminars on overseas education policies, introduce the overseas visitors' institutions, visa policies, and various issues that may be encountered during the study abroad process.