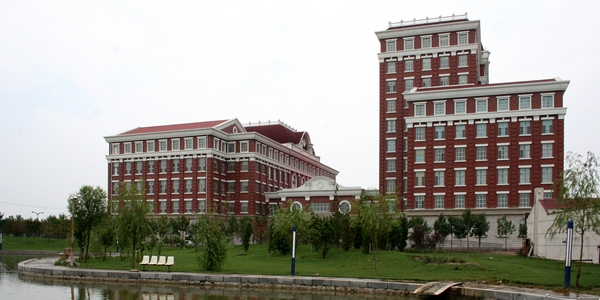 Tianjin Foreign Studies University (TFSU), specialized in language and cultural studies, is one of the earliest eight such designated institutions of higher learning. The university provides undergraduate and graduate instruction in the Humanities, Social Sciences, and Management. Tianjin (formerly spelled Tientsin) Foreign Studies University's roots can be traced back to 1921, when Tientsin Industry & Commerce University was founded at the present site on Machang Road. The university was renamed Jingu University and Hebei University, successively.
In 1964, at the proposal of former Chinese premier Zhou Enlai, the then-Qinhuangdao Foreign Languages Vocational School (later renamed Tianjin Foreign Languages Vocational School) was chartered, which served as yet another predecessor of the university. In 1974, two antecedents, then-Tianjin Foreign Languages School and Tianjin Teachers' College (today's Tianjin Normal University), merged into a new school known as Tianjin Foreign Language Institute.

In 2010, with the approval of the Ministry of Education, Tianjin Foreign Languages Institute achieved the name "Tianjin Foreign Studies University", marking an exciting new phase in the growth and development of TFSU. TFSU began to offer graduate programs in 1979, and was designated in 1981 as one of the first institutions authorized by the State Council to confer Master's Degrees, which was a great leap forward in the school's evolution. Today's TFSU has two campuses, occupying a total of approximately 70 hectares. The older one, sitting on Machang Road, features quintessential classical European-style architecture, whose beauty never fails to attract visitors. The other campus, completed in 2002, is located in the picturesque university garden of the New Binhai Area, one of China's most prosperous hubs for development.

The University has 14 colleges and departments that grant both undergraduate and graduate degrees. Additionally, a number of non-degree programs are available for students in need of professional training. Graduate programs are offered by the Graduate Department, and undergraduate programs are offered in of English Studies, Japanese Studies, European Studies, Asian & African Studies, International Business, Chinese Culture & Communications, and Law. Other academic units (e.g. the School of Educational Technology, the School of International Exchange, the School of Continuing Education, the Department of Fundamental Courses, the Foreign Language Education Center, and the Department of Physical Education & Athletic Training) offer various undergraduate interdisciplinary programs as well as professional training. Altogether 31 undergraduate programs are offered between three disciplines.

The Humanities at TFSU focus on language studies, embracing programs in English, Japanese, Korean, Arabic, French, Russian, German, Spanish, Italian, Portuguese, and Swahili studies, as well as translation & interpretation, Chinese literature, and Teaching Chinese as a Foreign Language (TCFL). Programs that focus on Journalism, Advertisement, Communication, and Animation are also provided. The Social Sciences programs include Economics, Trade, Finance, Law, Politics, and Educational Technology. Programs in Management cover Information, Marketing, Human Resource Management, Financial Management, Accounting, Tourism, and Administrative Management. Among all these programs, four have won national awards, and another 12 have been awarded prizes by the local government. All undergraduate programs enable students to pursue concentrated study that supplements the primary work of their majors, leading to a degree upon completion. Further academic interests also can be explored through various undergraduate.