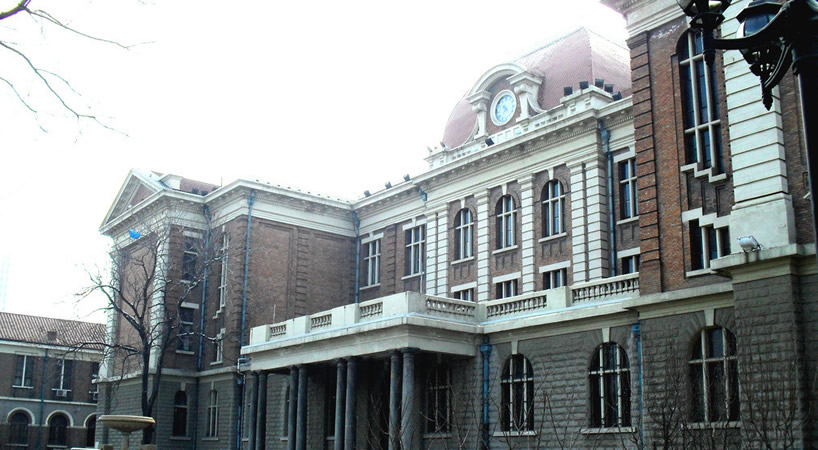 HOSTEL
Located in Tianjin, north of China, Tianjin Foreign Studies University is consisted of two campuses, which are the Main Campus and Dagang Campus. The accommodation fee of the international students ranges from RMB60~100/day/person.
• Plenty of dorms, unnecessary to book in advance
• To rent off campus is allowed
• 24 hour check-in service
• One week moving in before registration is allowed
• International Exchange Centre is available as hotel for students, parents and foreign guests.
• Pay monthly at least by cash
• Move in after registration
Main Campus
The Main Campus, sitting on Machang Road, features quintessential classical European-style architecture, whose beauty never fails to attract visitors; The Language-students are all lodged in the Main Campus, which occupies a larger proportion.
Choose campus building
• International Exchange Center
Introductions
On the Main Campus, the international students are mainly lodged in the International Exchange Center; The lobby, commercial center, and café are located on the first floor of International Exchange Center, where you'll enjoy an elegant and comfortable environment. On the second floor, there are 7 separate dining rooms and halls with distinctive styles to meet the demands of both Chinese and foreign customers. The well-renovated guest rooms span from the third to the fourteenth floors. There are over 300 rooms in total with different standards to accommodate foreign guests and international students.
Facilities:
Public Areas: public kitchens and laundry rooms on some floors, partially equipped to help meet students' daily needs.
Room facilities in single room: independent bathroom; central air-conditioning; Satellite TV; Internet; telephone; desk, chair, and bed; 24-hour hot water;
Room facilities in double room: public bathroom; central air-conditioning; Internet; desk, chair, and bed; 24-hour hot water;
Location:
The International Exchange Center is located around the North Gate of The Main Campus., to the south of Laiyin Road, not far from Building A of the Library.
Room Price
Room Type Room Price Notes
Double Room RMB 60 (per person per day)