2016 Spring Semester Opening Ceremony for Study Abroad Students Successfully Held
On the morning of March 4th, Tianjin Foreign Studies University held a grand opening ceremony for the 2016 Spring semester's study abroad students. The President of TFSU, members of the Department of
International Cooperation and Exchange, as well as representative professors and members of the College of International Exchange were in attendance. The bilingual ceremony was hosted by the College of
International Exchange's director of language and culture, Ying Hou, and American second year master's student Rae Powers who provided English translation and interpretation for the ceremony.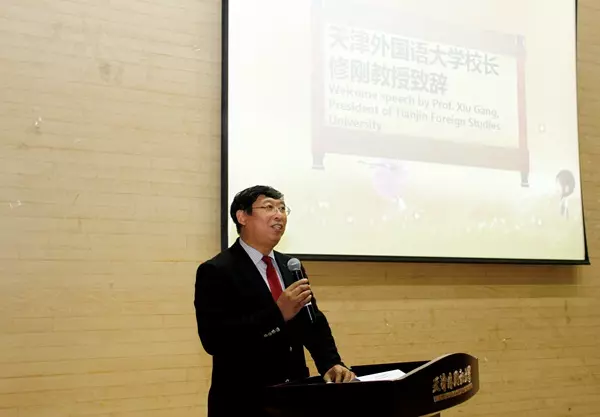 To kick off the ceremony, students gained a deeper understanding of TFSU's history and development by watching the school's promotional video. Afterwards, President Xiu Gang gave a speech during which he warmly welcomed all of the study abroad students, and expressed three wishes for their semester. His first wish expressed the hope that students will treasure their time at TFSU, study hard, enthusiastically experience
Chinese culture and improve their Chinese ability. His second wish expressed the hope that students will actively and enthusiastically participate in TFSU's many activities, introduce the culture of students' own
countries to China, to communicate with their Chinese classmates and teachers so that students can be emissaries of cultural exchange between their own countries and China. Finally, President Xiu Gang's third
wish expressed the hope that while students arebuilding the foundation of their language study, they can simultaneously develop for their future careers and earn a higher academic degree.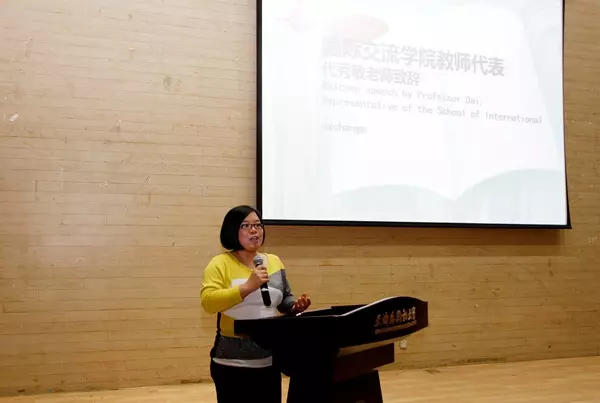 During her speech she gave as the teachers' representative, Xiu Mei said that the student's youthful vitality was infectious and she expressed the hope that
students would preserve this momentum throughout the semester. She encouraged students to listen, speak, practice and experience as much as possible so that
they can improve their Chinese abilities. Xiu Mei said that she is the students' friend first, and teacher second, and that the teachers are willing to share
both their joys and their sorrows so that they can grow together with study abroad students.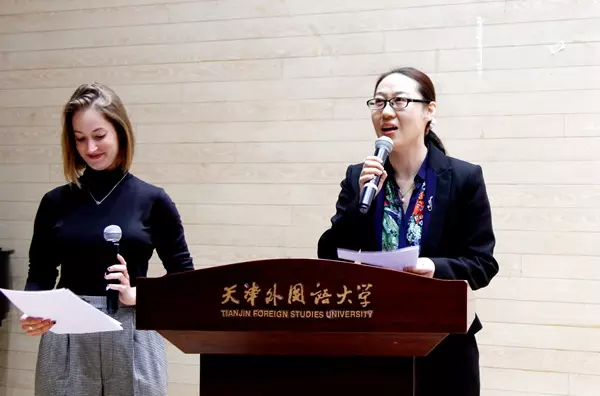 This spring semester, The College of International Exchange's meticulously designed curriculum includes sixteen different levels of courses to satisfy students'
study requirements. The curriculum integrates language program students', undergraduate and graduate students' management and development programs so that
each student is taught according to their own abilities. Thus, students studying abroad in China can have a broader study space and more interesting courses.
This semester, the "Study Abroad at TFSU" brand will be bigger and stronger.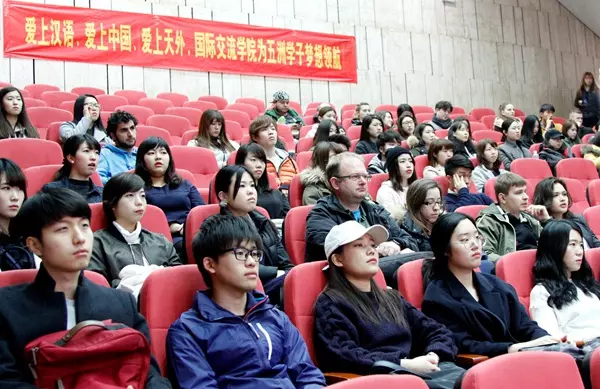 ---
International Students' Office planned Colorful Activities for Exchange Students
Despite feeling the effects from the massive explosion that took place in Tianjin on August 12th, the collective efforts of employees' in the Department of International Exchange resulted in over 400 students from 50 countries enrolling at Tianjin Foreign Studies University at the start of this fall semester. Students arrived and registered as scheduled, covering four different levels of study including language program students, undergraduates, graduates, and doctoral students. These students' areas of study cover nearly all of the majors offered at TFSU.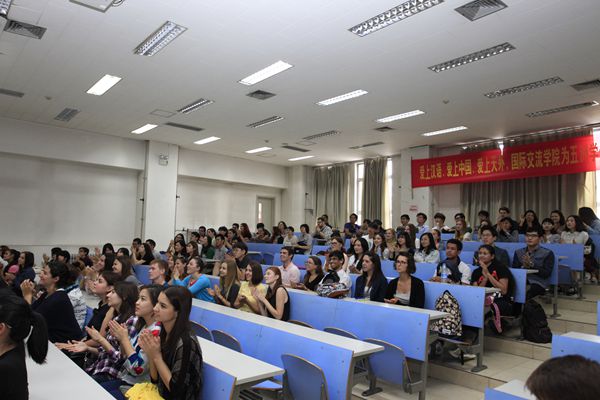 1. "Rowing Regatta"------ Conquering challenges and uniting in teamwork
Under the hot, hot, summer sun, study abroad students enthusiastically participated in the rowing activities organized by TFSU's Physical Education department. Within only a month's time during summer vacation, they came together as a team and trained. Although time was limited and the task was difficult, in the end they conquered the challenges they faced. These study abroad students not only participated in, but also achieved relatively good scores at Tianjin's and Beijing's regional rowing regattas.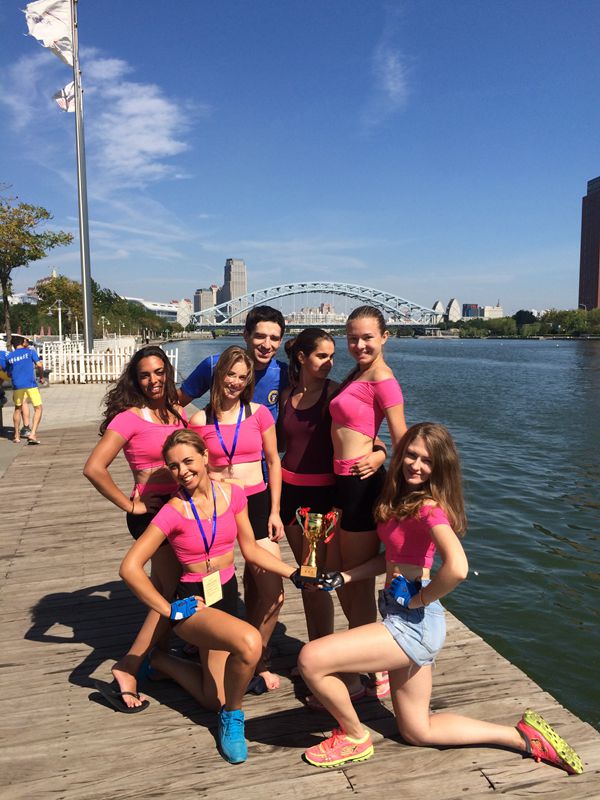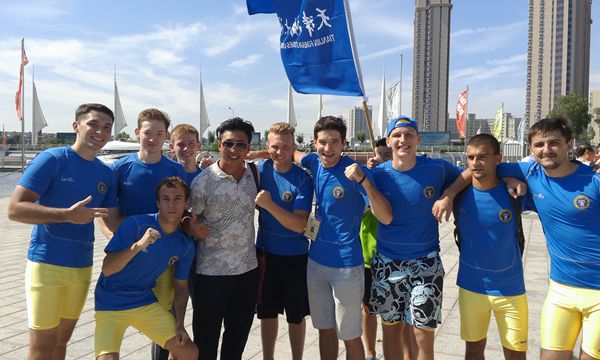 2. "Study Abroad Students' Activity Day"---- Getting fit and fostering friendship
Based on its previous success, TFSU's Study Abroad Students Office continued Study Abroad Students' Active Day this semester. Students gathered and participated in indoor physical activities, and every Tuesday has henceforth been designated as "Study Abroad Students' Activity Day". This weekly extracurricular event enriches study abroad students' lives and increases their physical fitness while simultaneously enhancing exchange between students from different countries outside of the classroom.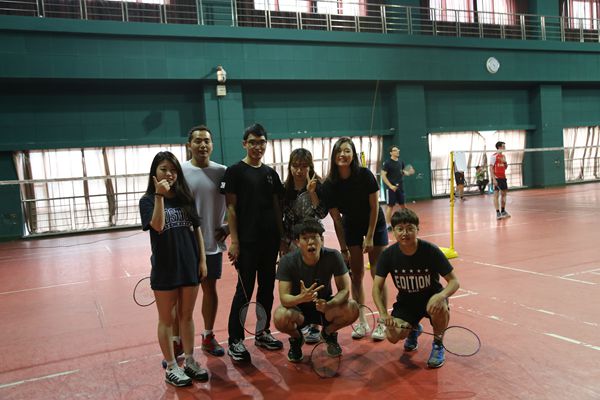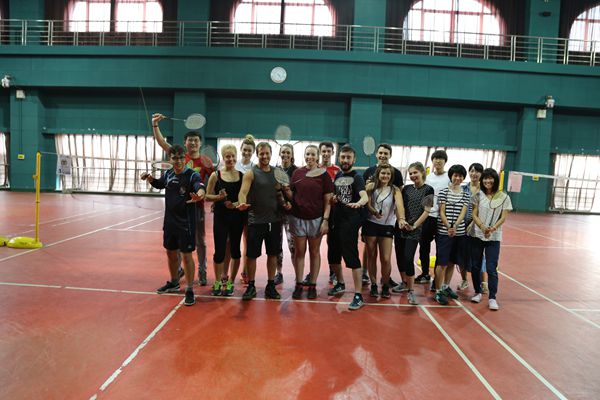 3. "Cultural Investigation Event"---- Experiencing Tianjin, falling in love with Tianjin
On September 18th 2015, the Study Abroad Students Office specially organized "Cultural Investigation Event". The event had three main objectives: to enrich study abroad students' lives outside of class, to deepen their understanding of Tianjin's culture and history, and provide students with an opportunity to personally experience Tianjin's rapid development. Students toured some of Tianjin's scenic points, such as the Tianjin City Planning Exhibition Hall, Italian Style Street, and Ancient Culture Street.
The Study Abroad Students' Office view the success of this first series of activities as an opportunity to hold more, and better, cultural experience activities in the future.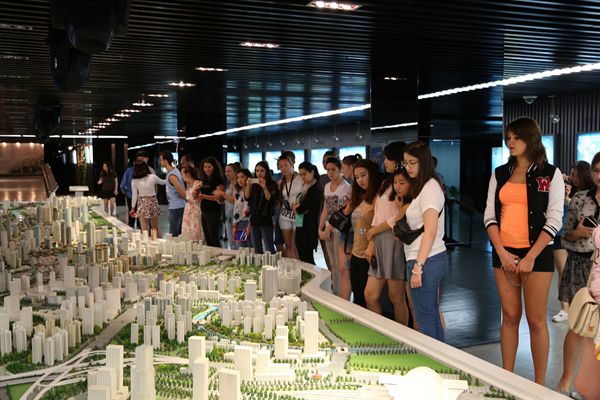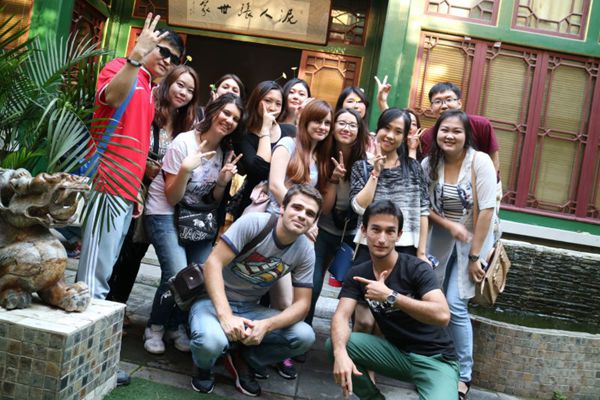 ---
[Youth & TFSU Sets Sail] School Holds the 2014 Fall Semester Convocation Ceremony for Foreign Students
On the morning of September 9th, TJFSU held the 2014 Fall semester Opening Ceremony for Foreign Students. The school's president, Mr. Xiu Gang, as well as various officials and professors from the School of International Exchange, the School of International Cooperation and Exchange and Tianjin's Entry and Exit Management Bureau were all in attendance. The ceremony was hosted by Mrs. Hou Ying of the School of International Exchange and Thomas Shrimpton, a foreign exchange student from America.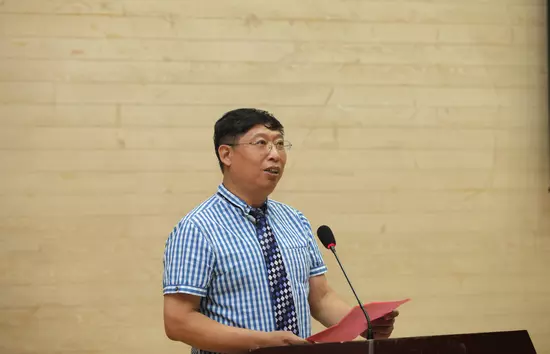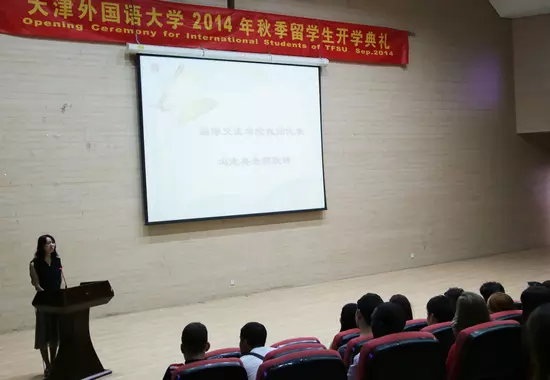 The ceremony opened with a specially filmed video for new exchange students entitled "China, I'm coming!" As the students viewed the video, which documents students first arriving at TJFSU, enrolling, taking class placement exams, their first day of classes, as well as students from each country wishing TJFSU good luck for its 50 year anniversary, the students cheered with excitement. In his speech, President Xiu Gang first welcomed the newly arrived foreign students, on behalf of TJFSU's student body and staff, followed by a brief explanation of the university's departments and facilities, academic achievements, and current situation with regards to the university's international exchange initiatives. Lastly he stated his hope for the newly arrived students to be able to grow, change and excel in their pursuit if knowledge over the coming days at TJFSU, as well as gain much knowledge and good friendships throughout their stay.
Via a video shot by the university's school of International Exchange, the teachers and students were all able to better understand the university and school's development and history. The representative of the teachers of the school of International Exchange, Ms. Feng Zhi Ying then gave a speech in which she expressed the teachers' willingness to accompany the students in their growth, enjoy their youthful spirit, and to aid them in their studies of the Chinese language and it's culture. Following Ms. Feng's speech were successive speeches given by the senior students representative Zhai Teng, and the new students representative Alina.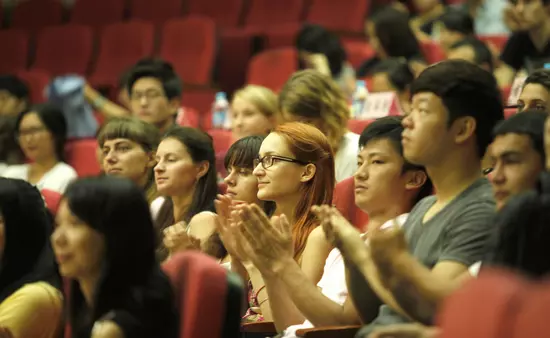 This fall, there are approximately 360 foreign exchange students from 50 countries studying Chinese at TJFSU. The school has meticulously planned courses for general language, undergraduate and masters students, in order to help students coming to China to have more free time, and to enjoy their courses more. All of this is in the hope that the university's "Study Abroad at TJFSU" brand will grow larger and stronger, and is a gift for TJFSU's 50th anniversary.
---
International students exercise day for new semester gets started
Spring has arrived and the weather is warming up. In order to enrich our international students lifestyle outside the classroom, build a healthy body, strengthen immunity, and at the same time strengthen students
cultural exchange, the international exchange office believes exercise leads to success. This semester, we will continue to organize international student activities through indoor sports. We have dedicated every
Tuesday as international students exercise day.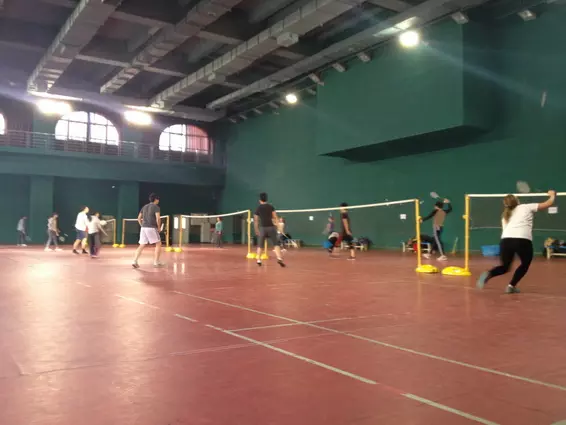 Come to the international office in advance to register and take part in activities four days prior to the activity. International students exercise day is every Tuesday at 4:00 pm on the second floor of the school
gymnasium. In order to operate functionally, 30 or more international students are a must. The international office will act as the origin of activity by providing the following sports equipment: badminton,
ping pong, taiji, etc. Please stop by the office for a full list of available sports equipment. At the end of the semester, we will have a tournament and participants will be rewarded, so please participate!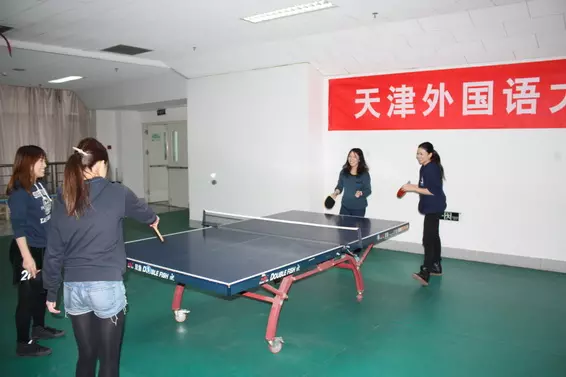 ---
[Youth & TFSU Sets Sail] School Holds the 2013 Fall Semester Convocation Ceremony for Foreign Students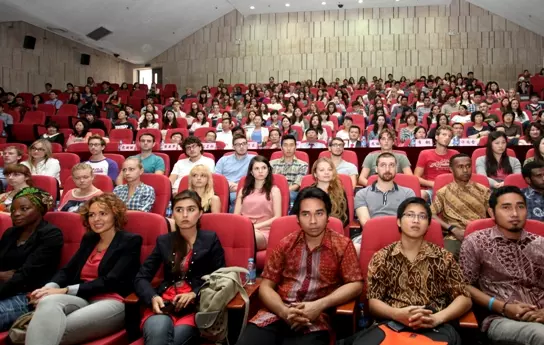 More than 400 foreign students from 48 different countries gather at TFSU.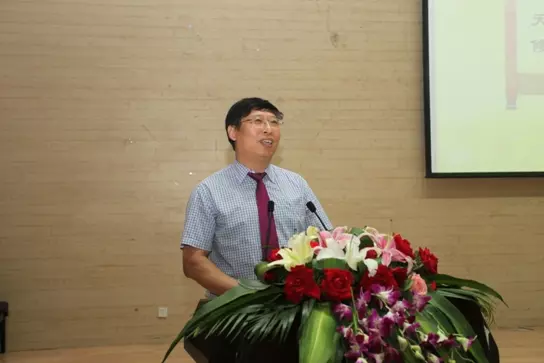 President Xiu Gang delivering a speech.
TFSU Teacher Representative Professor Zhu Jingjin, Upperclassmen Representative Hong Ge, and Freshmen Representative Mi Lanna delivering speeches in succession; Ms. Li Yi, officer from the
Tianjin Shi Entry-Exit Bureau, gives an explanation of local laws.

Commemorative Group Photo of Teachers & Students
The 2013 Fall Semester Foreign Student Convocation Ceremony recently took place in the conference hall of Yifu Building. President Xiu Gang, as well as faculty and representatives from The International
Cooperation and Exchange Department and the School of International Exchange, were in attendance.
President Xiu Gang was brimming with enthusiasm as he spoke, expressing warm welcomes to the more than 400 students from 48 different countries. He then discussed the university's professional
construction and the Confucius Institute, amongst other matters. He hopes that by using Chinese language as a foundation, foreign students may further their understanding of Chinese culture and become
friendly emissaries for China and their home countries. President Xiu Gang also wished the foreign students joy in their studies and personal growth while at TFSU.
In order to let the foreign students have a more comprehensive understanding of TFSU, the International Exchange Department played the university's and department's promotional video, displaying the
characteristics of international education on campus. Teacher Representative Professor Zhu Jingjin, Upperclassmen Representative Hong Ge, and Freshmen Representative Mi Lanna all delivered speeches;
Ms. Li Yi, officer from the Tianjin Shi Entry-Exit Bureau, also gave an explanation of local laws. Professor Hou Ying from the School of International Exchange, and Wu Jialong, 2ndyr graduate student from
America, provided bilingual hosting for the event.
The university will continue to stick to its international development strategy, allowing foreign students who come to TFSU with aspirations to make great academic achievements. In addition, the university seeks
to work hard making the foreign student management and teaching standard reach new levels.
---