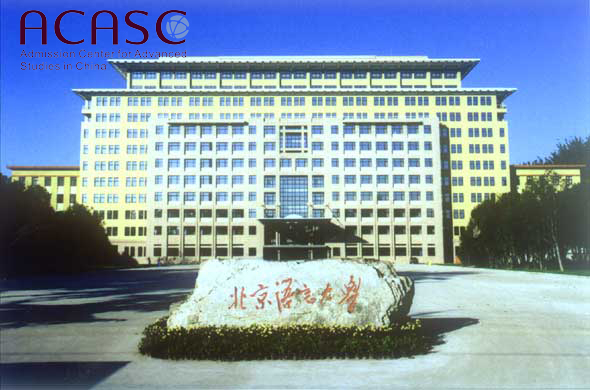 Beijing Language and Culture University (BLCU), a university directly under the National Ministry of Education, was established in 1962 under the guidance of Prime Minister Zhou Enlai. In June, 1964 it was designated as Beijing Language Institute. In June, 1996 it was then renamed as Beijing Language and Culture University.
BLCU is known as The Mini-United Nations, it is the only university of its kind in China that offers Chinese language and culture courses to foreign students. Meanwhile, BLCU provides professional courses in various fields, such as foreign languages, Chinese language, information science, finance, and other majors to Chinese students. In addition, BLCU helps foster the growth of our academic faculty and supplies language courses designed for those who plan to study abroad. Over 50 years of development has made BLCU a multidisciplinary university that has enhanced language teaching and research. This was done with synergetic development in fields such as Chinese, foreign languages and other relevant disciplines. Since its foundation in 1962, BLCU has been an important academic base for language and cultural research and the cradle for advanced international talents in China. In 2014, we made the explicit aim and plan to build a first-class language university and to promote the development of four great academic fields.
In the area of Teaching Chinese as Foreign Language (TCFL) and the promotion of Chinese culture, Beijing Language and Culture University has the longest history, the largest size and the most well qualified academic faculty in the area. Since its founding the university has trained some 160,000 foreign students who are proficient in the Chinese language and familiar with Chinese culture from 176 countries and regions. Many alumni have become celebrities in various fields such as education, politics and business. Among these talents include: Kassem Tokayev, the current United Nations Deputy Secretary-General and Director-General of the United Nations Office at Geneva; Mulatu Teshome Watto, Ethiopian President; Karim Massimov, Prime Minister of Kazakhstan; Igor, Russian Deputy Minister of Foreign Affairs; Kubin, German Sinologist; Eric Cornell, American physicist and Nobel laureate, and others. All of the above mentioned people once studied at BLCU. Furthermore, BLCU has fostered hundreds of thousands of talented people, including a large number of overseas people who have been sponsored by the Chinese government to take specialized foreign language courses in the Pre-departure Training Department. Now many of them have become national pillars in a variety of fields.
BLCU has kept its distinguishing features and advantages in the field of Chinese international education since the 1990's. However, new and related disciplines have been developed. BLCU's current disciplines are composed of eight categories: literature, economics, law, engineering, history, education , management and fine arts. Besides a Post-Doctoral Research Center, there are 15 Ph. D. programs, 30 master's degree programs and 27 bachelor degree programs, including 1 national key discipline and 10 municipal key disciplines. The university is also currently comprised of 3 divisions, 6 Schools and two research centers as follows: The Division of Chinese International Education which includes: the School of Chinese Studies, the School of Advanced Chinese Training, the School of Intensive Chinese Studies, the School of Preparatory Education and the School of Mandarin Education. The Division of Foreign Languages which includes: the English School, the School of Translation and Interpreting, the School of Applied Foreign Languages, the School of Eastern Language and Culture, the School of Western Language and Culture and the Mid-East School. The Division of Humanities and Social Sciences which includes: the School of Chinese Language Education, the School of Humanities, the School of Political Sciences, the School of International Relations and the School of Journalism and Communication. The School of Information Sciences, the International Business School, the School of Arts, the School of Training, the College of Network Education, the Division of Physical Education, the Academy of Languages and the TCFL Research Center. In addition to these academic units, BLCU also has many research bodies, such as the International Research Base for Chinese Language Teaching, the Capital International Culture Research Base, the Institute of Chinese Language Policies and Standards, and the Arabic Studies Research Center. The TCFL Research Center, known as one of the "100 Key research bases of Humanities and Social Sciences established by Ministry of Education," is the only key research base of state level in the field of TCFL in China. The Arab Research Center is the research base for regions and nationalities. The Institute of Chinese Language Policies and Standards is the research base of the State Language Work Committee; the International Research Base for Chinese Language Teaching is the research base of NOCFL. The Capital International Culture Research Base is a key research base of the municipal level. In the past two years, BLCU also built "Confucius Institute Collaborative Innovation Center for Sustainable Development" and "Collaborative Innovation Center for China's Neighboring Languages and Cultures."
As China's external exchanges and cooperation extended, BLCU built extensive and close relations with the institutions throughout world. BLCU has established cooperative relations with over 321 universities and educational institutions in 58 countries and regions worldwide and formed a productive international education pattern with omni-directional, multi-level and wide-ranging features. BLCU has built the Harvard-Beijing Academy with Harvard University and set up the School of Bangkok in Thailand. In addition, BLCU conducts Chinese-foreign cooperation in running schools with various forms. BLCU has also conducted joint-training undergraduate and graduate programs with over 10 foreign universities, such as Webster University and George Mason University in the U.S., Konstanz University of Applied Sciences in Germany and University of Manchester in Britain. BLCU has hosted 17 Confucius Institutes and has been named as an "advanced Chinese partner institution." In recent years about 100 teachers annually teach abroad and more than 400 students are exchanged to study abroad. The university receives over 1500 foreign guests each year as well.
BLCU publishes over 5 academic journals such as: Language Teaching and Linguistic Studies, Chinese Teaching in the World, Chinese Culture Research, International Chinese Teaching Research and Nationalities and Regions Research. Various teaching books published by the Beijing Language and Culture University Press are very influential both at home and abroad. Material of TCFL published by BLCUP has been used by various institutions and training organizations in over 100 countries.