Vice-president of UWA Visits GU
On June 20, led by Vice-president Aaron Tonts, delegation from the University of Western Australia (UWA) visited Guangzhou University (GU). GU Vice President Zhou Yun and responsible persons from related schools met the delegates and discussed cooperative issues including establishing oversea teachers training base, jointly cultivating talents in business and education as well as launching "3+2" undergraduate-graduate program in science and engineering disciplines.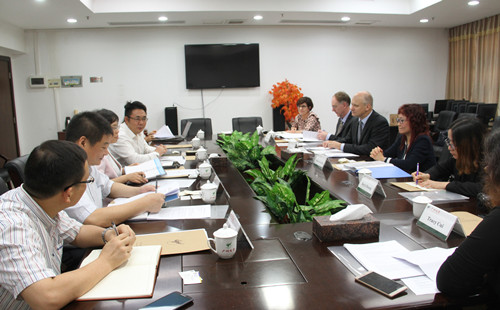 Set up in 1911, UWA was one of the eight well known universities in Australia, ranking 93rd in the 2017-2018 QS World Universities Rankings. GU has set up cooperation with UWA at university level in 2010 with a history of 10 years. The two universities has carried out collaboration in talents cultivation, credit transfer and one-semester visit among scholars.
During the meeting, Vice President Zhou Yun highlighted the development of high-level university that Guangzhou University is currently pushing forward and the development of high-level disciplines in Guangdong Province. He suggested that GU and UWA promote the exchange of teachers and students and strengthen scientific research cooperation in civil engineering, environmental engineering, mechanical and electrical engineering. Head of related schools introduced their development plans and raised proposals for deepening cooperation with UWA. Vice President Aaron Tonts congratulated GU on its achievements and introduced the recent reform and adjustment of schools of WUA. He pointed out that with similar objectives, the two universities should propel exchanges especially scientific research exchanges among young teachers. He proposed that the two sides should focus on collaboration at Master and PhD level. Based on the objective of building Guangzhou as a financing center, China-Australia Business College in GU and exchange platforms in teaching, scientific research as well as exchange platforms could be established to give play to the academic strengths in e-commerce, organizational behavior management, finance and accounting in two universities.
The two sides also had an in-depth discussion and reached a consensus on cooperation in urban design, construction protection and repair, heritage management and other professional cooperation. Representatives of Australia and China International Cultural Exchange Association also participated in the meeting.
---