"Learning Chinese, Practicing Wushu"--International Students Participate in different kinds of Wushu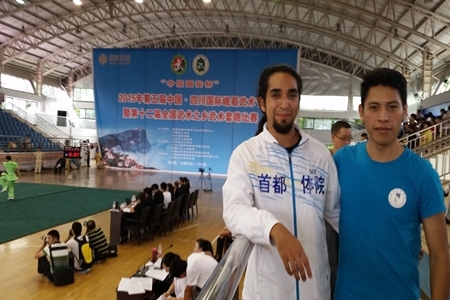 From September 11 to September 13, RAFAEL from Chile and MANUEL from Mexico went to Emei in Sichuan province and took part in the 5th China﹒Sichuan International Emei Wushu Festival. Finally, RAFAEL won the second prize by Xingyi Quan and the third prize by Xingyi Sword.
And from September 15 to September 18, the two students participated in the Wushu event of 2015 World Conference on Recreational Sports in Qingdao. RAFAEL's Xingyi Quan won the championship, while his Xingyi Sword got the second prize. MANUEL won the championship by Chen Style Taijiquan, and he took the third place by a team performance.
After the games finished, RAFAEL and MANUEL sent their thanks to the school. Their participation of Wushu competitions has made more people know our school and it's international education.
International Students Did Well in "Wu Dong Beijing"
On May 30, the first "Wu Dong Beijing" Martial Arts Assembly of International Students, jointly supported by Communist Youth League of Beijing Municipal Committee, China International Youth Exchange Center, Beijing University Students' Sports Association and many other units, was held at Yifu Stadium in Beijing Language and Culture University. 114 foreign students from 16 universities and 36 countries and regions took part. Our school organized a team of four foreign students, including FELIX, RAFAEL, OSCAR and OMAR, to participate in this competition.
Before the competition, each student actively prepared and shot his own martial arts video and participated in the online voting of 2015 International Wulin Competition for Beijing Universities and Colleges. At the end, FELIX, RAFAEL, and OSCAR won Network Popularity awards. On the day of martial arts competition, the four students tried their best and did a wonderful job. Their splendid routine techniques impressed the audiences a lot, which made them became the focus of the competition and get lots of messages from Wechat fans.
The First HSK Internet-based Test Was Successfully Hosted in CUPES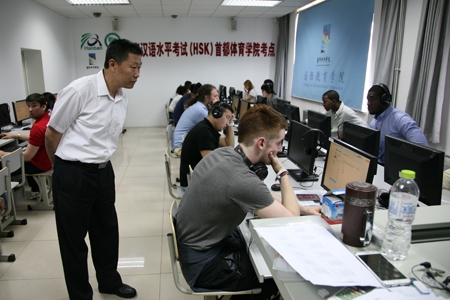 On May 16, our school successfully hosted the first internet-based test of Chinese Proficiency Test (referred as HSK). 29 students from 20 countries like United States, Britain, Spain, Korea, Turkmenistan and Cuba participated in the test.
This test has got great support from school leaders and relevant departments. Together with Modern Education Technology Center, Logistics Office and Security Office, School of International Education has made a careful preparation in registration, environmental arrangement, technical support and organization, so as to ensure an error-free test.
Mr. Zhao Wen, Council Chairman of CUPES, supervised the test on that day and spoke highly of the organization work.