International Film Festivals

Since 1983 when "Strange Friend" by Xu Lei from Department of Directing won the special award of 33rd West Berlin International Film Festival, graduates of Beijing Film Academy have tried various types and themes on behalf of the Chinese film industry at the Berlin Film Festival. In 1988, Zhang Yimou from School of Photography won the 38th West Berlin International Film Festival Golden Bear Award with "Red Sorghum", Wu Ziniu from Department of Directing won Silver Bear Award, special award of the 39th West Berlin International Film Festival with "Evening Bell", Prof. Xie Fei from Department of Directing won the 40th Berlin International Film Festival Silver Bear Award with "This Animal Year", that is to say, alumni of the academy have won three Berlin Film Festival Golden Bear Silver Bear Awards for three consecutive years, and later teachers and students from Beijing Film Academy have won more than ten Berlin Film Festival awards until now. Director Xie Fei became the first Chinese director to win the Berlin Film Festival Golden Bear ("Soul Girl") and Silver Bear Awards ("This Animal Year") at the Berlin Film Festival.
In 2017, the performance of graduates on behalf of the Chinese film industry at the Berlin Film Festival was also stunning, Have a Nice Day, the first Chinese language animated film nominated for the three major international film festivals in Europe is produced by Yang Cheng, a graduate from Department of Screenwriting and Film Studies. Ghost in the Mountain, the film nominated for the panorama section was directed and screen written by Yang Heng from School of Photography, in his team, Bi Shanyi, the producer, Yangcheng, the executive producer, Lou Kun, the recording recording guide graduated from Beijing Film Academy. Foolish Bird by Huang Ji from Department of Screenwriting and Film Studies was nominated for the 2017 Berlin Film Festival Generation Kplus and gains the jury special award.

New Film Project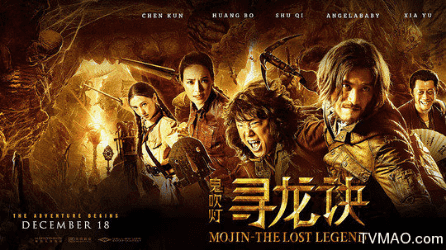 Wu Ershan, director of The Ghouls came with pleasure to communicate the experience and lesson from creation to shooting of the film with students in the last class of "case study of movie and TV play classical planning" of Department of Screenwriting and Film Studies hosted by associate professor Du Qingchun from the Department at 6:00pm, January 5th.

Based on questions of the case group, Wu Ershan told his story. He talked about how to wisely choose Ghost Blows Out from the three stories of Ghost Blows Out, The Lost Tomb and Tibetan Code, his understanding of the unique visualization presented by the story, hard process of screenwriting, how to select figures and stories and how they finished the adaption. He showed the developing way of the film in the first stage and his idea and application mode of genre film from creation angle in the communication.

Audience and news media gave a comment that the film will be a "sample of Chinese film industry" before The Ghouls was released to the public. Wu Ershan admitted that the film made a new attempt with treasure adventures type. He also humbly said it was just ok. In the stage of free questions, the enthusiasm students gave their doubts and feelings to communicate with the director.

When the lecture drew to an end, Wu Ershan shared his experience and thoughts about international teamwork. He said project cooperation has to seek for proper partner team and main creators of the film were invited based on requirements of the film. Nowadays, Wu Ershan has dedicated himself to "Fengshen" film project development and told audience to meet in five years.

Lecture on the way of art creation


"The way of art creation" series academic lecture is a common course designed for Master of Fine Arts (MFA) candidates 2015 by Graduate School in the semester. On the platform, filmmakers who work on art creation have an opportunity to pass on their creation and practice experience to the students studying in BFA.

Guan Hu, a famous director came to Standard Screening Room with his new work of Mr. Six in the afternoon of November 19, 2015 to make a preview and have real-time communication before public show. Guan Hu, Professor Xu Tongjun from Department of Directing and Professor Hou Keming started the first class of the semester. The New Year movie starred by Feng Xiaogang, Zhang Hanyu, Li Yifeng and Kris Wu will be released to the public on December 24th. It won lots of praise at the preview and students showed their interests in the film with applaud.

Mr. Six is a story with pure Beijing characteristics. Guan Hu is both director and scriptwriter of the film. He said the story is born from his inner heart. He looked for new story theme everywhere before the story. However, he always thought "it's not perfect" for the story of others experience or from social news. Then he created the story of Mr. Six from his own experience. Place of the story is a Hutong where he was born and grew up. And people in the story are real Beijing natives heard or seen by him. So Guan Hu invited Feng Xiaogang (another famous director) to act the hero Mr. Six. He knew other actors could also act the role. But Feng Xiaogang is born for Mr. Six.

Mr. Xu Tongjun highly praised the way of creation and told students, "lots of directors make their works an individual chronicle of themselves". He said Mr. Six is a milestone work of Guan Hu because it was born from inner heart and produced exquisitely. He thought the film turned a new page of creation.
When we talked about the other two heroes acted by Li Yifeng and Kris Wu, Guan Hu admitted that they are definitely for commercial profit. What's more and what's more important, he tried to find highlights from them. The story of Mr. Six is about old and new Jianghu (all corners of the society). It's necessary to compare the people in the two Jianghu. He even invited TFboys to be guest performers to see how the new elements have impacts on the movie.
Besides actors, he also tried new shooting styles. Guan Hu was a director who would like to change script anytime according to his feelings before. For Mr. Six, it was the first time for him to strictly follow "industrial" production process. He shot the film based on what the script said including all modal particles of Beijing accent.

Driven by the "marvelous" film of Mr. Six, communication in the lecture became passionate. Students in the audience strove to raise hands with questions and even Professor Hou Keming also gave his question. On the stage, Guan Hu and Professor Xu Tongjun, Guanhu's respected teacher, answered questions one by one. Guan Hu gave examples to explain something combining his own creation experience and Mr. Xu gave comment to his examples on a macro level. Both of them started another topic before ending one to entertain attending students with live and philosophic knowledge.