The Opening Ceremony for ASC17 world student Supercomputer Challenge and the nameplate Unveiling ceremony of ZZU Supercomputing Center kick off in ZZU
Recently, the opening ceremony for the ASC17 World Student Supercomputer Challenge and the nameplate unveiling ceremony of ZZU (Zhengzhou) Supercomputing Center kicked off in Learning Hall, south campus of ZZU. Present at the event were Wang Endong, the initiator of ASC, Academician of Academy of Chinese Engineering (ACE), chief scientist of Inspur Group, Professor Shen Xubang, Academician of Chinese Academy of Sciences, Research Fellow Feng Xisheng of ACE Academician, Prof. Wang Jiayao of ACE Academician, university leaders including Niu Shucheng, Wang Zongmin and Zhang Qianhong, and chiefs of super-computing centers, supercomputing and artificial intelligence experts, leaders from other provincial universities and colleges, as well as the representatives of staff and students from competing teams of Chinese universities.
Secretary Niu introduced about the basic situation of ZZU and her development in terms of Supercomputer in his speech. He said, "this competition will facilitate the work of training a batch of high-quality supercomputing talents with internationalized horizon, and elevate the application level of supercomputing and research capabilities."
And a symposium of ZZU (Zhengzhou) Supercomputing Center was held then. An advisory committee was set up, consisting of Academicians and professional experts who were present and offered many valuable suggestions on the future development of supercomputing center. During the symposium, President Academician Liu met the academicians and experts.
2017 cross-border E-commerce Assembly held Superbly in Zhengzhou
On March 30, 2017 Cross-border E-commerce Assembly, one major event of the 11th China (Henan) International Investment Trade Symposium was held in Zhengzhou. It was sponsored by Henan People's government, jointly undertaken by Commerce Department of Henan Province, Cross-border E-commerce Comprehensive Experimental Zone Construction Office of Henan Province, Zhengzhou University, Henan Institute for Coordinated Development of E-commerce and Logistics. Present at the assembly were famous CEOs or chief representatives home and abroad, such as Microsoft, Google and Alibaba etc, and famous specialists and experts from many countries and regions, like UK, India, Singapore, New Zealand, Chile and Hong Kong, etc. President Academician Liu Jiongtian of ZZU attended the meeting.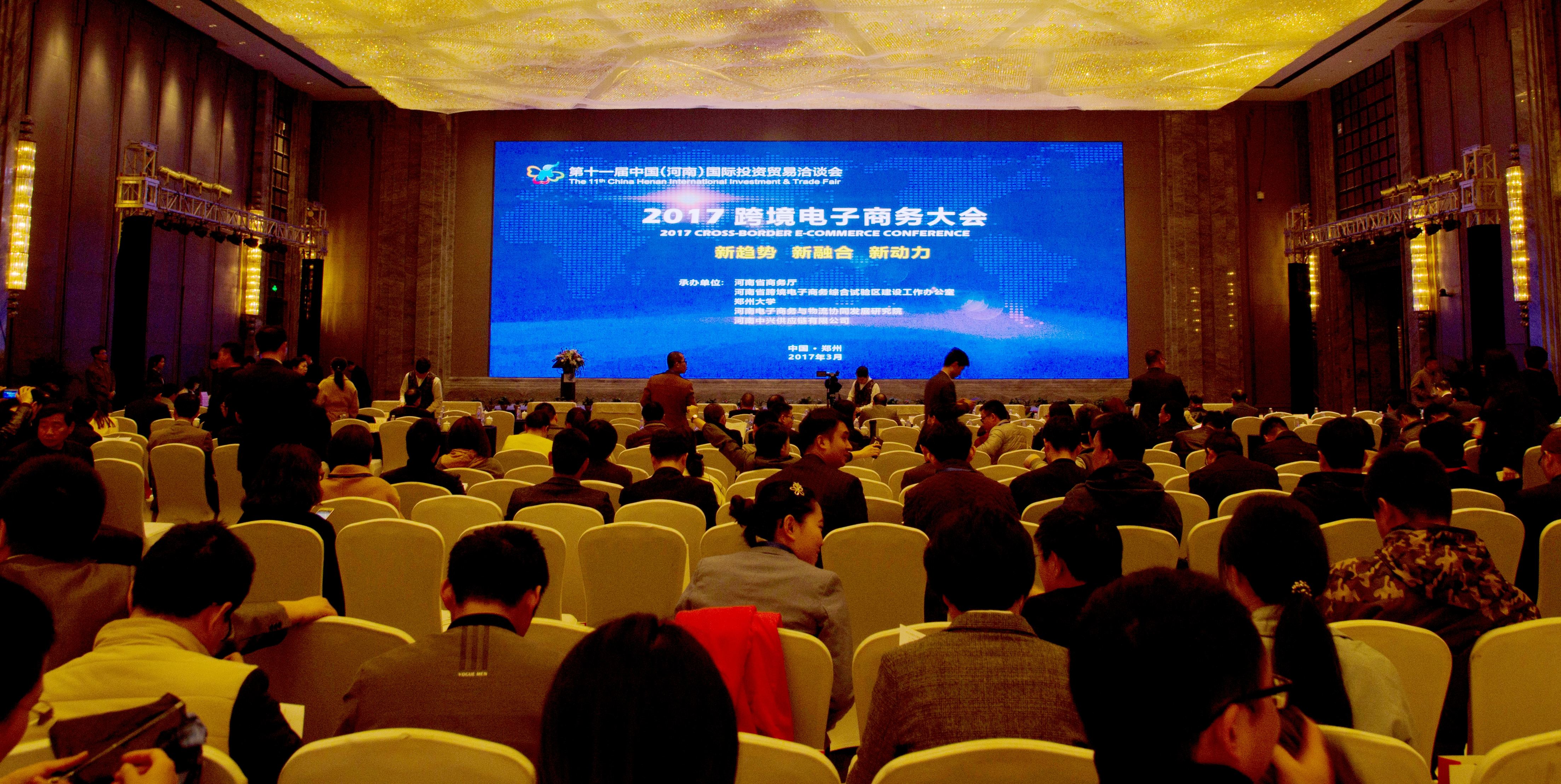 The assembly with "New Trend, New Fusion and New Drive" as the theme, invited leaders and chiefs of government agencies, corporate executives and managers of cross-border E-commerce industry chains, related experts and specialists etc, to deliver speeches at the assembly, encouraging them to contribute good ideas for how to strengthen cross-border E-commerce industrial exchanges and cooperation, propel the fusion and development of substantial economy and cross-border E-commerce, construct complete industry chains and ecosystems of cross-border E-commerce and accelerate nurturing foreign trade back to stability and prospect and fostering new drives for economic transformation and updating.

ZZU held the Nameplate Unveiling Ceremony of Internationalization Model Institute for Academy of Medical Science and Internationalization Development Forum
On December 19, Zhengzhou University held the nameplate unveiling ceremony of International Demonstration Institute at the Academy of Medical Sciences and Internationalization Development Forum. The leaders from the State Administration of Foreign Experts Affairs, Provincial Department of Human Resources and Social Security, Xu Zongqin, Director-General of the Provincial Administration of Foreign Experts Affairs, Provincial Health and Family Planning Commission and Provincial Department of Education joined Niu Shucheng, Xing Ying, Gu Zhenqing, Han Guohe, and other Zhengzhou University leaders as well as representatives of leaders, teachers and students from the related units of Zhengzhou University at the nameplate unveiling ceremony.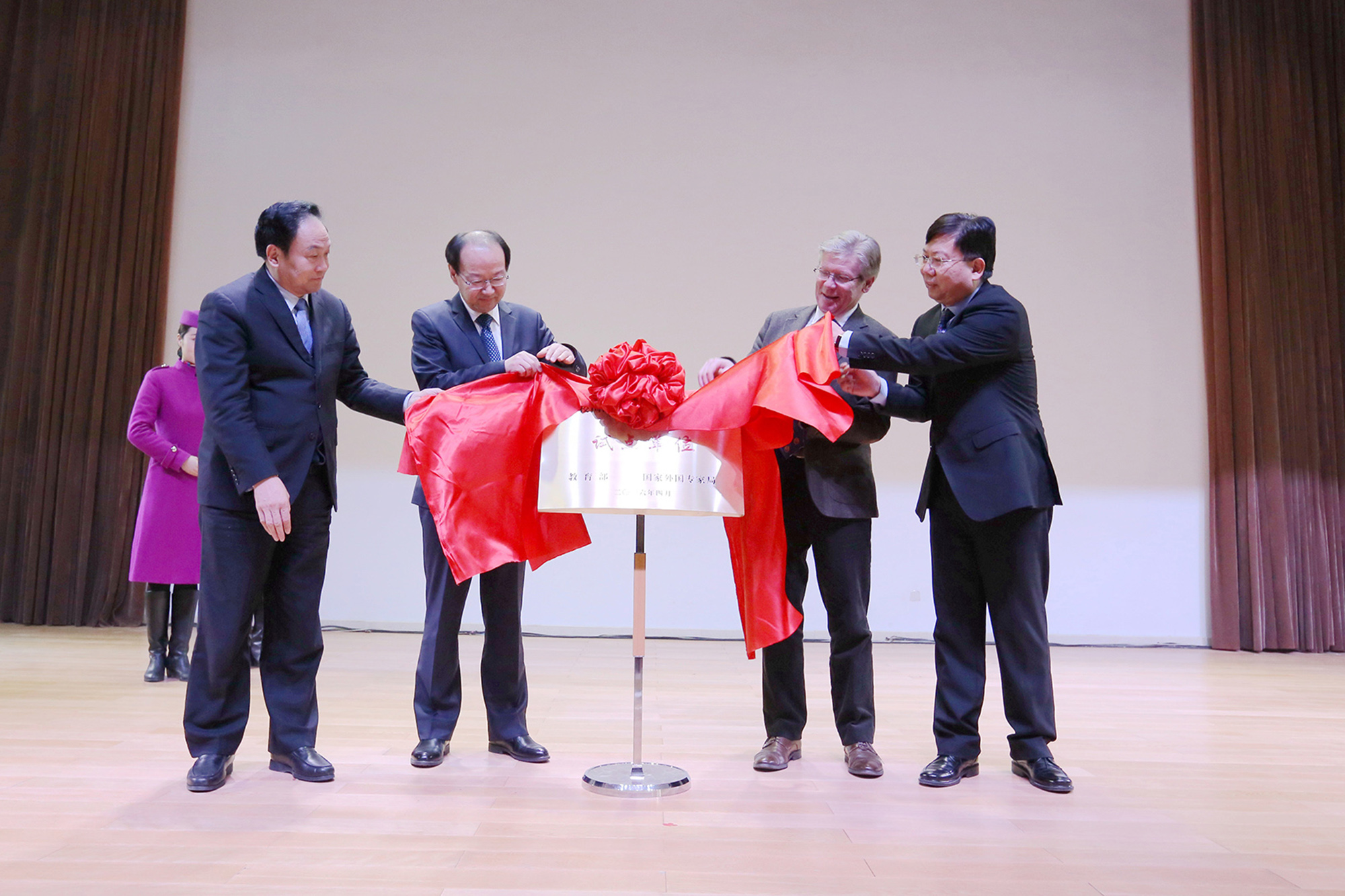 Party Secretary Niu Shucheng addressed the participants. He said Zhengzhou University would grasp the opportunity of being elected into "Propelling Project of Internationalization Model Institutes", take the lead in internationalizing medicine, and give full commitment to enable the leading role of the Academy of Medical Sciences, further build the platform for introduction of overseas high-level talents, and upgrade the internationalization level of talents and teams. Regarding the reformation and development of ZZU, Secretary Niu encouraged the joint efforts of pioneering a new path, producing new experience, leading and promoting the University's internationalization level, and boosting the construction of ZZU into a first-rate University as soon as possible.