DPU Opening Ceremony of 2017 Spring Semester held
On March 10th, Opening ceremony of 2017 Spring Semester, also International Student Honoring Ceremony of 2016 Autumn Semester, was held at Room 410 of International Exchange Center. Professor Ren Wendong, Vice President of Dalian Polytechnic University (DPU), attended the ceremony and delivered a speech. Relevant responsible persons of International Office, DPU, teaching faculty, and ninety-five international students from Pakistan, Russia, Mongolia, Kyrgyzstan, Kazakhstan, and South Korea were also present at the ceremony.
The ceremony started with an introductory video of DPU which impressed international students deeply.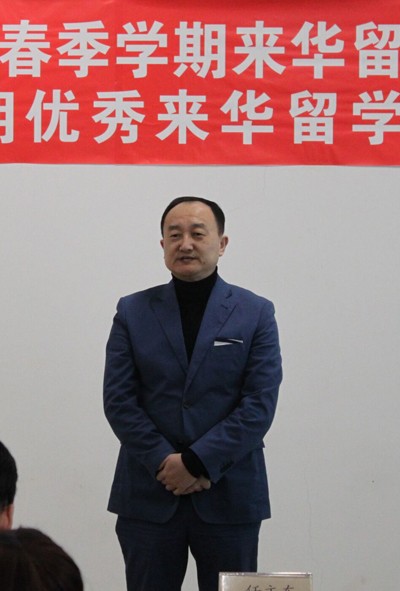 Then Vice President Ren Wendong extended a warm welcome speech to all attendees. He said that China enjoyed a long history and rich cultures. China not only had rich cultural heritage like Jing Opera, calligraphy, and scroll painting but also had inclusiveness welcoming international students to study in China. He also said: "As a romantic metropolis, Dalian has achieved fast development and welcomes foreign friends. International students bring their youth and exotic cultures to DPU and DPU welcomes all of them." At last, he gave three suggestions to international students. First, take care of themselves; second, treasure their time and study hard; third, be friendship promoters and spread splendid Chinese cultures.
Student representatives delivered speeches. They shared their experiences and wishes. They expressed their great gratitude for the hard working and care of teachers.
Finally, nine international students who are from South Korea, Indonesia, Russia, and Kazakhstan were honored for their outstanding academic performance in 2016 autumn semester. It greatly motivated and inspired freshmen. The ceremony was closed in a warm and exciting atmosphere.
Delegation of BFC Visited DPU
1On October 10th, Professor 照井義則, President of Bunka Fashion College (BFC), heading a four-member delegation, visited Dalian Polytechnic University (DPU). Professor Li Rongde, President of DPU, had a cordial meeting with the delegation. Professor Ren Wendong, Vice President of DPU, and relevant responsible persons of International Office, School of Fashion, and Graduate School also attended the meeting and had cooperation discussion with the visitors.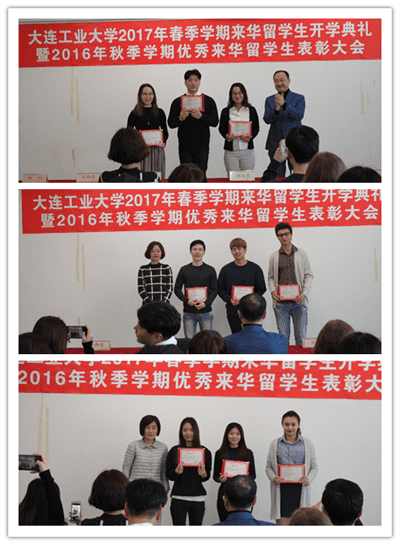 Over the meeting, President Li Rongde, on behalf of DPU, extended a warm welcome to the delegation. He pointed out that Dalian was quite famous for its fashion industry in China. As the fashion textile research and development center in Northeast China, DPU has educated many qualified and excellent fashion graduates who are playing important roles in Chinese fashion industry. He also said that since Japan was also in the leading position of fashion, there were great prospects for establishing cooperation between the two universities. He expected that substantial cooperative programs of joint education, teacher visit, fashion show, and etc, could be initiated. At last, he stressed that people communication could promote China-Japan friendship, and he had great confidence on the cooperation.
  Then Vice President Ren Wendong made relevant proposals on teacher and student exchange, collaborative research, and joint fashion show. He also has detailed discussion on tuition, credit transfer, language teaching of joint master degree student "2+1" and "2.5+0.5" education programs with the delegation.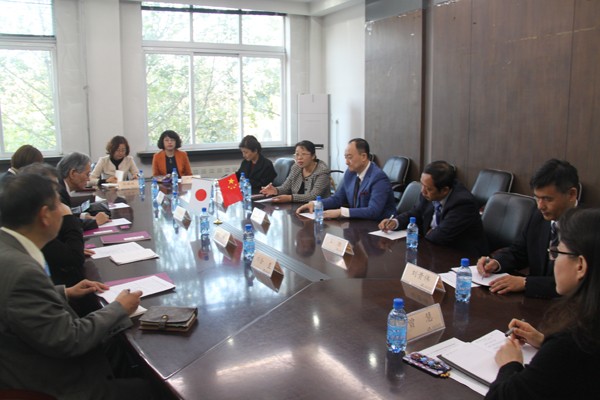 President 照井義則 thanked President Li Rongde for the warm welcome they had received. Then he briefly introduced BFC. He said that he highly admired the achievements of School of Fashion. He expected that joint master degree student education programs could be initiated and implemented. He also said that he would start to promote the implementation of the programs as soon as he was back to Japan.
After the meeting, the delegation had a campus tour. They visited School of Fashion and School of International Education. All of them spoke highly of teaching facilities.
Founded in 2006, Bunka Fashion College, only offering graduate student education, is the first college aiming at educating graduates with practical abilities and skills of fashion in Japan. As the only Japanese member of IFFTI, it won the second place in Fashionista List (2015) of top 50 fashion education institutes in the world.
Tea Culture Salon Held
Aiming at deepening international student's understanding of traditional Chinese cultures and spreading Chinese tea culture, Tea Culture, a part of Traditional Chinese Culture Salon, was held at Delinshe Tea Room. More than 50 international students from South Korea, Russia, Mongolia, Kyrgyzstan, Kazakhstan and Guinea-Bissau attended this event. And students of Student International Communication Association also joined the event.
  At the beginning of the event, a teacher introduced Chinese tea history as well as names and functions of tea utensils. International students were greatly impressed by the introduction. They said that Chinese tea culture was more splendid than they had expected. Then a tea specialist gave a demonstration of tea arts which represent and exhibit wisdom of Chinese people and courtesy. After the demonstration, international students were eager to practice the whole process.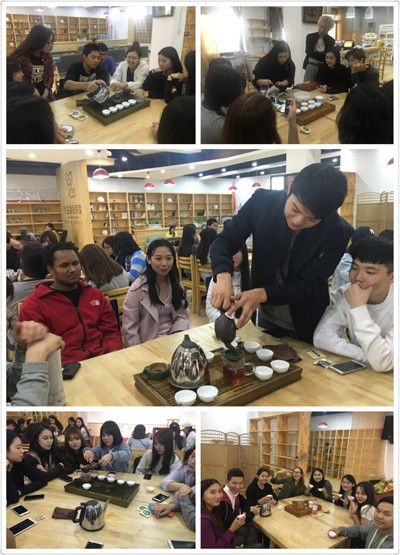 International students had the opportunity to experience grand Chinese tea culture. On the other hand, Chinese tea culture was promoted though this event. The event highly aroused international students' interests in Chinese cultures. They said they would continue to explore Chinese cultures and spread them in their homelands.