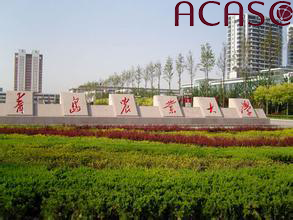 QAU takes it as her responsibility to revive our nation and agriculture with science and education, and always serves the society actively and vigorously. Since the Tenth Five-Year Program, QAU has undertaken 849 scientific research projects and accomplished enormous social and economic effects. In 1999, the patent of Yinguo, an artificial simulated germicide, was transferred at the price of 5 million yuan. The technology of extracting polysaccharide from the fermented liquid of Maitake(also Polyporus Frondosus in Latin) was transferred at the price of 9 million yuan in 2002. In 2004, the producing and managerial right of a new variety of corn--LN3 outside Shandong Province was transferred at the price of 1 million yuan.
QAU gives priority to teaching and education, and has always being activated the campus culture of "Virtue, Aspiration, Diligence, Honesty". Being noted for her academic atmosphere and discipline. QAU manages to improve teaching quality continuously, by means of strict teaching and learning. The average passing rate in College English Test (CET-4) for undergraduates in this university exceeds that of the other universities in Shandong province and the top universities in China. Since 2001, 35% of the undergraduates have passed postgraduate entrance examination. The employment rate of graduates is over 90%.
QAU pays great attention to international collaborations and exchanges. It has established relationships with 42 foreign universities and institutes in 17 countries of the world, including the United States, Canada, South Korea and Germany. In recent years, research co-operation with developed countries and personnel training for developing countries have become two important features of the university. All these activities have undoubtedly stimulated the vigorous development of internationalized education and research in the university.