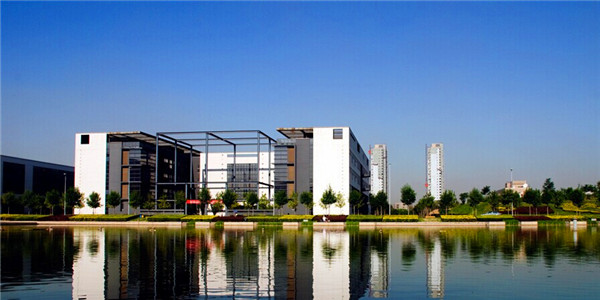 Tianjin University of Finance and Economics (TUFE) is a multidisciplinary university with economics and management education as its core competence areas while embracing eight diverse branches of learning, including humanities, law, science, engineering, education, arts, etc.
Established in 1958, the faculty of TUFE consisted of professors and experts from the economics and management specialties of Nankai University as a result of relocation, along with a batch of well-known scholars in economics and management from other prestigious universities in the Northern and Northeastern parts of China. At the time of founding, it was named Hebei Institute of Finance and Economics. On October 1, 1969, administered by Tianjin Government, it was renamed Tianjin Institute of Finance and Economics. With the approval of Ministry of Education, Tianjin Institute of Finance and Economics was renamed to Tianjin University of Finance and Economics on May 17, 2004. With over half a century's endeavors, the university has experienced tremendous changes, and now it has been one of the top universities in Tianjin, as well as an important education base in the Northern part of China for cultivating prominent and practical talents in business and management areas.
Located in the beautiful coast of the Bohai Sea, TUFE's main campus is situated on No.25 Zhujiang Road Hexi District of Tianjin, while the other campus lies on the Machang Road in the centre of the city. Across the two campuses, TUFE covers an area of 1,000,000 m2 with a floor space of 500,000 m2. The total collection of the university library reaches 1,300,000 volumes.
TUFE is one of the providers of key specialties at national level appraised by Ministry of Education. It has three authorized primary doctoral specialties and post-doctoral research stations under Applied Economics, Business Administration and Management Science and Engineering, seven primary master's programs, including Applied Economics, Business Administration, Management Science and Engineering, Economics, Public Administration, Computing Science and Technology and Foreign Languages, and twelve professional master's programs, such as MBA, EMBA, MPA, MPAcc, JM, etc. A talent cultivation system has been formed with various levels and models, which includes doctoral, master's and bachelor's education, adult continuing education, international students' education, and practice qualification education.
TUFE boasts a top-notch faculty of 820 teachers, among whom 55% hold professorship and associate professorship, and 54% have obtained or been pursuing the doctoral degrees. 53 outstanding teachers are respectively convenors of Appraisal Panel of Academic Degrees Committee of the State Council for Business Administration Discipline, members of Discipline Appraisal Panels of Academic Degrees Committee of the State Council, members of Expert Review Panel for Management Discipline of National Natural Science Foundation of China, judges of Discipline Appraisal Panels of National Social Science Foundation of China, vice chairmen of Teaching Guidance Committee of Ministry of Education for Business Administration Discipline of Colleges and Universities, members of Teaching Guidance Committee for Economics Discipline of Ministry of Education, members of Teaching Guidance Committee of Ministry of Education for Colleges and Universities, members of National Teaching Guidance Committee for Master of Business Administration Program, members of Management Department of the 6th Science and Technology Commission of Ministry of Education, distinguished professors selected in the 'Cheung Kong Scholars Award Project of Ministry of Education', experts enjoying special government allowance from the State Council, winners of awards of National Advanced Workers, National Teaching Masters, China's Model Teachers and National Outstanding Teachers, selected candidates of 'Trans-Century Talents Training Project' and New Century Talents Training Project supported by Ministry of Education.42 teachers are respectively awarded as the commissioned experts by Tianjin Government, winners of Tianjin's Top Model Workers, Tianjin's Model Workers, Tianjin's Teaching Masters and Tianjin's Outstanding Teachers, or appointed as members of Tianjin Academic Degrees Committee, members of Discipline Appraisal Panels of Tianjin Academic Degrees Committee, distinguished professors to deliver lectures in TUFE, and selected candidates of Project for Introducing A Thousand Overseas Innovative Talents to Tianjin. There are also 65 teachers participating in Tianjin '1-3-1' Innovative Talents Training Project. Over 200 well-known experts and scholars home and abroad are served as the adjunct professors, honorary professors and doctoral supervisors in TUFE, on the list of which, many worldwide famous economists, such as Dr. Robert Mundell, 'father of the Euro', professor of economics in Columbia University, and Dr. Ronald I. McKinnon, 'founder of the theory of modern financial development', professor of Stanford University, can be found. Each year, a number of international experts and scholars are invited to give speeches and lectures in TUFE.
TUFE's current total number of students is 17,000, among which 15,000 are full time students with different levels from bachelor to doctorate. There are now 700 international students on campus. TUFE has set its education goal as 'to turn out graduates who can meet the demand of the times and bear the potential for sustainable development'. New talents cultivation strategies are constantly rolled out, and further reforms for education and teaching are gradually pushed forward. TUFE has always focused on putting forth efforts to cultivate students' abilities of life-long learning and knowledge transferring.
TUFE's students have achieved many first places nationwide in all kinds of activities for moral, intellectual and physical evaluation and competitions. Zeng Xin and Huang Yuhui are respectively the first and the second female college students as the volunteer donors donating their hematopoiesis stem cells. Yuan Mu won the champion award in the CCTV Cup English Speaking Contest, and as the only representative of Chinese college students, attended the activities of Cultural and Academic Week held by Global Association of Oral English in Britain. TUFE's women basketball team has won nine championships in the final competitions of Chinese University Basketball Association (CUBA), among which eight championships in succession have been achieved.
Adhering to developing the route of the internationalization, TUFE is one of the first universities in China approved to conduct joint degree programs with foreign institutions, and confer the MBA degree of the universities from the United States. TUFE has always been actively engaged in the international exchanges, as evidenced by its closely educational exchanges with foreign universities and research institutes from the United States, Britain, Canada, Australia, Japan, Korea, Singapore, India, France, Sweden, Germany, Greece, Vietnam, Mongolia, etc. TUFE has launched the Confucius Institute in Britain and the United States. It is also one of the first two examination centers in China authorized by the Association of Chartered Certified Accountants (ACCA) in Britain, as well as the only course provider and examination center in Tianjin approved by the Chartered Institute of Management Accountants (CIMA) in Britain. As one of the six learning providers in China appraised by ACCA headquarter, TUFE's ACCA education has achieved the global top level at so-called 'a platinum grade'. As the designated base for the study abroad programs of foreign universities, TUFE has cooperated with the Massachusetts institute of Technology (MIT) and conducted the winter camp program offering intense Chinese language training courses for the MIT students since 2013. TUFE is also authorized as the host institution of the Sino-US Cultural Exchange Specialized Scholarship Project for the Credit Students, in which the international students from the United States can be sponsored the specialized scholarship according to the appropriation standard of Chinese Government Scholarship Project by Ministry of Education of China while studying in TUFE.
Closely following the university's strategy of 'locating the right positioning, leveraging the core advantages, and creating a unique educational offering', TUFE is aiming at constructing the harmonious campus with internationalization, informationization and ecologicalization oriented. With focus on improving the teaching quality and strengthening the students' morality education, TUFE is carrying out a set of strategies emphasizing the development of disciplines, competitiveness of talents, enhancement of education quality, and progress of internationalization, and striving for the connotative development, comprehensive reform, improvement of faculty resources and executive abilities, and perfection of the campus facilities and studying surroundings. Alongside with the pursuit of the elaborate talents cultivation, excellent research achievements, service-oriented executive management, integrated information platform, and ecological campus environment, TUFE has always been actively and effectively committed to the economic and social development of China, Tianjin, especially the Binhai New Area. Now TUFE is growing into a prominent university providing specialized higher education in finance and economics with outstanding strength and global reputation.