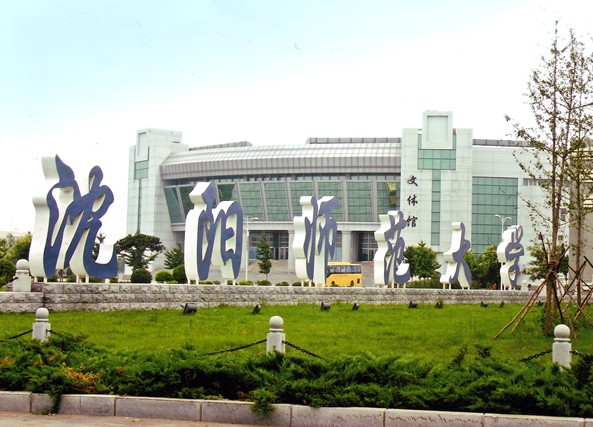 Being subordinate to Liaoning Provincial People's Government, Shenyang Normal University is a comprehensive one covering eight categories like philosophy, economics, law, pedagogy, literature, science, engineering science and management science.
The university is the former Northeastern College of Education which was established in 1951, it was renamed to Shenyang Normal College in 1953 as one of the two earliest undergraduate normal colleges established in the Northeast China at that time. The famous educationist Dong Chuncai, Che Xiangchen and Wu Boxiao had successively taken the post of main leader in the university. It was renamed to Liaoning No. 1 Normal College in 1965 and resumed to Shenyang Normal College in 1978. In 2001, with the approval of the Ministry of Education, the Provincial People's Government decided to combine Shenyang Normal College with Liaoning College of Education to establish Shenyang Normal University.
The university covers an area of 1928mu with building area of 0.758million square kilometers and books collection of 1.800 million. There are 22299 full-time undergraduate and college students, 1656 master postgraduates, 891 education masters and near 320 foreign students. Now our university has cultivated more than 70,000 teachers and other talents having both ability and moral integrity for the country and especially made great contributions to the education career of Liaoning.Liaoning Provincial Basic Education Teaching and Research Training Center, Liaoning Educational Administration Institute and Liaoning Audio-Visual Education Hall are established in our university. Now there are 22 second colleges including College of Educational Science, College of Foreign Languages, Software College, International Business College, Educational Technology College and College of Dramatic Art, etc. and 12 halls, departments and centers.
With 60 undergraduate specialties and 57 master's degree programs, it is the unit that develops in-service employee applying for master's degree and master's degree of education with the same educational level as postgraduates and also the unit that can accept Chinese Government Scholarship students. It has six national and provincial-level key bases, four provincial-level key disciplines and key co-construction disciplines, seven provincial and city-level key laboratories and twelve comprehensive laboratories. And there are 33 research institutions like Institute of Education Economics and Management, Institute of Chinese Culture and Literature, Paleontology Research Institute, Institute of Human Resource Development and Management and Insect Research Institute, etc. and four cooperation bases of enterprise, university and scientific research.
The university currently has 1645 full-time teachers and 14 specially-appointed professors, of which, 2 are academicians of Chinese Academy of Sciences, 244 are professors and 593 are associate professors. Otherwise, many academicians of the two institutes and foreign and domestic experts and scholars who have great scientific attainments are engaged as honorary professors and part-time professors and we also engage 30 foreign teachers. The university has successively signed agreements on international academic exchange and cooperation with over 30 universities and colleges and scientific research institutions of America, England, Canada, Japan, Russia, Belgium, Denmark, Australia and Korea, etc.