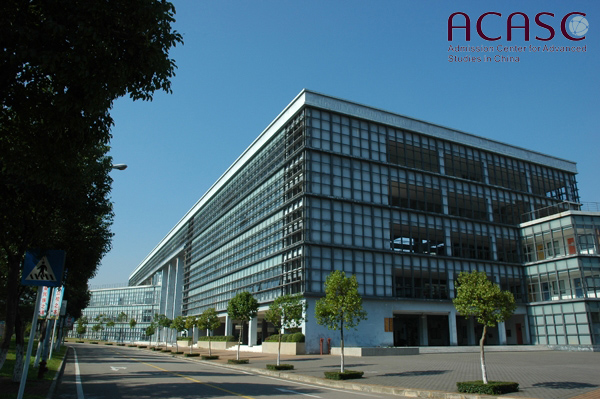 Dongguan University of Technology (DGUT) was initially bred in 1990 and coming into birth in April, 1992. Under the authorization of the Ministry of Education, DGUT embraced her first undergraduates in March, 2002 and awarded her first bachelor degrees four years later in May,2006. DGUT proudly has Dr. Chenning Yang, a Nobel Laureate in Physics, as the Honorary President. Meanwhile, it was approved as the newly conferred Master-degree units in Guangdong's project in August, 2010. Also, DGUT was approved as the "Guangdong International Science and Technology Cooperation Base" in 2012 . In September 2015, DGUT was officially listed in the High-level Polytechnic Universities co-sponsored by Dongguan city and Guangdong province. Two billion special fund will be provided by the municipal and provincial government to DGUTin the next five years.
As the birth place of modern Chinese history,Dongguan is at the forefront when China's reform and opening-up policies were launched. It has been the 12thof "China'sTop 100 cities in comprehensive strength" and the first in Prefecture-level city for many years by its economic strength. What's more, it is listed among "China's most charming city", "China's most economically energetic city", "International Garden City","National Basketball City".
There are two campuses nowadays: Guancheng Campus (Downtown) and Songshan Lake Campus with 340 acres and 1500 acres land respectively. Songshan Lake campus is situated in the provincial High-tech Park Songshan Lake District .The High-tech Park of Songshan Lake was come into birth in November 2011, located in Mid-southern Guangdong province,hinterland of Pearl River Delta, facing Hongkong and Shenzhen in the south,and bordering Guangzhou in the north. By the end of 2008, Songshan Lake had introduced 290 innovative technology enterprises, including Huawei, China WirelessTechnologyCo.,Ltd.,EAST, Celestica Electronics (Dongguan)Ltd.
DGUT has constructed 13 Experiment & Teaching Centers, especially 8 Provincial Demonstrative Centers: the Experiment & Teaching Center of Electrician and Electronics, the Experiment & Teaching Center of Computer Science and Technology, the Engineering Practice & Teaching Center of Mechanical Design & Manufacture and Automation, and the Experiment & Teaching Center of Chemistry,the Experiment &Teaching Center of ModernMedia, theExperiment &Teaching Center of Economic Management Informatization and Simulation, the Experiment & Teaching Center of Civil Engineering and the Experiment &Teaching Center of Mobile Communication. The library covers 45020 square meters, which owns more than 1,800,000 copies of books, more than 2000 kinds of journals and 29000GB digital resources. Campus network was built with Gigabit-bandwidth Backbone speed and Megabit-bandwidth desktop speed, setting upover 20, 000 information points. The stadium, as the national track and field team base, covers about 45000square meters, in which the Seventh Guangdong University Students' Sport Meeting was successfully organized in2006.
DGUT establishes academic discipline system which focuses on engineering and management science, coordinating with literature, science, economics, law, education and other disciplines. Furthermore, it has 16 institutes(departments/centers) and 36 undergraduate majors, including 17755 full - time regular students and 7670 adult education students. Among 1104 teachers, full-time teachers play an active role, of which over 78 percent are young and middle-age teachers who possess PhD or Master degree or have studied abroad, and 44 percent have a senior title or higher. Besides, Bingheng Lu, Chinese Academy of Engineering academician, Jianzhong Xu and Hesheng Chen, Chinese Academy of Sciences academician, are hired as a double appointment academician, while Shing-Tung Yau, winner of the Fields Medal, Yanda Li, Chinese Academy of Sciences academician and other famous experts from home and abroad are hired as honorary professors, visitingprofessorsandpart-time professors.
DGUT strives to strengthen communication and cooperation at home and abroad and vigorously carries out foreign cooperation in co-running schools. It is the member of the Ministry of Education Application-Oriented Technology University Alliance and Sino-German Application-Oriented of Higher Education Research and Development Alliance. DGUT has established friendly cooperative relationships with universities in Canada, Japan, South Korea, France, Spain, the United Kingdom, the United States as well as Hong Kong and Taiwan. It also has reached cooperation on undergraduate exchange student projects with Universidad Complutense, University of Technology Sydney, Arkansas State University, Conservatoire national des arts et métiers(CNAM), University of Hudders field, SaintMary's University andsoon.
Besides, DGUT actively organizes joint post graduate training base in Dongguan with South China University of Technology, Jinan University, Huazhong University of Science and Technology, and Guangdong University of Technology to select teachers as graduate student's tutors. 200 master degree students had been cultivated up to now. In 2015, Guangdong province government and Dongguan city government sign framework agreement about building up Guangdong Province Joint Postgraduate Training Basein Dongguan supported by DGUT; DGUT actively establishes academic communication platform, and holds the high level of academic research activity such as Development of High-level Application-oriented University Summit Forum、Spallation Neutron Source International Conference、 "University and RegionalEconomy"Presidents Forum and Lowcarbon Technology. In November 2015, a framework agreement of building up Guangdong postgraduate was signed by the government of Guangdong and Dongguan city
DGUT has always taken teaching as the core of all activities, deepened the teaching reform, takes advantages of the advanced manufacturing city, strengthens school-enterprise cooperation, highlights practical teaching, and activates student's innovative spirit and practical ability.DGUT signs agreements on college students' entrepreneurship practice base co-construted with businesses in Dongguan concerning Songshan Lake Huake Industry Incubation Park, Huaxia group, Zhongtian Creative Valley, Yellow River Group, Dalingshan YueheYiwu Small Commodity Wholesale City, Songshan Lake Holdings Ltd and Tianma Entrepreneurial Camp. DGUT builds up 280 outside-campus Practice Bases and 8 Entrepreneurship Training Bases which employ more than 263 intern advisors and 30 enterprise tutors, and had successfully established Huawei Network Institute, ZTEcollege, RoboticsInstituteand otherfeaturedcolleges.
DGUT actively carries out the "Innovative Talent Training Program", and help students to establish scientific and technological innovation Entrepreneurship program, incubating a number of technological companies such as Three-dimensional Technology Co. Ltd., Clouds Intelligent Electronic Technology Co. Ltd.,as well as Internet enterprises like Service One Hundred Network Technology Co., LTD.,and Network Technology Co., LTD. Graduates are well- received by public for their strong ability. Over the years, the employment of graduates are more than 98%. Lots of students have got the common aspiration that "Expertise learning at DGUT, and career starting in Dongguan.