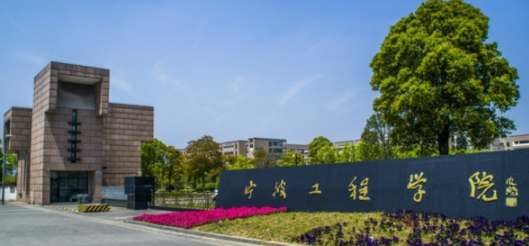 Ningbo University of Technology is a full-time undergraduate university. Formerly Ningbo College , the university was established in 1983 and confirmed by the Education Ministry in 1997 as a National Exemplary Engineering College , and it was approved by the Ministry of Education in May 2004 as a university offering four-year undergraduate education. Currently the university has a staff of about 700 and nearly 8,000 full-time students.
The university sets the basis of training talents with the characteristic of practicality, serves local economic construction and social development. With the basis in Ningbo , it faces Zhejiang Province and stretches to the whole country. The university tries to achieve three characteristics in running the university --- developing the school into one with more distinguishing features, building up unique specialties, training students with great advantages, and also to make itself a special, nation-wide famous engineering technology university.
Ningbo University of Technology covers an area of 105.765 acres, on which its building area is 204,000 square meters. It has the educational equipments worth ? 6.235 million yuan and the library with 720,000 books. The university has 41 professors and 133 associate professors. The new campus which covers an area of 226.05 acres is under construction now.
Ningbo University of Technology has been developing a mode of "One Leading Ability and Two Subsidiary Capabilities", which means priority is given to students one practical ability, while importance is also laid to its students' multi-and-foreign-oriented capabilities. The graduates are favorably welcome by all employing units locally. The employment rate is always above 90%. The university sets the standard of "firm basis, broadened knowledge, high comprehensive quality and strong practicality" to train more high-level skilled talents.
Ningbo University of Technology appropriately adjusts the specialties setup and broadens the scale according to the market needs. It gives priority to the majors of engineering, meanwhile coordinately developing various other majors and nurturing subjects with special characteristics. Now it has 10 second-level schools, 12 undergraduate majors, and 33 associate degree majors. It also has one provincial-level key specialty, 4 city-level leading laboratories and more than 10 scientific research institutes. The university lays great importance on the building of study, increases the development on scientific research bases and scientific research personnel, devotes major efforts to applied scientific and technological researches and development, actively improves the integration of production teaching and researches. In the past three years, the university took 85 city-level scientific research programs. It gains 18 ? million yuan as the research funds annually, and each year about 825 academic articles and books are published. The application of the achievements in those scientific researches marked great success.
Ningbo University of Technology has conducted many foreign cooperation programs so as to learn foreign advanced experience and emphasizes to build up foreign-oriented characteristics of the university. It started the cooperation with Aachen Applied Sciences University in Germany in 1984. Therefore, it is one of the four schools in China who have such a relationship with Germany . Since 1984, the university has set up this relationship with the universities and colleges in Australia , Germany , the United States , Canada and other countries to run schools cooperatively, exchange visits of the schools and cooperative researches. The university has also established Ningbo Ninggao Overseas Service Center to help its students to further their studies abroad.
The university tries to set up an all-dimensional, multi-tired campus culture with excellent patterns, high level and quality. It emphasizes on the idea of "Integrating knowledge into actions", and the function of the educational environment, so as to build up a harmonious and healthy campus culture atmosphere with unique features, and then to improve the students' unified qualities.
Interschool Cooperation:
The University has embraced broad and increasing international cooperation since 1984, when it was chosen by China's Ministry of Education as one of the four universities aided by Germany. Currently, in connection with 73 universities and colleges of 24 countries (areas), it runs on a fast track of international cooperation, especially of joint programs. In 2011, a joint two-degree undergraduate program of Accounting was established between NBUT and Delaware State University, USA, whose first graduates threw their caps in 2015. On the other hand, NBUT is also expanding globally. In 2015, NBUT opened its Confucius Classroom in Grenada.
Overseas Students:
International students have studied in the NBUT since 2004. In 2016, there are more than 140 international students from over 20 countries learning degree or language courses on the main campus, and 15 short-term exchange students from France and South Korea came with expectation and went with satisfaction. Since 2013, NBUT has been on the list of the universities entitled to Chinese Government Scholarships for international students, and those in NBUT can enjoy the scholarships granted by China's Ministry of Education as well as a wide range of full or partial scholarships from Zhejiang Province, Ningbo Municipality and the University.