On January 16, 2016, the Third Session of the Eighth Faculty Congress of Xinjiang Normal University and the Trade Union Representative Assemblies was solemnly opened at International Education Building. University leaders, including Weili Balati, Niu Ruji, Xue Hui and Gulipali Abudula, attended the opening ceremony. 155 formal representatives and 24 observer-representatives were present. Vice president Xue Hui chaired the opening ceremony.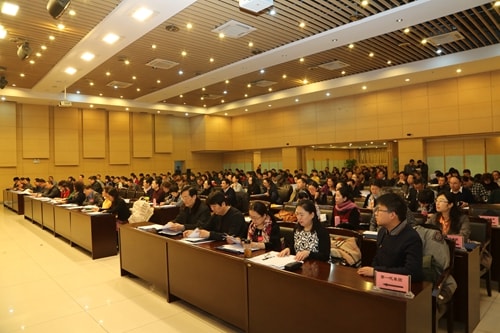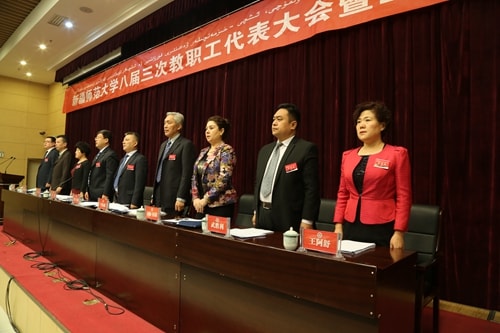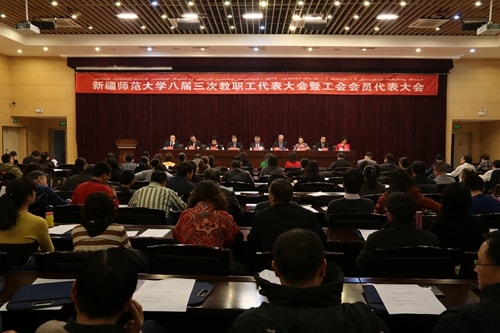 President Weili Balati delivered a report titled Seizing Opportunity, Uniting Strength, Endeavoring for Progress, Drawing a Blueprint and Struggling for a High-Level Normal University. The report pointed out that during the 12th Five-Year Plan, under the leadership of Xinjiang Autonomous Regional Party Committee and Government, the university firmly bore in mind the theme of construction and development, centered on the working thought of "one goal, two emphasis, three priorities, four items of construction, five areas to break-through and six improvements set our for the 12th five-year plan", and advanced implementation of three strategies, namely scientific development, harmonious campus and internationalization. Thanks to opportunities brought by new campus and school-running level promotion, university faculty was united to further optimize talent cultivation and structure of teaching staff. Doctor authorization unit had been approved, with student enrollment. Income from continuing education exceeded 100 million Yuan for four years in succession. Wenquan campus was put into use after first-phase construction was finished. With various goals and tasks set out for the 12th five-year plan accomplished, the university improved its school-running capacity, social contribution and overall influence, which paved way for a much higher level. Our university ranks the third on List of Top Universities in Xinjiang issued by Ai Ruishen China Alumni Association Network and the first in Xinjiang when internationalization level is considered. Among normal universities in China, it ranks 27. During Teacher's Day in 2015, Zhang Chunxian, member of the Political Bureau of the Central Committee and Secretary of the Party Committee of Xinjiang Uygur Autonomous Region, investigated our university and spoke highly of ethnic harmony and new campus building. According to the Report, doctoral program authorization helped the university upgrade school-running level. First-phase of Wenquan campus building expanded the university area. Faculty and education comprehensive reform clarified the university orientation. Approval of key projects and scientific research platform deepened university connotation construction. Xinjiang liberal arts base and key subject building highlighted the subject advantage. Last but not the least, Chinese international education promoted level of internationalization.
The Congress also heard Proposal Work Report for Third Session of the Eighth Faculty Congress of Xinjiang Normal University delivered by vice president Gulipali Abudula, and 2015 Financial Work Report of Xinjiang Normal University by Xu Ke, director of Finance Department.
After the opening ceremony, representatives are divided into eight delegations and discussed on Report of the 12th Five –Year Plan of Xinjiang Normal University, 2015 Financial Work Report of Xinjiang Normal University, Work Report of the Eighth Trade Union Congress and Outline for Year 2016-2020 Education Reform and Development of Xinjiang Normal University.