10th National Environmental Discipline Construction Seminar Held at Fudan
Themed "Double First-rate construction and opportunities for the environmental discipline", the 10th National Environmental Discipline Construction Seminar was held at Fudan University on December 10-11, 2016.
At the opening ceremony, on behalf of Fudan University, Vice President Jin Li expressed the warmest welcome and gratitude to all the guests. He remarked that environmental science has become one of the most concerned disciplines in China, due to the impact of rapid economic development on the living environment. 2016 is the beginning year of the 13th Five-Year Plan and the Double First-rate construction. In this context, Fudan University has considered the environmental discipline as the key field for the Double First-rate construction. He hoped that the guests could put forward new ideas and new measures for environmental science in Chinese universities in accordance with the national strategic demands for environmental protection and ecological construction.




2017 Shanghai Forum Signing Ceremony and Preparation Report Meeting Successfully Concluded
On December 16th, the signing ceremony of 2017 Shanghai Forum and the first preparation report meeting were held at Fudan University. Jiao Yang, Chairperson of Fudan University Council expressed her gratitude towards the Korea Foundation for Advanced Studies for its support for the Forum and Fudan University.
In the preparation report meeting, Xu Ningsheng, President of Fudan University signed the cooperation agreement with Park In-kook, President of the Korea Foundation for Advanced Studies. President Park In-kook praised the preparation work and the innovation on organizational structures, and selection of guests and issues for discussion.
Shanghai Forum is an international academic forum hosted by Fudan University and the Korea Foundation for Advanced Studies and organized by Fudan Development Institute. It provides an exchange platform for people from China and other countries and sets an example for regional and national development.


Dean of University of North Carolina Visits Fudan School of Pharmacy



On December 16th, 2016, Professor Robert A. Blouin, Dean of Eshelman School of Pharmacy, the University of North Carolina at Chapel Hill, UNC, and Associate Professor Stephen F. Eckel, Associate Dean for Global Engagementm, visited School of Pharmacy, Fudan University. Earlier this year, Wang Mingwei, Dean of School of Pharmacy visited Eshelman School of Pharmacy, so this was considered to be a return visit to promote the comprehensive strategic partnership between the two institutions.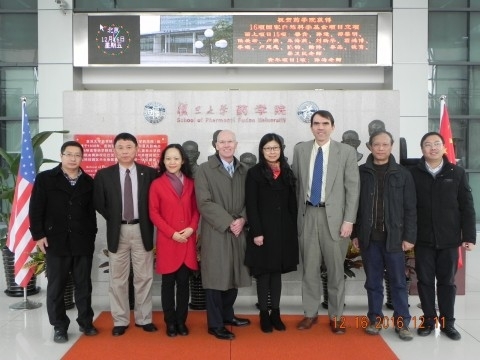 During the visit, the two parties discussed the cooperation of new drug research and the sharing of academic resources in the field of pharmacology, pharmaceutics, medical chemistry and biotechnology. They also explored the possibility of collaboration in clinical pharmacy education and clinical tests of new drugs. In the afternoon, Professor Blouin and his colleagues visited the Chinese National Compound Library together with Dean Wang Mingwei.
Professor Blouin expressed his gratitude for the arrangement of the visit and his confidence in the bilateral cooperation.