Xi stresses rule of law, cultivating legal talent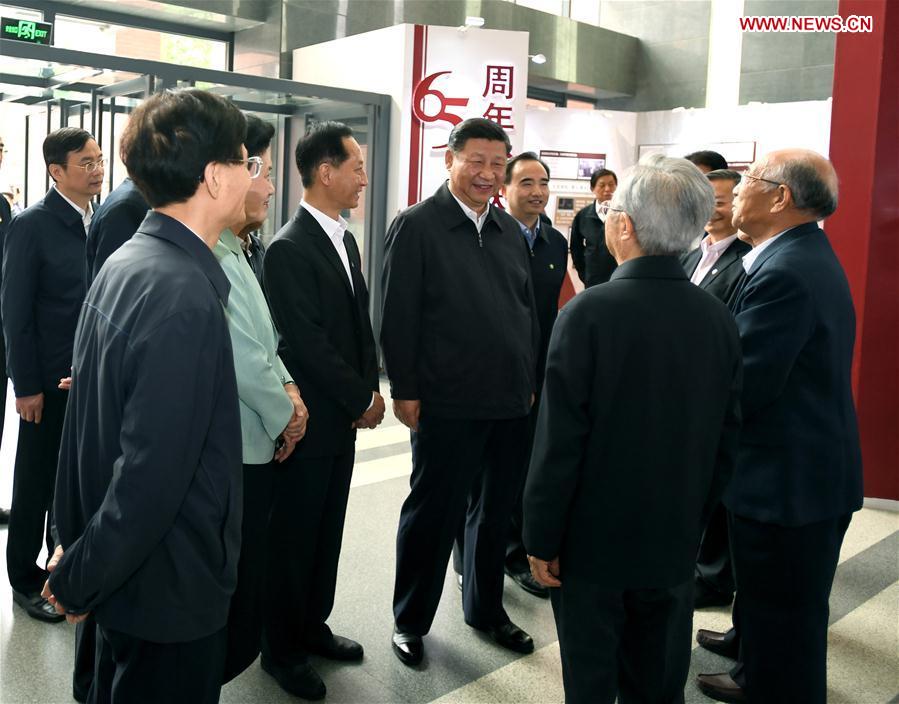 Chinese President Xi Jinping talks with senior professors while inspecting China University of Political Science and Law in Beijing, capital of China, May 3, 2017. (Xinhua/Li Xueren)
BEIJING, May 3 (Xinhua) -- President Xi Jinping on Wednesday called for more efforts in promoting rule of law and cultivating talent for the cause.
Xi, who is also general secretary of the Communist Party of China (CPC) Central Committee and chairman of the Central Military Commission, made the remarks on a visit to China University of Political Science and Law ahead of Youth Day on May 4.
Fully implementing the rule of law is essential and an important measure in adhering to and developing socialism with Chinese characteristics, said Xi, while talking with senior law professors and students.
Implementation of the rule of law is impossible without a high-quality legal work force, said Xi.
Xi called on the country's law schools to enhance their research on basic issues in rule of law and related areas and provide theoretical support for socialist rule of law with Chinese characteristics.
"We should have confidence in developing our own legal disciplines and contribute to global rule of law with Chinese wisdom and practice," Xi said.
China should take successful legal practices worldwide as reference, but not simply copy them, he said.
Xi also called for more exchange between scholars and legal professionals.
In cultivating legal talent, Xi highlighted training of students' virtue in addition to teaching legal knowledge.
He also told the country's officials at all levels to take the lead in studying and observing the law and promoting the respect of virtue and law among society.
On behalf of the CPC Central Committee, Xi extended greetings to young people, education workers, youth workers and those working for the rule of law nationwide.
The future of China and the Chinese nation belongs to the young, Xi said, noting that the younger generation's belief, spirit and quality matter to the country's development, vigor and core competitiveness.
He called on Chinese youth to uphold the belief in the country's "two centenary goals" and the Chinese dream of national rejuvenation and take their responsibilities in the cause.
He also expressed wishes that the youth would study hard and grow healthily.
While talking with the university's students, Xi called on them to follow the Party's leadership and make use of their talent to serve the country and the people after graduation.
"The youth period is a key period to foster one's scientific thinking," Xi said, noting that the students should integrate their thinking with their study, observation and practices.
He also called on young people to fully use their creative spirit and be courageous in exploring and seeking the truth.
"During one's growth and endeavor, the young may gain success and joy, but may also face difficulties and pressure," the president said. "One should treat the success and failure at the moment with a correct attitude, not slouch in prosperity and not be frustrated in adversity."
Xi also ordered Party organizations in colleges and universities to perform their duties in both Party governance and school management and to pay attention to both ideological issues and Party building, urging them to solve practical problems of the teachers and students in their work, research, study and employment.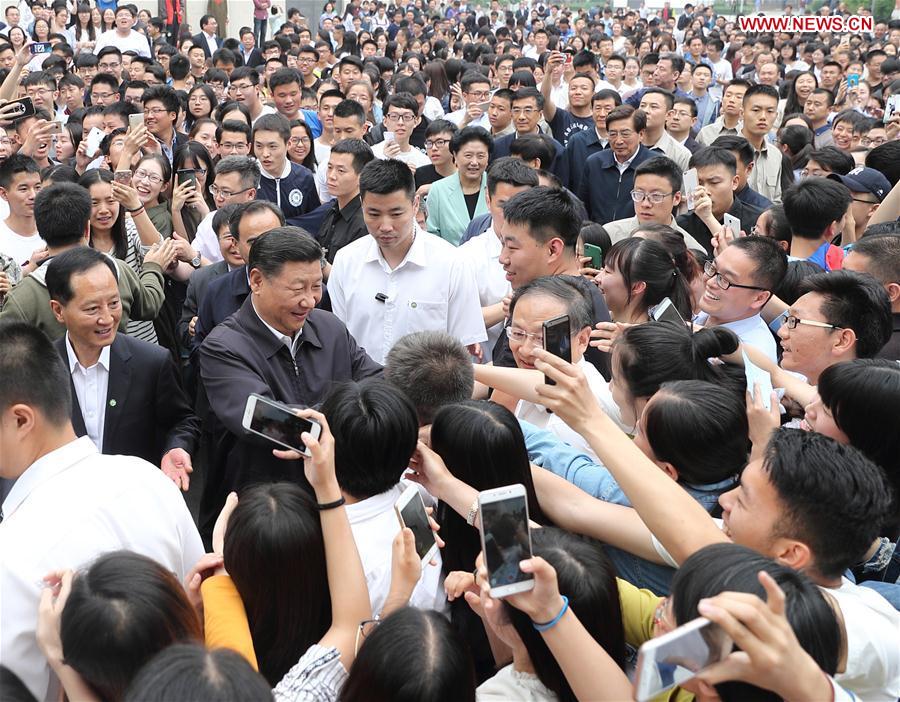 Chinese President Xi Jinping talks with senior professors while inspecting China University of Political Science and Law in Beijing, capital of China, May 3, 2017.
Officials of Université Libre de Bruxelles and Vrije Universiteit Brussel Visit CUPL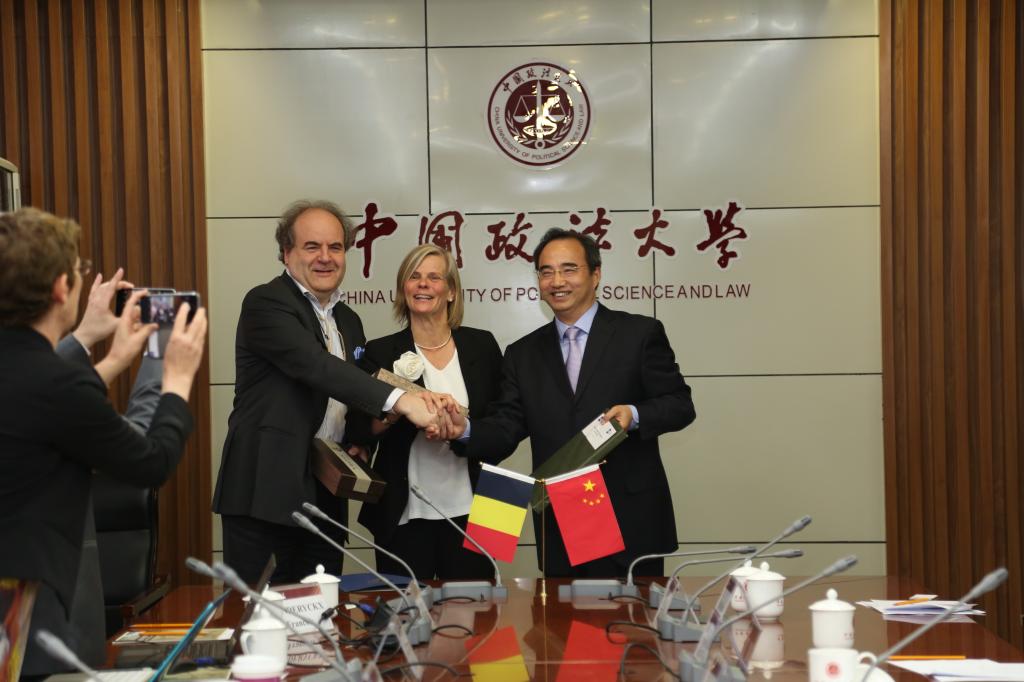 At 9 a.m. on April 11, 2017, President Yvon Englert of Université Libre de Bruxelles (ULB), President Caroline Pauwels of Vrije Universiteit Brussel (VUB) and their parties were warmly received by CUPL President Huang Jin at the Xueyuanlu Campus. CUPL Vice President Ma Huaide and several heads of departments attended the meeting.
After a sincere welcome, President Huang Jin recalled his visit to ULB. He pointed out that since its establishment in 1952, CUPL has developed from a single-discipline institute of law into a multidisciplinary university with a competitive advantage in law and other disciplines including political science, economics, sociology, management science, literature, history, and philosophy. It is appraised as a top institution of legal education, as well as a prestigious university for the humanities and social sciences. In particular, the China-EU School of Law in CUPL (CESL), founded in 2008, is viewed as a remarkable achievement of international cooperation in joint school operations. President Huang Jin hoped to strengthen academic exchanges and cooperation, establish a comprehensive cooperative mechanism, promote academic exchanges, and expand disciplinary exchanges.
Yvon Englert firstly thanked CUPL for the warm reception, and then gave a detailed introduction about the history of ULB and VUB and described the scale and international cooperation of ULB. He emphasized the importance of staff exchanges and expressed that both parties should strengthen cooperation among the other humanities and social sciences besides law, expand the channels of student exchanges, and deepen joint programs for doctoral candidates.
Caroline Pauwels said that VUB attached great importance to international development and scientific research. She hoped to develop a good partnership and have more cooperation with CUPL in the fields of doctoral training and scientific research exchanges.
Vice President Ma Huaide briefly introduced programs of international cooperation and exchanges in CUPL, and reviewed the partnerships established between CUPL and ULB. He suggested that academic exchanges and visits should focus on four aspects: increasing the number of students enrolled in exchange programs, expanding exchanges and cooperation from law to more disciplines, developing long-term staff exchanges and cooperation programs, and organizing more academic conferences and seminars.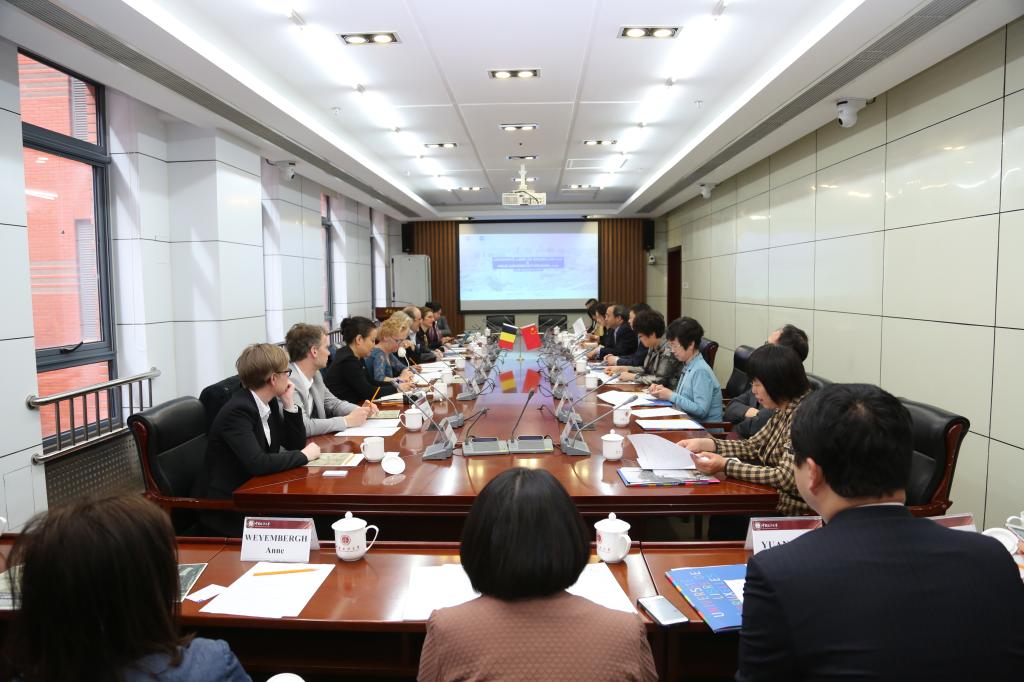 CUPL Successfully Holds Presentation of the 2017-2018 Overseas Master Scholarship Programs
On November 4, 2016, the presentation of the 2017-2018 Overseas Master Scholarship Programs was successfully held at the China University of Political Science and Law (CUPL). Twenty-two delegates from Washington University (St. Louis),Université de Montréal, University of Leeds, University College Dublin, and 12 other partner institutions attended the event.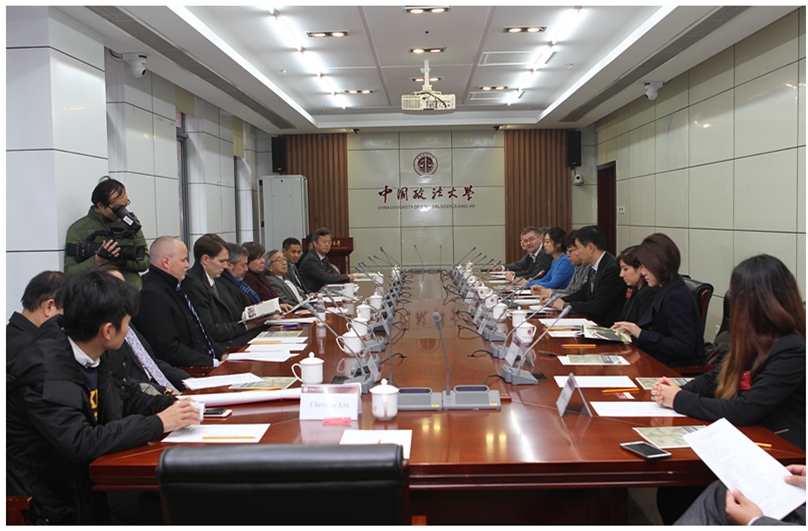 On the morning of November 4, Ms. Xu Lan, Director of the Office of International Cooperation and Exchange, had a friendly meeting with the participants at the Xueyuanlu Campus. During the meeting, Director Xu mentioned that CUPL has striven to deepen cooperation with prestigious universities in North America and Europe that had a high reputation in law and other social sciences. CUPL had established the Overseas Master Scholarship programs since 2013. This program has offered full or partial scholarships for CUPL students enrolled inmaster programs abroad and has been widely accepted and well received. Up tonow, the scholarship program has the following features:

A.Rapid Growth. Since 2013, the number of exchange programs has surged from single digits to 51, including 37 inter-school programs. In the academic year2016-2017, over 150 students are expected to be sent to partner institutions through the scholarship program.
B.Higher Level Participation. Georgetown University, Washington University (St. Louis),Indiana University Bloomington, College of William and Mary, Case WesternReserve University, Université de Montréal, University of Sydney, University ofOxford, University of Exeter, University of Leeds, University of Glasgow,University College Dublin, Erasmus University Rotterdam, Korea University andother prestigious universities around the globe have joined the program insuccession.
C.Increased Scholarships. Apart from a tuition waiver, Southern Methodist University and Korea University have subsidized each student 8000 USD and 7,200,000 KRW respectively for living expenses. Other institutions have also provided a 20%to 70% tuition waiver.
D.Expanded Cooperation. Master Programs have been expanded from law to the political sciences, international studies, public administration, public policy and other subjects.