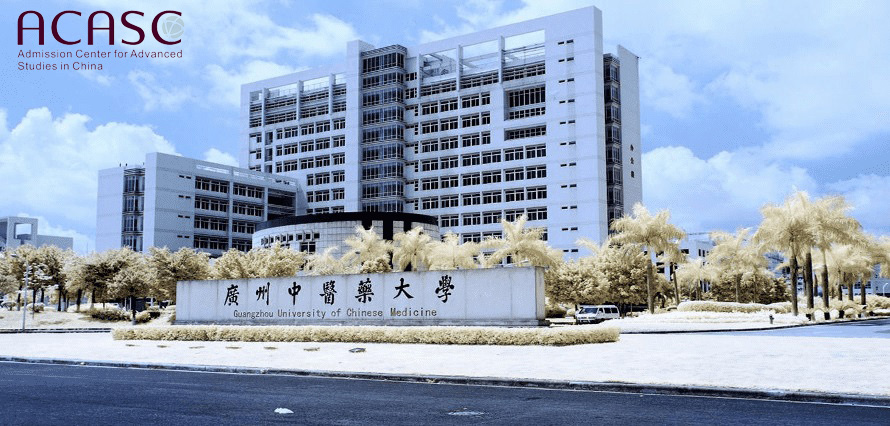 The university consists of 14 schools and departments which are First School of Clinic Medicine, Second School of Clinic Medicine, School of Fundamental Medical Science, Third School of Clinic Medicine, School of Chinese Pharmaceutical Science, School of International Education, School of Continuing Education, School of Acupuncture and Moxibustion, School of Nursing Science, School of Economy and Management, School of Information Technology, School of Human Social Science, School of Professional Techniques, medicine degree tentative universities. In 2000, the university became an institute governed jointly by State Administration of TCM of People's Republic of China and Guangdong Provincial government, mainly by Guangdong provincial government. Our university has two campuses. San Yuanli Campus in Baiyu District covers an area of 327 mu and University Town Campus in Panyu District about 1050 mu. It has 10 affiliated hospitals either directly or indirectly under our university, 1 jointly-opened hospital, 22 hospitals for teaching, and 24 hospitals for internship, 16 Chinese Pharmacology internship bases, and 2 teaching bases for other subjects. At present, the number of staff reaches over 1000 and that of collection of books over 770,000. In 2002, the university was approved to allow the non-medical bachelor degree holders to study medicine as postgraduates. Furthermore, in an evaluation conducted by the Ministry of Education, the university's bachelor degree education was regarded as excellent. In 2003, with an excellent result, its key- discipline construction of "211 Project" passed the evaluation held by Guangdong Provincial Government and State Administration of TCM. In the same year, it started its new campus construction in the Guangzhou University Town. In 2004, Guangdong Provincial Government and the State Administration of TCM formally approved the university's key-principle construction program as part of "211 program".
At present, the university has 4 key state-level programs, 7 key ministry-level pro- grams and 8 key provincial programs. The number of key state-level programs is among the top of all TCM institutes in China and in all higher-education institutes in Guangdong. It has 15 doctoral degree programs, 18 master's degree programs and 3 post-doctoral stations. The doctor's and master's degree programs cover all the secondary- level subjects subordinate to three first-level programs: Chinese Medicine, Chinese Pharmacology and Integrated CM and Western Medicine. The university sets up 16 disciplines covering medicine, engineering, management, science, economy, literature and education. Among these disciplines, three which are Study of Chinese Medicine, Chinese Pharmacology, Acupuncture and Moxibustion, are key disciplines in Guangdong Province. The university has a complete range of higher-education options, from bachelor's, master's, and doctoral to post-doctoral education.
Since beginning to recruit foreign students and students from Hong Kong, Macao and Taiwan, we have offered courses to students from 113 countries in 5 continents. Now it has established cooperative relationships with over 50 countries and regions.