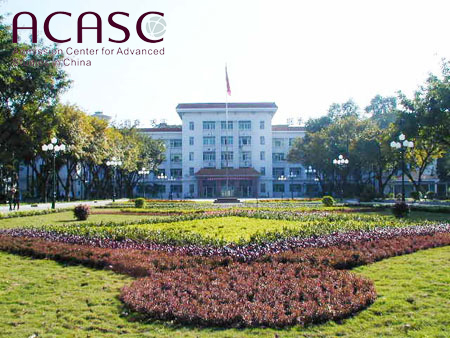 Guangzhou University of Chinese Medicine (GUCM), established in 1956, is one of the four oldest Chinese Medicine (CM) institutes of higher education in China and a key CM university supervised by State Administration of Traditional Chinese Medicine of the People's Republic of China and People's Government of Guangdong Province. The current name is designated in 1995 and it is one of the first group of universities to confer Master's and doctoral degrees. The university consists of the Sanyuanli campus and the University Town campus covering 1,377 mu (918,000 sq.m. in total). GUCM has rich teaching resources and strong research ability and enjoys great fame and reputation in CM field home and abroad.
With years of striving, GUCM has steadily accumulated rich traditional Chinese culture, comprehensive study in Chinese Medicine, as well as in-depth and extensive research on Western culture and Modern Medicine, since the development of Chinese Medicine not only demands the mutual learning between Oriental and Western cultures and Chinese and Western Medicine, but also the combination of science and humanities, ancient and modern cultures.
Over the past fifty years' sustained efforts, Guangzhou University of Chinese Medicine has become a modern comprehensive CM higher education institute of research type consisting of 14 colleges and offering 16 undergraduate specialties. In August 2007, Chinese Medicine Science is designated national first-level key subject and 13 second-level subjects. GUCM has 7 National Administration of Chinese Medicine key subjects, 4 Guangdong Province prominent subjects (Chinese Medicine Science, Chinese Materia Medica Science, Acupuncture and Tuina Massage, Pharmaceutical Engineering), 19 doctoral programs, 24 master programs and 3 post-doctoral stations. The doctoral and Master's programs cover all the first-level subjects of Chinese Medicine Science, Chinese Materia Medica Science and Integrated Chinese and Western Medicine.
Facing the rapidly developing science and technology, GUCM inherits the outstanding historical heritage, maintains the unique feature and charm of South of Five Ridges, keeps up with the frontier science, improve the strict academic disciplines and ensure the academic and educational fame home and abroad. Guangzhou University of Chinese Medicine is the dream university for students wishing to pursue their brilliant career in Chinese Medicine. The university now has more than 18,000 students including over 2,400 postgraduate students and over 12,000 undergraduates and junior college students.
Each campus has a branch of the university library, the area in use being 32,000 square meters. The total volume reaches 960,000 and there are more than 60 database products. It enjoys the richest and most complete Chinese Medicine literary resources in Guangdong. The digital resources are most advanced among national universities of Chinese Medicine.
In more than 30 years, GUCM offers foreign education through various channels and in various forms and has obtained favorable social and economic benefits. Till December 2008, GUCM has offered 419 sessions of short-term Chinese Medicine education training courses. More than 6,000 people from over 50 countries and regions attended these courses. At present, GUCM has established cooperative relationship with more than 50 countries and regions and signed collaboration agreements with several foreign universities.