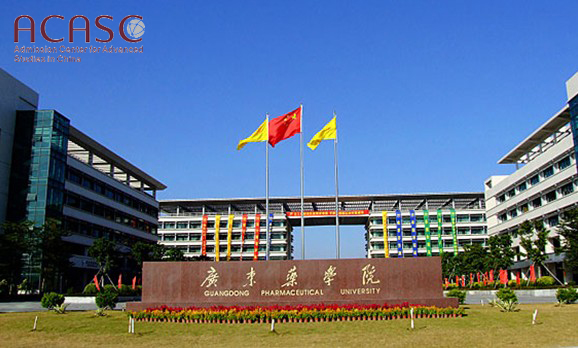 Guangdong Pharmaceutical University (GDPU) is an university under the direct leadership of Guangdong provincial government, cultivating exclusive talents and leading cadres in the sciences of pharmacy, preventive medicine and clinical medicine. The university enrolls students from the country and foreign countries.
The main campus of GDPU is situated in Guangzhou Higher Education Mega Center in beautiful surroundings of lakes and mountains, bluish greenery and luxuriant flowers, and modern architecture; Moreover, there are three other campuses: Zhongshan campus, Baogang campus and Chigang campus. The university covers an area of more than 200 hectares.
Guangdong Pharmaceutical University has a complete educational system offering undergraduate programs, postgraduate programs and continuing education programs. Guangdong Pharmaceutical University consists of 12 schools, Bachelor's degrees are awarded in 7 specialties: medicine, science, engineering, management, economics, law and literature. There are 57 undergraduate degree programs and diploma programs: pharmacy, preventive medicine, Chinese Materia Medica, clinical medicine, etc. Master's degrees are awarded in 8 research directions: Chinese Materia Medica, pharmacy, pharmaceutical chemistry, pharmaceutical analysis, internal medicine, epidemic disease and health statistics, pathogenic biology, human anatomy and histological embryology. Continuing education offers degree programs and professional training. The students body presently total with over 18,400.
GDPU has proper structure with an excellent faculty with rich teaching experience. The university has a faculty of over 1,400, with over 1,000 teaching and researching staff, 99 professors and 177 associate professors.
GDPU attaches importance to scientific research and development. The university has complete scientific research system with huge technical force. It has a batch of research institutes in provincial level and university level: Guangdong Provincial Key Laboratory of Pharmic New Formulation, Grade 2 Laboratory of State Administration of Traditional Chinese Medicine, Key Laboratory of Department of Health of Guangdong Province for Promoting Medicine by Science and Education, Key Laboratory of Department of Education of Guangdong Province of Modern Chinese Materia Medica, Research Institute of Pharmacy, Research Institute of Biopharmacology, Development and Research Institute of Chinese Materia Medica, Academy of Chinese Medicine, Experiment Animal Center, 2 directly Affiliated Hospitals, 2 indirectly Affiliated Hospitals, 1 indirectly affiliated pharmaceutical factory, 4 production, study and research bases.