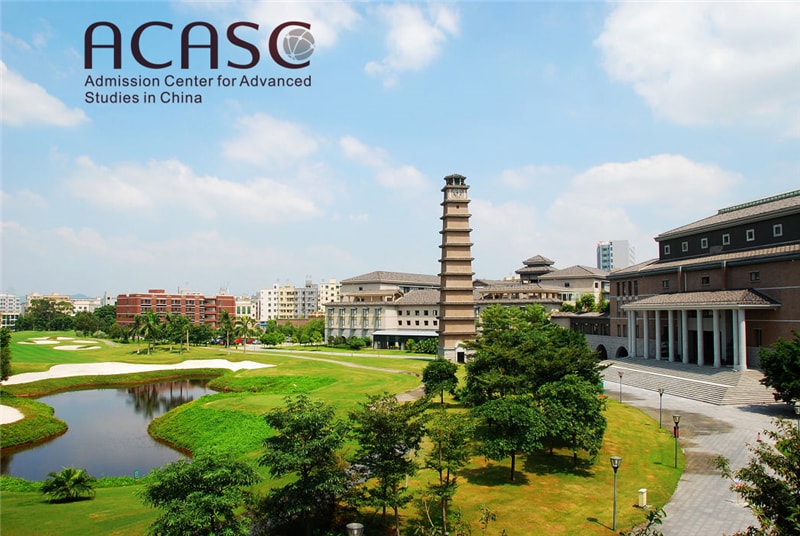 Guangdong University of Finance (GDUF) is located in the city of Guangzhou, formerly known as Canton, now ranking side by side with Beijing and Shanghai as one of the three most economically dynamic and flourishing cities in China.
Being the southern center of Chinese politics, economy, finance, trade, shipping and education, Guangzhou is also a bustling traffic hub in South China, from which it takes half an hour to Hongkong and Macao by high-speed train, or 4-5 hours to Kuala Lumpur, Bangkok, or Jakarta by air. The port of Guangzhou ranks as the fifth largest in the world in handling capacity, with over 200 shipping lines to 350 ports of 80 countries; its airport operates more than 130 airlines, providing over 1000 flights to 207 destinations all over the world everyday; the land transportation system of Guangzhou is composted of advanced subways, expressways and high-speed rails, forming a network connecting the outside world.
Featuring a temperate marine monsoon climate, the weather in Guangzhou is relatively moderate with the annual average temperatures between 20 and 22℃. The city is green with flowers blooming all year around and thus is known as "The Flower City".
With a population of over seventeen million people from all over the world, Guangzhou demonstrates diversities in culture, ethnic and religion due to its economic vitality and inclusiveness. Various kinds of food and lifestyle, multi-cultural life experiences and dynamic employment markets have turned Guangzhou a preferable choice for international students to further their study.
As a public university, GDUF is one of the top 3 Chinese financial institutions, specializing in finance, accounting, assurance and trading. We have cultivated more than 160,000 professionals in the fields of economy and finance, which makes GDUF "cradle of talents in finance and economics". It is famous for the largest Monetary and Finance Museum in southern China, with a collection of 35,000 articles of world currency at various times. The book collection in the library includes nearly two million paper documents, over one million e-books and thousands of original edition academic journals. Besides, GDUF has as many as 50 professional experimental labs and language experimental centers. In addition, a set of recreation and fitness center is available.
The total number of full-time students (undergraduates and post-graduates) has exceeded 22,000. We have 944 full-time teachers, including 379 professors and associate professors, and 224 doctoral degree holders, with a large number of scholars from the educational, business and political circles engaged.
GDUF, consisting of 4 colleges and 14 departments, provides 38 undergraduate majors, 45 finance-related major orientations, covering 6 discipline categories, namely Economics, Management, Law, Liberal Arts, Science and Engineering. Finance in our university is the state-level brand specialty and a key discipline in Guangdong Province, with the other 4 disciplines, namely Insurance, Labor and Social Security and Marketing, being province-level. Our Credit Administration is the only one of its kind in southern China.
The international cooperation programs are developing constantly. By adopting joint training modes like 2+2, 3+1, 3+2, GDUF provides mutual recognized credits and courses, grants mutual recognized or joint degrees with partner universities globally, providing further study opportunities for degree and certificate education for students and teachers. We have signed cooperation agreements with over 40 famous universities around the world, such as:
Monash University (AUS)
University of Western Australia (AUS)
Portland State University (USA)
Purdue University (USA)
University of West England (UK)
University of Nottingham (UK)
Saint Mary's University (CAN)
Université du Québec (CAN)
L'Université Paris Diderot—Paris VII (FRA)
Linnaeus University (SWE)
...
Since 2013, Guangdong-Nottingham Advanced Finance Institute has been established under the cooperation framework agreement signed by GDUF and University of Nottingham, aiming at cultivating high-end financial talents in South China, promoting financial innovation and contributing to the establishment of a financial powerhouse of Guangdong in China. GDUF targets to become the pace-setter of application-oriented finance institutions.
College of International Programs (CIP) is an educational division of GDUF, in charge of enrollment and administration of overseas studying programs, international joint programs and international student programs. CIP provides more than 30 degree majors for international students. Besides, we also offer preparatory courses for international students who have no basic Chinese language ability, as well as multilevel Chinese language training programs.