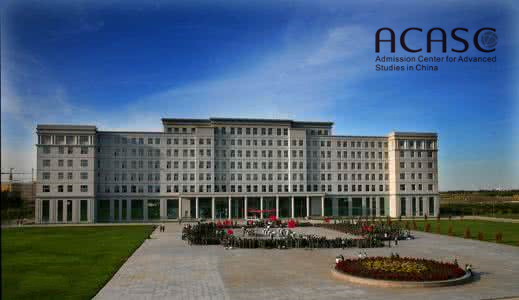 Harbin Institute of Petroleum (HIP) is located on the north bank of the Songhua River with fresh air, four distinctive seasons and pleasant scenery in the area of a newly-built district, Songbei, Harbin Heilongjiang Province, P. R. China.
Property & History
HIP is an ordinary private-run institution of higher learning at undergraduate level. Its precursor – Daqing Petroleum Institute Huarui College, renamed as Northeast Petroleum University Huarui College after Daqing Petroleum Institute (DPI) changed its name to Northeast Petroleum University (NPU) in 2010 – is an independent institute founded by Mr. Xie Yongli, Chairman of Harbin Huarui Industrial Company Ltd., and the company he represents, attached to NPU (originally DPI) in 2003. The college's establishment was formally approved by Heilongjiang Provincial Government on March 19th, 2003 and confirmed by the Ministry of Education of China in 2004.
Having passed the specialists' assessment to de-attach from its mother school held by Ministry of Education, Huarui College changed to the present name as HIP in 2011. HIP passed the authorized assessment of undergraduate degree held by Heilongjiang Provincial Academic Degree Committee and has become one of the institutions in Heilongjiang Province to confer B. A. and B. S. degree to its qualified graduates in March, 2012, hence HIP awarded B. S. and B. A. degree to more than 2000 of its qualified graduates in July of 2012.
Educational Policy & Aim
HIP has been persistently aiming at serving the society, fully implementing the educational policy, always putting in the first place what kind of persons to be cultivated and how to develop them ever since its foundation. It insists on renewing ideas, innovating modes to develop talented people. It deepens reform in education based on the market demands and the platform of cooperation between a school and enterprises. It takes it as its duty to develop practically talented persons, front-line engineering and technical personnel as a token. It has initially formed the industrial characteristics of running the school with petroleum engineering as its main body, and the core disciplines of petroleum, petrochemistry, mechanics, automation engineering and so on as its special professional feature. It has been gearing to the needs of society, cultivating practical talents who may go down to, stay and be used to working in grass-root units. The institute has already been developed and constructed into a private institution of higher learning with advanced ideas, accurate orientation, better condition and more normative management. Its teaching quality and school-running level have been continuously on the rise.
Departments, faculty & Students
HIP consists of 9 departments, 4 sections/departments (without students), and 3 centers 1 library with 26 undergraduate majors focusing on engineering, covering 5 types of disciplines such as engineering, economics, management, liberal and fine arts, including 1 provincial key construction discipline. The institute has a strong teaching staff of more than 500 full-time teachers, over 40% of which have senior professional or technical tittles including associate professors and above (2 teachers at provincial level and 5 PhD Supervisors), besides it also has got a few foreign lecturers from Russia, Britain, Australia and America respectively teaching in the institute, who have made great contribution in their teaching of both languages and specialized courses. More than 9000 undergraduates from all parts of China are studying at school at present, among whom engineering students account for 82.10% of the total amount.
Fruits in Academic Researches
During the past 4 years, among the full-time teachers HIP has won the 2nd Prize of the Heilongjiang Provincial Science and Technology (Natural Science) once; the 3rd Prize of Progress of Provincial Science and Technology once; the 2nd Award of Heilongjiang Higher Education Achievement twice; the 2nd Award of Provincial Undergraduate Teaching twice; the honor of Provincial Excellent Teaching Team once. The institute has carried out one of the Province Natural Science Fund Projects; thirteen of the Provincial Educational Bureau Scientific Research Projects; eleven of the Provincial Education Bureau Educational Reform Projects, among which there is one key project.
Assets & Properties
HIP now covers an area of 680,000 square meters and the floorage on the campus is 281,100 square meters, among which the classroom and administration buildings occupy 181,100 square meters, students' bedroom buildings 69,187 square meters. The institute owns teaching equipment worth RMB 45,349,800 and 731,600 books. There are 105 experimenting and training places on the campus, and 35 practical bases outside the school.
Cooperation with Foreign Educational Institutions
In the light of educational thought of "face and open to the outside world", HIP is actively seeking for cooperating with foreign educational institutions to cultivate inter-disciplinary talents with global vision and solid professional knowledge and skills as well as learning their advanced educational ideas and teaching methods. So far, HIP has already signed contract of cooperation or made contact to discuss on collaborative fields of education and research with some educational institutions abroad such as:
HIP signed contract with Far Eastern State Transport University to cooperate in the fields of civil engineering, building environment and equipment engineering (drainage) in January 2010.

HIP's Chairman and President visited Louisiana State University and signed "Letter of Intent" with LSU to cooperate in the program specializing in Offshore/Deep Water Petroleum Engineering in October 2012, which needs to be further discussed before starting the program.

HIP's Chairman and President have paid San Francisco State University a visit and discussed possibility and practicability to cooperate in the field of mechanical engineering in the future.

HIP has contacted with the representative of Western Oregon University to discuss cooperatively cultivating business and accounting students, and MBA as well.

HIP has contacted with the representative of Sheffield Hallam University of Britain, Kwangju University of Korea, and Universite Montpellier 1 of France respectively to discuss cooperative program in education.
In addition, cooperating with CIEE and IEC, HIP has sent more than 10 students attending the program of "Work & Travel USA" during the last 2 years.