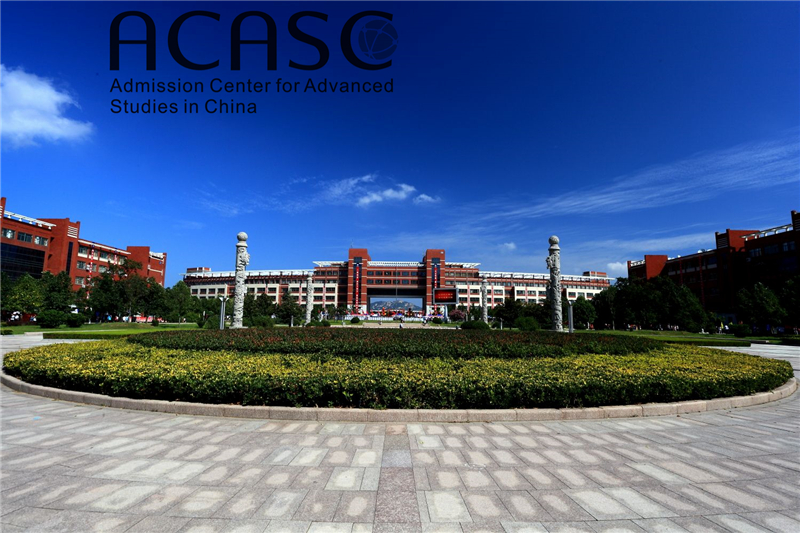 Shandong University of Science and Technology (SDUST), founded in 1951, offers multidisciplinary education in engineering, sciences, management, literature, law, economics and education with unique engineering characteristics. It is one of the five featured key construction universities of Shandong Province for cultivating personnel with practical abilities.
The University now has three campuses located respectively in Qingdao, Tai'an and Jinan, covering a total area of 243 hectares with a floor space of 1.42 million square meters. The University's total assets vallue 1.795 billion yuan RMB (teaching instruments and equipment 0.469 billion yuan RMB).
The University comprises 19 academic colleges, nine directly-affiliated departments, four academies and one independent college. There are nine centers for post-doctoral studies, eight first-tier disciplines authorized to confer doctoral degrees with 43 doctoral programs; 24 first-tier disciplines to confer master's degrees with 127 master's programs; six master's degree domains including 19 professional master's degree authorization, and 78 undergraduate programs.
The University boasts one state key discipline (under construction), one state key lab base co-founded by Shandong Province and the Ministry of Education, one state-local joint engineering center and 61 ministerial/provincial key disciplines (labs, engineering centers) including one key laboratory and one engineering research center invested by the Ministry of Education, three key disciplines, four key laboratories, two engineering labs and three engineering/technology research centers designated by Qingdao City. Also attached to the University are one business center authorized by the National Manufacturing Informationization Training Center, one foreign language training center under the State Administration of Foreign Experts Affairs, the Shandong-Russia Center of Sci-Tech Cooperation, and Qingdao Manufacturing Informationization Personnel Cultivation Base. The Russian Academy of Natural Sciences set up a China Science Center at SDUST, the only one in China.
SDUST currently enrolls over 39,700 full-time students, including more than 6,300 master and doctoral candidates. The enrollments of its independent college and adult education college are over 8,100 and 30,000 respectively. Among a faculty and staff of over 2,900 are 288 professors, including three academicians of the Chinese Academy of Sciences, one academician of the Chinese Academy of Engineering, one candidate of the "State 2008 Outstanding Scientists Recruiting Project", seven Taishan Scholar Program professors, four Taishan Scholar Program overseas professors. 55 professors are entitled to state special subsidies; seven professors are honored with titles of National Young- and Middle-aged Experts with Oustanding Contributions and 17 with provincial honorary titles. There are 158 doctoral tutors, 10 national model/excellent teachers, 17 provincial excellent teachers and 10 provincial eminent teachers. There are two Education Ministry innovation teams and 2 Shandong province innovation teams.
There are seven national feature specialties, one state-level comprehensive reform experimental specialty, one state-level talents cultivation innovation experimental zone, one state-level quality open course, four state-level quality courses, one state-level bilingual-instruction demonstration course, one state-level teaching team, two state-level experimental teaching center, and one state-level engineering practice teaching center. In recent years, the University won four second-class awards of the National Teaching Achievements and 70 awards of the Provincial Teaching Achievements. The University has cultivated over 220,000 personnel so far and the employment rate of its graduates has maintained a high level. And in the national undergraduate programs teaching evaluation conducted by the State Education Ministry in 2007, SDUST was placed in Category A.
SDUST is noted for its strengths in basic and applied research and scientific development owing to its multidisciplinary features. It boasts solid academic foundation and advantages in Mining Engineering, Surveying and Mapping Science and Technology, Geological Resources and Engineering, Control Theory and Control Engineering, Computer Software and Theory, Geotechnical Engineering, Mechatronic Engineering, and Mechanical Design and Theory. The University now houses over 90 research institutes in such domains as engineering, technology, humanities and social sciences. During the 11th Five-Year-Plan (2006-2010)period, the University undertook 3842 research projects with its fund totaling to 0.88 billion yuan RMB. 713 projects were awarded, including five state awards and 218 provincial ones. Since 2011,it has undertaken 3088 sci-tech projects with a total contract fund of 0.75 billion yuan RMB, and has won four state awards and 177 provincial/ministerial awards.
SDUST's sci-tech park has been designated by the State Ministry of Science and Technology and the State Education Ministry as 'National University Tech Park', State-level Sci-Tech Enterprise Incubator', 'College Student Technological Imbark Practice Base', 'National Technology Transfer Demonstration Institution', etc. attracting 120 research entities and businesses engaged in development of new materials technology, optical, mechanical and electronic integration, electronic information, software engineering, instruments, automation, etc.
The University actively participates in international exchange and cooperation with a view to internationalize its education. It has established cooperative relationship with 105 higher learning institutions and research institutes in 20 countries and regions including the US, Japan, Germany, Russia, France, Australia, etc. Six Sino-foreign joint laboratories have been set up and over 50 cooperative projects initiated. Joint-education and student exchange programs are initiated with countries like the US, France, Germany, Australia, and others. International students from more than 30 countries come to SDUST for degree or short term studies. More than 20 faculty members are playing leading roles in various international academic institutions.
The University edits and publishes Journal of Shandong University of Science and Technology (natural sciences edition), Journal of Shandong University of Science and Technology (social sciences edition) and Weekly of Shandong University of Science and Technology.
The University, with a history of more than half a century, has cultivated its fine ethos of Unity, Diligence, Truth-seeking and Innovation. It will spare no efforts to build itself into a high level multidisciplinary research university in the years to come.