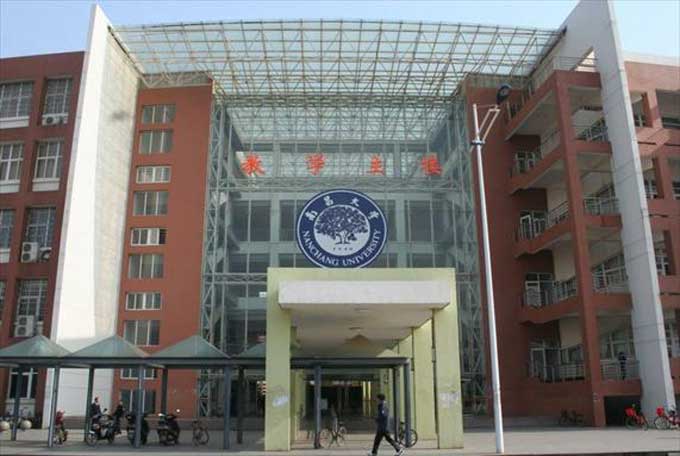 Nanchang University is a comprehensive university which characterized by "Penetration of Arts, Science, Engineering and Medicine subjects, Combination of studying, research and production". It is one of the national "211" Project key universities that jointly constructed by the People's Government of Jiangxi Province and the Ministry of Education. It is also an important base of talents cultivation, scientific researching and transferring of the researching accomplishment into practical use for both Jiangxi Province and the country.
NCU is located in the historical and cultural city - Nanchang, the capital city of Jiangxi Province, which enjoys the names of "a blessed place rich in culture and capable of nurturing talented people" and "the city of heroes". NCU is composed of five campuses, which are Qianhu main campus, Qingshanghu campus, Donghu campus, Poyanghu campus and Fuzhou campus, which occupy a total area of 8062 Chinese Mu. Fully equipped with top level infrastructure, NCU provides network-based TV, telephone, IC Card, surveillance and public broadcasting which formed a public service system with smoothly flowing and fully shared information and advanced equipment.
NCU is the main node of China Education and Research Network (CERNET) in the southeast China, which is the only one of such kind in Jiangxi that set up by the Ministry of Education. NCU has a library with a collection of over 3.64 million books and was appointed the Jiangxi Record and Information Service Center by both the National Higher Education Record Center and Jiangxi Provincial Ministry of Education. NCU is the only Data Searching Working Station in Jiangxi Province entrusted by the Ministry of Education. NCU also has 10 attached hospitals, among which four are national comprehensive grade-A tertiary hospitals and one is grade-A tertiary stomatological Hospital.
NCU has a scientific discipline system which characterized by rational layout and coordinated development. Doctorate programs and Master's degree programs covered most of the undergraduate majors out of all the disciplines. Among the 96 undergraduate majors under 11 disciplines, there are 3 first-class discipline Doctorate programs, 29 second-class discipline Doctorate programs, 20 first-class discipline Master's degree programs, 177 second-class discipline Master's degree programs and 4 post doctorate mobile research station. The University also has Master's degrees programs for specialized majors such as Master of Engineering, programs for in-job university teachers and those equivalents are also available. NCU owns and operates 1 state key laboratory, 2 state key disciplines, 2 key laboratories and 2 Engineering Research Center entrusted by the Ministry of Education, 1 key researching base of humanity and social sciences and 2 innovation teams also entrusted by the Ministry of Education, 1 National Clinical Pharmacology Base, 1 State Research Center of Stem Cell Technology Jiangxi Branch, 2 state-level demonstration center for experimental teaching, 3 state-level characteristic undergraduate majors, 1 state-level teaching group, 2 state-level fine courses, 1 national bilingual-teaching demonstration course and 41 key academic subjects that are listed in the provincial "Eleventh Five-Year Plan".
Manifested in a series of original, symbolic and characteristic scientific achievements, the autonomous innovation capability of NCU have been further enhanced in recent years. For example, NCU has successfully researched and developed the "Production Technology of GaN-based Blue Light Materials on Sapphire Substrates", which broke the situation that this kind of high-tech products had been entirely depended on importation. NCU has conquered the world problem - "Material Growth and Device Fabrication Technology of GaN-based Blue Light on Sapphire Substrates", which created the third original technology of producing semiconductor illumination material around the world, and it was assessed as one of the major achievements of " 863 program" and one of the items showed in the "National Key Technology Innovation Achievements Exhibition". In 2008, the total research fund for the whole university reached to RMB 173billion, demonstrating a 22% year-on-year increase. In the same year, NCU carried out 81 programs sponsored by the Nature Science Foundation of China, demonstrating a 59% year-on-year increase.
There were 76 invention patents and 40 authorized patents among the 105 patents which have been applied. 743 academic papers were collected by SCI (E), EI, ISTP, and CSSCI, which demonstrating a 52% year-on-year increase. There were also 6 programs approved by "863 Program" and 1 approved by "973 Program". With the objective of rejuvenating Jiangxi Province through science and education development, NCU has been strived for improving the capability and level with all efforts of serving the society by promoting the combination of studying, research and production. Industry bases such as Lattice Power and ZTE-S (Nanchang branch) developed rapidly; all-round cooperation with local government, departments and bureaus of relevant industry, companies and enterprises were established. The state-level Science and Technology Park of NCU, was set up as the first "National Exhibition and Trade Center of Patented Technology". Besides, Institute of Advanced Studies, Institute of Military Industry and Beijing Institute were established. The editions of Journal of NCU cover Arts, Science, Engineering and Medicine, among which editions of Arts and Science belong to the National Chinese Core Journals, editions of Medicine belong to the National Medical Core Journals.
NCU has a highly dedicated and professional teaching staff of 2559, among which 1071 are professors and associate professors, which takes about 42% of the total; 464 of them hold Ph.Ds and 261 of them are studying for Ph.D while they are still at their teaching positions; 1502 of them hold Master's degrees which takes about 59% of the total. Five of them are members of the distinguished Chinese Academy of Sciences and the Chinese Academy of Engineering (4 of them are members of both Academies). There are 4 "Changjiang"scholars, 1 member of the Academic Degrees Committee under the State Council, 1 member of the Academic Degrees Assess Committee of the Academic Degrees Committee under the State Council. 5 of the them were given the title of "Young and Middle-aged Experts Who Made Outstanding Contributions to the Country", 1 of them was given the title of "Young and Middle-aged Expert Who Has Made Outstanding to Ministry of Health, 1 of them was given the title of "National Distinguished Teacher", 2 of them received the "Bethune Medal". Besides, 5 teachers are among the first and second talents in the national "Key Talents Project", 5 of them are in the "Program for New Century Excellent Talents in University"which was started by the Ministry of Education, 5 of them are invited professors with the title of "Jinggang Scholars", 6 of them are invited professors with the title of "Ganjiang Scholars" given by Nanchang University, 76 of them are enjoying the special allowance from the State Council and the Jiangxi Provincial Government.
In recent years, with insisting on the school running idea of "talents-cultivation oriented, both teaching and scientific researching emphasized, inclusive and practical" and the talents-cultivating idea of "combining ability with moral integrity, unifying of knowledge and practice", taken the undergraduate education as the body, the postgraduate education as the head, and the strengthening the quality of education and teaching as the core , NCU has been increasingly improved teaching quality and promoted teaching reform, so as to realize the objective of cultivating senior specialized talents with high comprehensive quality, rational knowledge structure, solid basis, broad spectrum of knowledge, creative spirit and practical ability. There are 89,890 students of various types, among whom 71,696 are full-time undergraduate and junior college students, 8,391 are postgraduate students of various types. In recent years, lots of students have won the first prizes in a series of national competition such as China Undergraduate Mathematical Contest in Modeling, "Challenge Cup" Science competition, etc. NCU is also one of the initial universities that listed in the undergraduate innovative experiment plan project.
NCU places great emphasis on international exchange and cooperation. It has established steady relations with more than 50 universities and researching institutions from over 30 countries and regions worldwide. NCU jointly established the first Confucius Institute with the University of Poitiers in France, which was the first one in East Europe. Entrusted by the Ministry of Education and the Ministry of Commerce, NCU has successfully held the "Training Courses on Chinese Culture and Economy" for officers from developing countries who are working in governmental departments of Culture as well as the "Training Courses on Chinese language" for government officers from Shanghai Cooperation Organization for many times. With the program of training teachers of economic management was implemented in Guinea and the study of "Africa Aid" was launched, NCU became the first Chinese university which was granted rights to offer certificates in Africa. NCU has always been active in international exchange activities such as International Academic Debate Contest, Cross-Strait Undergraduate Debate Contest, etc. Through taking part in these activities, students have broadened their vision to a national or even an international level. In Oct. 2006, the President of Philippines - Ms. Arroyo visited our university and made a keynote speech.
Key researching bases such as "Institutes of Advanced Study", " Institute of Gan Knowledge", "Research Center for the Development of Central China" , "Research Center of Ideological and Political Education of College Students in Jiangxi Province" were built so as to strengthen the theoretical research of philosophy and social science. Campus activities like "Masters' Forums", "Joint Construction by Both University and Local Government", "Consultancy Services," and "Barnstorming" are actively carried out so as to guide and promote regional cultural development.
In the new historical period of development, holding high the "great banner of socialism with Chinese characteristics", taking Scientific Concept of Development as guide, NCU will continue insist on mind-emancipation and innovation so as to pull off "Three Transfers" and work out "Three Articles". NCU will increasingly persist in Scientific Concept of Development and promote Connotation Construction, to strive for realizing the objective of constructing a high-level comprehensive university of new model and make bigger contribution to realizing the new stride of Jiangxi's rise in central China.
The old city of Yuzhang is undergoing new changes. Let's witness Jiangxi's rise in central China together!
The old prose predicted the future, it's believed that by our joint effort, we will carry on the past and opening a new chapter of NCU's takeoff in China!