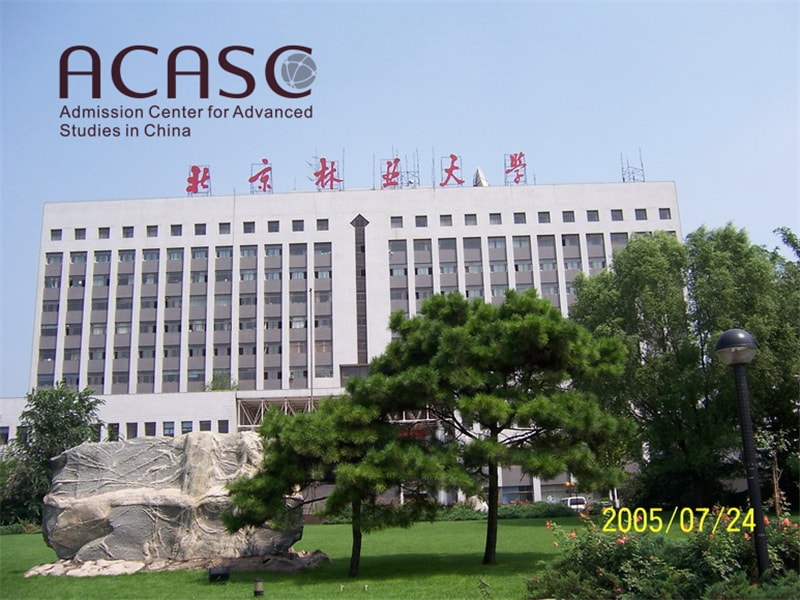 A key national university under the direct administration of the Ministry of Education (MOE) and technically affiliated to the State Forestry Administration (SFA), Beijing Forestry University (BJFU) is consecutively listed among China's prestigious universities that are entitled to enjoy financial supports from the country's educational initiatives like the Innovation Platform for Prioritized Academic Disciplines and the Higher Education Reinvigoration Project 211. BJFU is also among the 56 universities in China that have MOE-approved Graduate Schools. As another major milestone in its development, BJFU has since 2011 been honored as a member of the League of Hi-tech & Science for Universities in Beijing.

The history of BJFU can be dated back to 1902. Originally known as the Forestry Section of the Agriculture Department of the Imperial University of Peking (Jingshi Daxuetang, predecessor of Peking University), its academic force was greatly strengthened and expanded through the successive acquisition of the agriculture departments of Tsinghua Xuetang (Tsing Hua Imperial College, predecessor of Tsinghua University), Zhili Agricultural School, the Catholic University of Peking as well as North China University. During the nationwide restructuring of higher education in 1952, the Forestry Department of Beijing Agricultural University and that of Hebei Agricultural Institute were combined to set up an independent Beijing Forestry College (BFC), one of the earliest higher education institutes in the country that specialized in forest studies. Following the merging of the Landscape Architecture Department of Beijing Agricultural University and the Architecture Department of Tsinghua University in 1956 into it, BFC was designated in 1960 as a key national university, and was formally changed in 1985 to the present name of Beijing Forestry University.

Thanks to the unrelenting efforts of all the faculty and students over the past six decades, BJFU has developed itself from a specialized college in forestry to its current status as a multi-disciplinary university with leading positions among its counterparts in such disciplines as forestry, soil and water conservation, desertification control and prevention, landscape architecture, biology, and forest engineering, together with an extensive coverage of disciplines in agriculture, science and technology, economics and management, liberal arts, fine arts, law, and philosophy. Around 100,000 high-level forestry professionals and overseas students have emerged from BJFU as the builders of the country, including 13 celebrated academicians and a whole stock of distinguished scientists, researchers and managers.
Currently, BJFU is arranged into fourteen schools and colleges of studies, a Graduate School, a School of Continuing Education and a School of International Studies, offering 57 undergraduate programs, 116 master's programs, 39 PhD schemes and 5 post-doctoral research stations. With three distinguished academicians in the leading, a highly competent teaching force provides high-quality education to 32,000 students, which breaks down to 13,000 undergraduates, 4,100 graduates, 13,000 continuing education students and 1,700 part-time graduate students. Partnerships have also been entered between BJFU, with over 170 higher education institutes, research institutes or NGOs throughout 30 countries and regions to carry out cooperative endeavors in education, scientific research and technologies.There is a First Category national key discipline (under which seven second category key disciplines are included), two second category national key disciplines, one key (backup) national discipline, and a number of key disciplines at provincial/ministerial level. With forestry (a First Category discipline) in the leading position among its national counterparts, competitive advantages have taken shape that highlight the university's specialties in forest resources conservation, landscape architecture and human habitation environment, bio-materials and energies, ecology and environment, forest biology, as well as in humanities and social sciences.