Liu Youjin Send "Friendship" Mooncakes, Foreigners Feel "Reunion" Warmth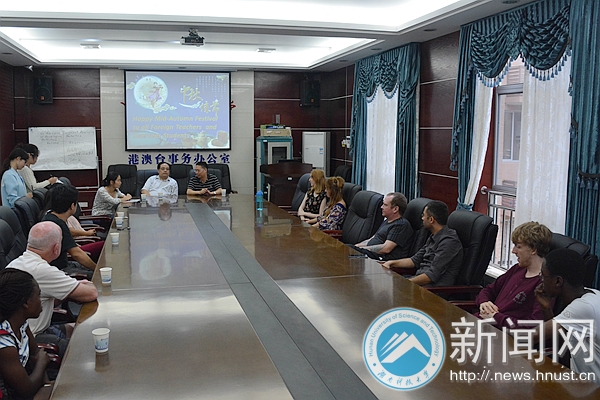 "In Chinese people's way, let foreigners spend a 'Chinese tasted' Mid-Autumn Festival andfeel warmth from China." On the afternoon of September 25th, vice president liuyoujin represented our university sending Mid-Autumn mooncakes to 11 foreign teachers and students in the conference room 108 of international education floor and wished them holiday greeting.


"Moon, moon cake circle, means 'reunion'." Liu Youjin explained the connotation of ChineseMid-Autumn Festival to foreign students and teachers in order to deepen their understanding of Chinese traditional culture and make them have faster and better understanding of China, which can help them integrate into the campus. Liu expressed his heartfelt thanks to all of them, under their efforts, multicultural and harmonious campus blend thicker, He proposed that our university will continue to devote every efforts to foreign students and teachers on thelife and teaching services, and repeatedly stressed that "international education floor is the home of foreigners, where we reunited!

Subsequently, Liu send mooncakes to foreign students and teachers. "Thank you!" Juan Antonio took the mooncake with eyes full of joy. Juan Antonio from Africa Equatorial Guinea, in early September, he and his cousin went to our university across the seas to learn Chineselanguage.

In this reunion day, eighteen-year-old siblings fell a little lonely and miss their family, and they also admitted that with everyone here they feel warmth of home. Juan Antonio held aChinese moon cake, with bent eyes and a row of white teeth, said that "moon cake, mooncake, delicious.

Kawasaki Aiko is a Japanese teacher in our university, she pinched fingers computing, "I have come to China 20 days." Kim told reporters that Japan call full moon day as the "monthsee Section", food of holiday as "month see dumpling". White dumpling is made by sticky rice.She said, "Romans, Chinese moon cake are alike and when they eat mooncakes together hehas the feeling of home."

---
Student Volunteers Initiated an Anti-smoking Campaign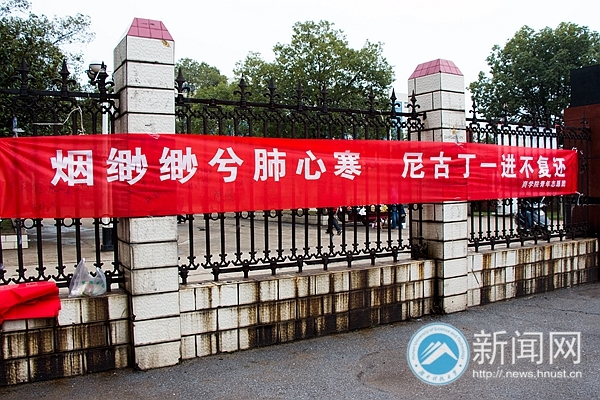 On February 26th, student volunteers from School of Business of HNUST initiated an anti-smoking campaign called "Practice non-smoking, make the campus cleaner" at every cafeteria and students dormitory. Many volunteers from other academies also joined this campaign.


This proposal was intended to introduce the harm of smoking and create a non-smoking environment. A variety of anti-smoking banners and slogans were hung up at main roads in campus, dormitories, and posters were put up on cafeterias' notice boards. At lunch time, volunteers passed out anti-smoking leaflets and mobilized other students to sign their names on the banners to support this event.

Wang Jie, the president of the Student Union of School of Business said, "Nowadays, many students can't completely quit smoking, but through this campaign we know that at least they have the awareness to do so. Giving up smoking is a gradual process that everyone should try his best and adjust his life styles."
---
Romantic Wishes on Girls' Day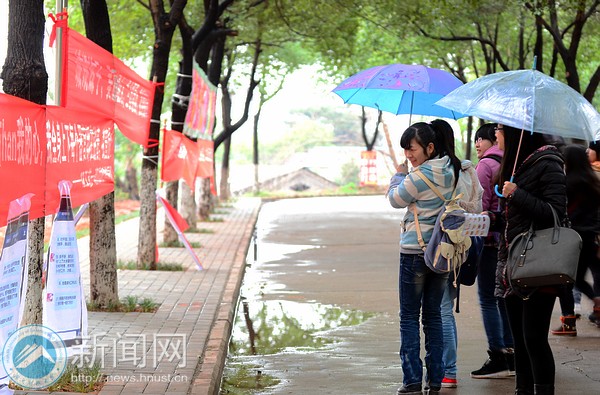 On March 7th, many boy students sent their best regards to girl students by putting up banners and distributing breakfasts to celebrate a special popular festival in campus——Girls' Day. In return, these boys were called "Warm-hearted Boys of HNUST" by the girls.

Apart from those attractive banners and delicious breakfasts, girls also enjoyed other surprises: roses, chocolates, adorable toys and many special gifts.

Early in the morning, twenty girls enrolled by Psychology Department in 2012 received roses, cakes and entertaining performances from nine boys of their same class. Freshmen boys from E-commerce Class One not only put up the banner "See You in the Osmanthus Garden", where they secretly tied ribbons carrying wishes the night before Girls' Day but also invited all the girls out for dinner. Female editors working for Science and Culture, the college journal of HNUST, appreciated poems written on the leaves by their male colleagues.

Almost all departments organized recreational activities for girls. Mental Health Center of HNUST also offered a "Healthy Feast" with advertising programs on girls' health. Xiaoxiang College sponsored a series of programs for girl students, such as "Happy Fidelity". Related competitions, lectures and parties also attracted and amused many girl students of HNUST.
---