UESTC's 1st International Education Roundtable with Asian-Africa Partner University
On April 14th, UESTC held its first international education roundtable with Asian-African Partner universities on Qing Shuihe campus. Over 30 distinguished guests from 20 universities of 7 countries plus consular officers of Pakistani, Kenyan and Ghanaian embassies to China attended this President-level conference to discuss cooperation and seek common development. President Li Yanrong, Vice-President Xiong Caidong and Deputy Secretary of University Party committee Shen Xiaorong attended this meeting and unveiled the opening ceremony for UESTC's West African research center, and Xiong Caidong was the meeting presider.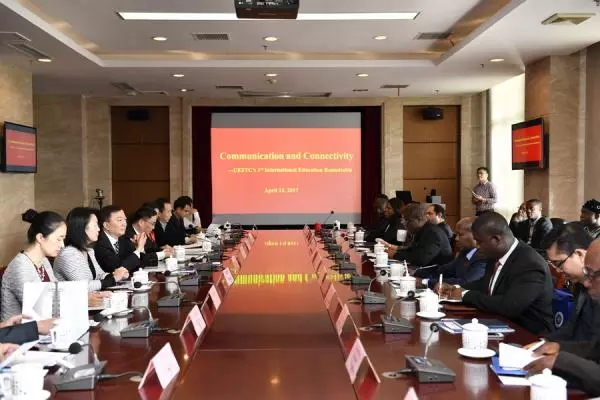 On behalf of UESTC, President Li Yanrong first extended his sincere welcome to all the guests and his appreciation for their trust in this university and gave a brief introduction to UESTC's history, disciplinary construction and talent cultivation. He said that over 160,000 excellent graduates had been sent out from UESTC since it was founded in 1956, and that among those graduates who actively played their roles in all sectors, many have grown to be the backbone in China's electronic information field, making great contributions to the development of electronic information field, China's social and economic growth and national defense construction.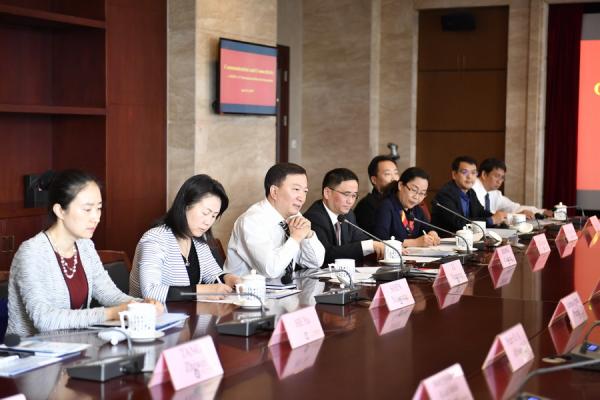 Mr. Li demonstrated that talent students who we cultivate in the 21st century should own international vision and humanities, therefore in recent years UESTC has fully implemented international strategies among which cooperation with West African and South Asian universities is an important part. Over the past few years, UESTC has established friendly cooperation with University of Ghana, University for Development Studies (Ghana), Ghana National University of Education, Addis Ababa Science and Technology University in Ethiopia. Teachers and students from those university came to UESCT for their further studies had not only obtained academic achievement for themselves but also diversified the multi-culture of this university as well as strengthened mutual friendship between partner universities. It is our shared pride that international graduate students from UESTC have obtained jobs from higher education institutions, IT enterprises and governmental departments of Ghana, Ethiopia, Kenya, Sudan and Algeria and obviously ahead of them is a bright future.
Mr. Li Yanrong pointed out that UESTC will work jointly with all embassies and consulates in China and Chinese enterprises to promote cooperation with universities present there to support platforms and guarantee high-level education for international students, to launch trainings for professional talents as well as for administrative leaders, and to advocate exchanges between teachers and students, thus pushing mutual cooperation to a new stage.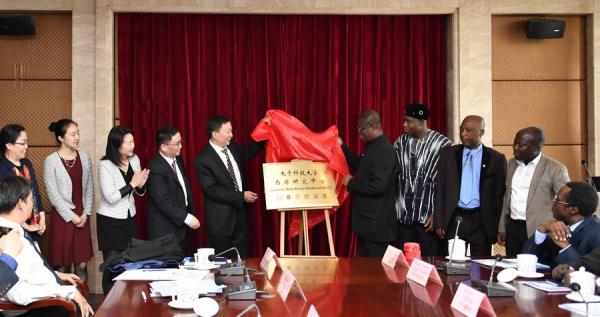 Mr. Li Yanrong and Xiong Caidong invited representatives of University for Development Studies (Ghana) and other institutions to unveil the opening ceremony of UESTC's West African research center. This center is committed to working with African countries such as Ghana, Togo and Cote d'Ivoire for conducting national and regional studies by pooling talents, establishing platforms and providing scientific and technological services in combination with UESTC's distinctive disciplines; it will enable UESTC and West African universities jointly to apply projects in natural science and social science such as philosophy, boosting exchanges among UESTC and the West African famous universities in respects of talent cultivation, laboratory establishment and student internship trainings, and helping Chinese enterprises localizing competent workers and meet the needs for economic and social development.
Deputy Consul-General Naveed Safdar Bokhari of Pakistani Embassy in Chengdu, educational counsellor of Kenya embassy in China Reben Argut Pturgo and educational counsellor of Ghana embassy in China Peter O.A. Allswell gave addresses. They reviewed all fruitful achievements resulted from the cooperation of their countries' universities with UESTC and spoke highly of UESTC's educational strength, achievements and conditions as well as practical performances made in recent years dependent on international strategy. They extended their will to support UESTC's deep cooperation with their higher education institutions, research organizations and enterprises and their wish to more fruitful results from mutual collaboration.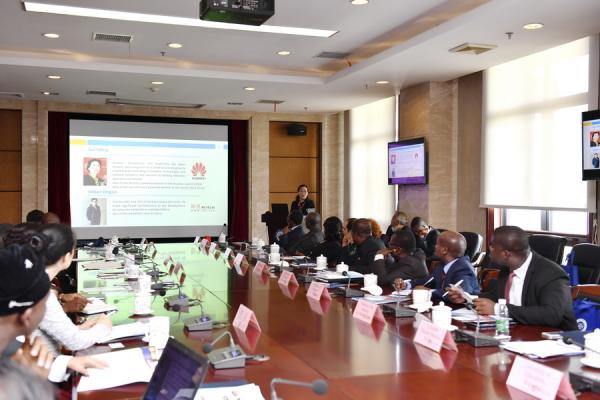 During the conference, representatives of International Cooperation & Exchanges Office gave a comprehensive introduction to UESTC's international education, hardware facilities, study-abroad policies and admission policies and put forward suggestions for future cooperation. All attendees had a discussion on coming cooperation patterns with UESTC as well as prospect of UESTC.
They all visited the library, international students' dormitories and sports fields of UESTC.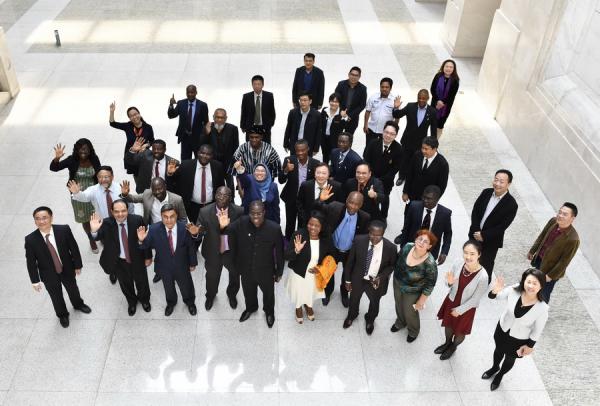 In addition, this conference participants included four deans from School of Information and Software Engineering (Mr. Zhou Shijie), School of Mechatronic Engineering (Mr. Yang Ping), School of Political and Public Management (Mr. Tang Zhiwei)and School of Glasgow (Mr. Zhao Zhiqin).
---
UESTC Delegation Visiting Chili, Ecuador and Costa Rica
Dr. Yang Xiaobo, Vice President of UESTC, led a delegation to participate in the International Education Expos held in Chili and Ecuador and to visit the National University of Costa Rica from March 27th to April 7th. This visit produced satisfactory results in boosting the cooperation and communication between UESTC and the higher institutes in South America. On top of that, the delegation atrracted more overseas students to choose to study in UESTC.
Students gathering at UESTC's booth on the International Education Expo held in Santiago, Chili
On the morning of March 28th, as soon as the delegation arrived at Santiago after 30 hours' flight, they directly went to the Expo for holding talks with students who gathered here for UESTC. During the 5-hour talk, the delegation introduced the geographical location, living environment and disciplinary advantages of UESTC and Chengdu. Also, they elaborated on the international education of UESTC, spanning majors, courses, tuition and accommodation and employment.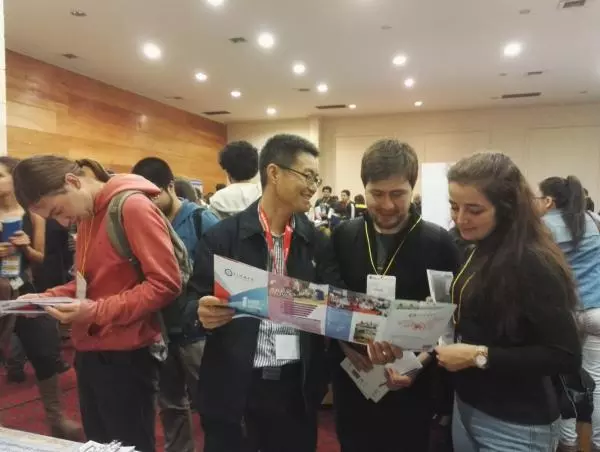 Teachers in UESTC delegation answering questions from students on the International Education Expo held in Concepción, Chili
On March 30th, the UESTC delegation, together with other university representatives from about 20 countries, including the United States and Germany, attended another International Education Expo held in Concepción, Chili, which brought together hundreds of students. The UESTC booth was popular among both students and their parents.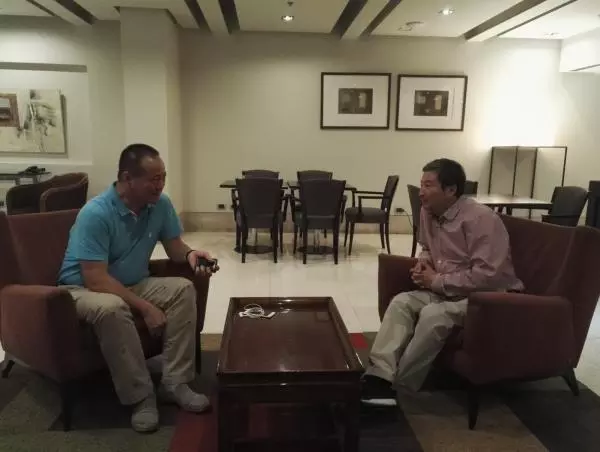 Dr. Yang meeting with Guan Jintao, chairman of Beijing Overseas Association in Chili
During a meeting on March 31st, Dr.Yang exchanged views with Guan Jintao, chairman of Beijing Overseas Association in Chili, on how to strengthen bilateral communication and cooperation for achieving win-win results. UESTC hopes to better cooperation in education with Beijing Overseas Association, which enjoys broad platforms as well as plentiful resources and serves as an important bridge to Chili. Mr. Guan also expressed his pleasure to work with UESTC. Mr. Guan noted that as the higher institutes in China are gaining more public appeal, an increasing number of students in Chili hopeto study in China's universities, like UESTC, a well-recognized university.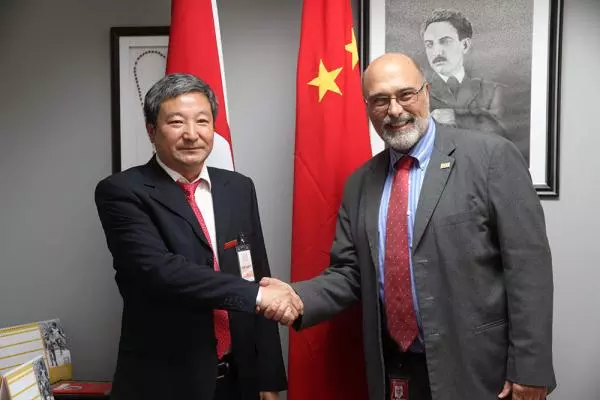 Prof. Yang communicating with Alberto Salom Echeverria, Prsident of the National University of Costa Rica
On April 3rd, the UESTC delegation paid a visit to the National University of Costa Rica (in Spanish, Universidad Nacional de Costa Rica, abbreviated UNA) and was received by President Albert. President Alberto held that UNA hopes to sign intercollegiate agreements for cooperation with UESTC, collaborating with each other in fields of students projects, faculty training, course teaching and commercial use of R&D achievements. The two universities have a lot to offer each other. During the meeting, Dr. Yang also expressed that UESTC was impressed by UNA during the last-year visit. For this reason, Prof. Yang led this visit again in less than one year. hoping to develop practical cooperation with UNA.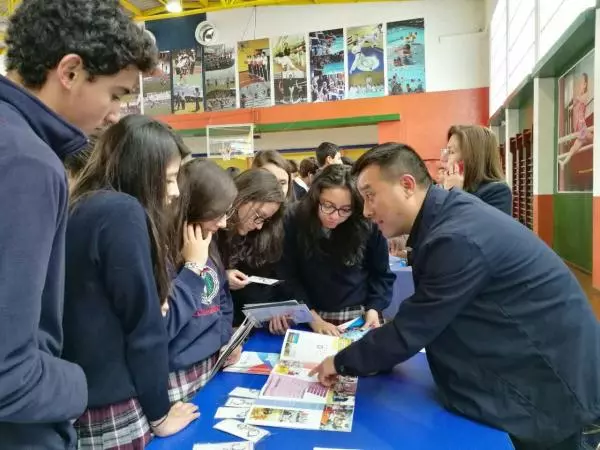 Students from SEK in Quito, Ecuador consulting the studying abroad policies of UESTC at the booth
On April 4th, the UESTC delegation took part in another International Education Expo held in Quito, Ecuador, introducing Chengdu and UESTC to high school students at the Expo and expressing our warm welcome. At the booth, these high school students were quite into both the long history and modern development of Chengdu, and the beautiful campus of UESTC. They said that they would follow UESTC closely, hoping to study in UESTC one day.
This is the second time for UESTC, the only university from China, to participate in the International Education Expo held in South America. The delegation members are from the School of Computer Science and Engineering and the International Office of UESTC.
UESTC is now looking to South America for overseas students. Through strenuous efforts, currently there are some students from Argentina and Brazil studying in UESTC.
---
Power System Operation and Control Courses made a field to DEC
On 28th April, 2017, as part of gaining practical experience in the course Power System Operation and Control, Prof Qi Huang, instructor of the course, led 20 master and PhD students ofthis course to visit Dongfang Electric Corporation (DEC) at Chengdu base. Dr. Honglin Zhou, the principal investigator of wind generation control at DEC warmly host the visit.
The purpose of the educational trip was to provide students with practical and theoretical experience in Power System Operation and Control as well as to have a direct feeling of the latest technology in the manufacturing of electrical power equipment. As the largest manufacturer of generating equipment in the world, and one of 118 most important central government owned enterprises in China, DEC Ltd is a leading Chinese company specialized in power equipment manufacturing and worldwide project contracting for thermal, hydro, nuclear, wind, gas turbines and combine cycle power plants.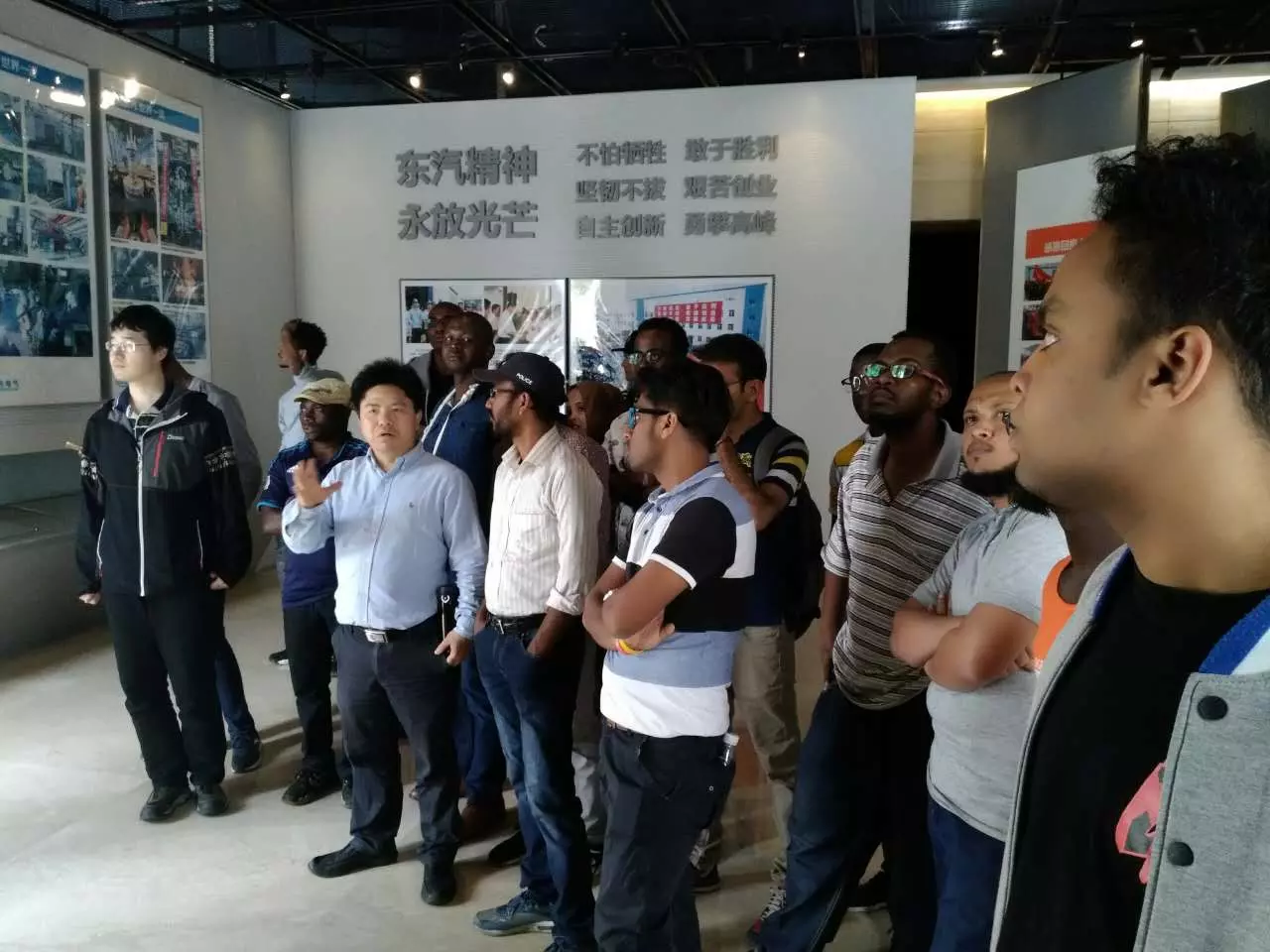 During thiseducational tour, Dr. Zhou Honglin introduced the production and operation of the various equipment to his international students. He also demonstrated to students the operation of various power plants such as the hydro power plant, nuclear power plant, coal operated power plant as well as the solar power plant.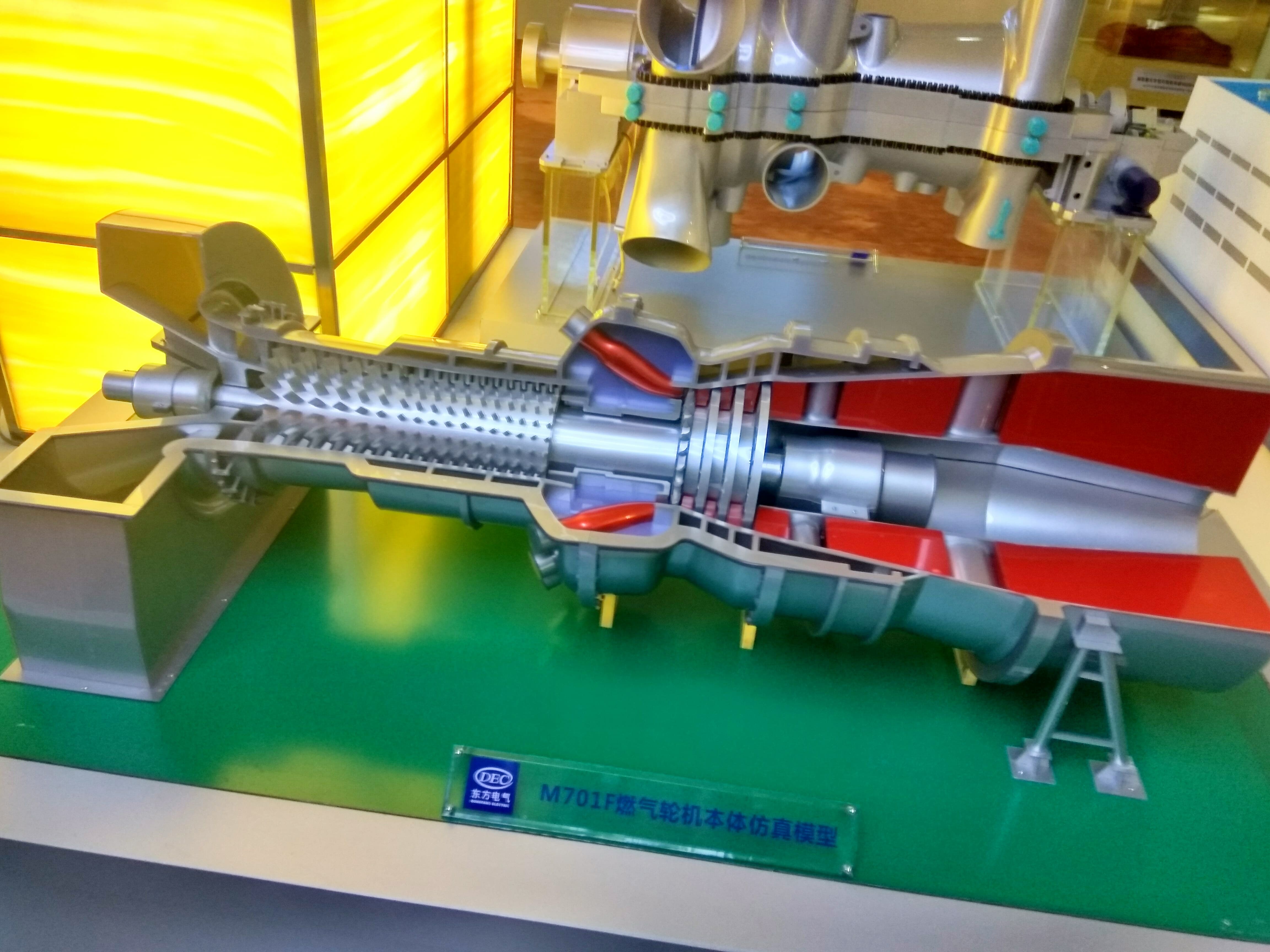 The international students, coming from Ghana, Pakistan, Bangladesh, Nigeria, Kenya, Ethiopia, Tajikistan, Vietnam, Togo, Madagascar, and Cameroon, etc., showed great interest as they probed into further questions trying to know more about the various equipment in power generation and control. Mr. Atoar Rahman, fromBangladesh, a master student at School of Automation Engineering, said: "I am impressive and actually shocked by the manufacturing capability of China. DEC is representative of Chinese speed and Chinese manufacture." Prof Qi Huang claims that it is important to build close relationship with industry for effective instruction, and he expects more support from the top manufacturers and utility companies for student training.