Xiamen University attends Chinese Higher Education Fair 2017 in Malaysia


From April 10 to 15, 36 Chinese universities including Peking University, Tsinghua University, Zhejiang University, Nanjing University and Sun Yat-sen University attended the Chinese Higher Education Fair 2017, which was held respectively at Hua Lian High School and Kuang Hwa Private High School by the United Chinese School Committees' Association of Malaysia. Xiamen University and Xiamen University Malaysia formed a delegation and attended the fair, with Prof. Chen Binghui from the College of Chemistry and Chemical Engineering as the group leader. Over 2000 students from north Malaysia and central Malaysia were drawn to the fair for consultation. XMU prepared graphic posters, detailed enrollment guidelines, campus scenery bookmarks and some other publicity materials for local students and parents to get a glimpse of the glamour of Xiamen University. The XMU delegates patiently answered the questions regarding the requirement and procedure of enrollment, majors and fields of study, scholarship application, accommodation and job prospect as well as the information on XMU Malaysia.
Malaysian students, who are generally known to possess the desired comprehensive qualities, diversified cultural backgrounds and generally high Chinese proficiency, are well sought-after by Xiamen University. Up to now, XMU has carried out long-term exchanges and cooperation in a wide range of areas with Malaysia. Penang Xiamen Friendship Association has visited XMU on multiple occasions and discussed with XMU about the prospect of cultural exchanges and education fairs. During the period of the China-ASEAN High School Presidents Forum, which was held by XMU last year, the presidents of 46 prestigious middle schools in Malaysia and those of other middle schools in ASEAN countries gathered under one roof to explore such issues as the "globalization of education", the "interface between middle school education and college education" and so on so forth.

XMU successfully holds European Financial Management Symposium 2017
Posted: 2017-04-23  
From April 7 to 9, European Financial Management Symposium 2017 was held at XMU. This symposium, co-hosted by XMU School of Economics, the Wang Yanan Institute for Studies in Economics (WISE), Gregory and Paula Chow Center for Economic Research and European Financial Management Association (EFMA), is intended to promote international exchanges with regard to finance and help Chinese finance go global.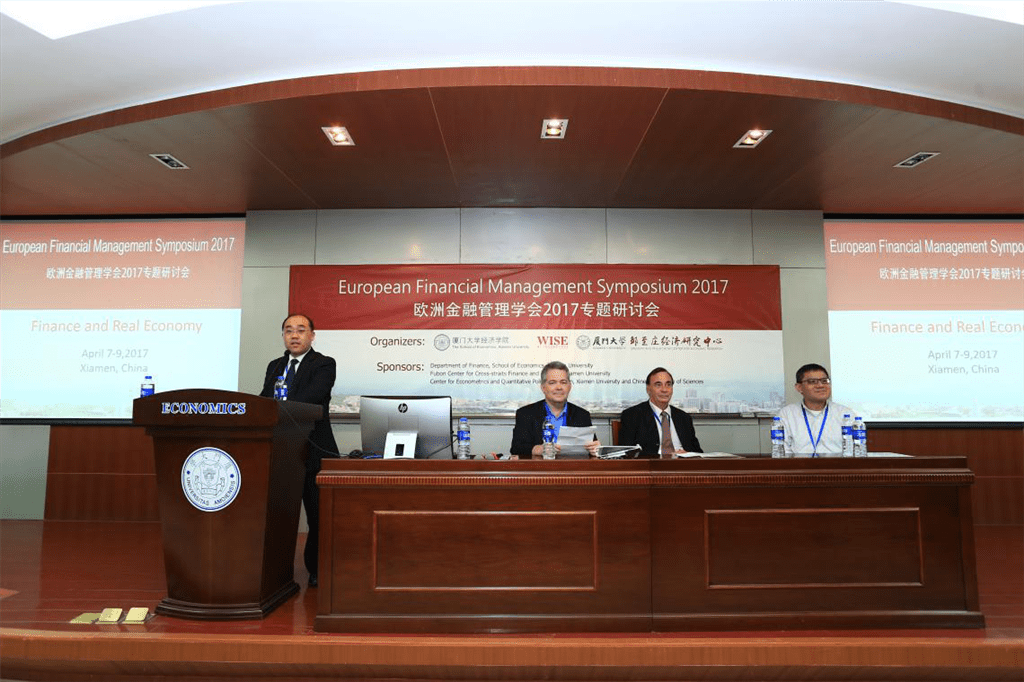 On the afternoon of April 7, the opening ceremony of the symposium commenced at N302 of the Economics Building. Prof. Zhou Ying'gang, from the Wang Yanan Institute for Studies in Economics, played host to the ceremony and gave a cordial welcome to all the participants from all over the world. At the ceremony, he also introduced the development of the finance in XMU. Today, the discipline of economics and finance of XMU has become in a class by itself in China and Asia-Pacific region and is on par with international standards.
The theme of this seminar revolved around finance and substantive economy. A trio of world-renowned financiers were invited to deliver keynote speeches. They are respectively Prof. Bruno Solnik of the Hong Kong University of Science and Technology, Prof. Warren Bailey of Cornell University and Prof. Zhang Lu of Ohio State University. Also attending the seminar were renowned scholars, financial regulators and industry elites from multiple countries such as China, the United States, Britain, France and other countries. They engaged in in-depth discussion around the issues of international finance, financial liberalization, innovation and real economy, financial engineering, monetary policy, finance, property and labor market, the influence of financial science and technology on the financial and real economy, respectively.

[

Workshop] The Sixth International Workshop on Regional, Urban, and Spatial Economics in China
Time:June 2-3, 2017
Venue:Economic Building, Xiamen University
Organizer:The Wang Yanan Institute for Studies in Economics & the School of Economics, Xiamen University, Spatial Economic Analysis
Description:The Wang Yanan Institute for Studies in Economics (WISE) and the School of Economics (SOE), Xiamen University, together with Spatial Economic Analysis, Journal of Regional Science,Papers in Regional Science,Journal of Housing Economics,Annual of Regional Science,Growth and Change,Journal of Social and Economic Geography, Environment and Planning C:Government and Policy,andLetters in Spatial and Resource Sciencesare pleased to announce that we are organizing a two-day workshop on Regional, Urban and Spatial Economics on June 2-3, 2017 at Xiamen University, Xiamen, China.
[

Lecture] Graphene, two-dimensional materials, and topological insulator
Speaker: Kang L. Wang (Distinguished Professor and Raytheon Chair Professor in Physical Science and Electronics in the Electrical Engineering Department of the University of California, Los Angeles (UCLA), United States. )
Time: Aprl. 12 (Wednesday), 15:00

Venue: Room 117, Physics & Aerospace Building, Haiyun Campus
Speaker Intro: Kang L. Wang is currently a Distinguished Professor and holds Raytheon Chair Professor in Physical Science and Electronics in the Electrical Engineering Department of the University of California, Los Angeles (UCLA). He received his BS degree from Cheng Kung University (Taiwan) and his MS and PhD degrees from the Massachusetts Institute of Technology. He is a Fellow of the IEEE and a member of the American Physical Society. He also served as the Editor-in-Chief of IEEE TNANO as well as the Editors of Artech House and other publications. His research areas include nanoscale physics and materials, topological insulators, and spintronics and devices.
German Mayor heads delegation on visit to XMU
On April 11, a delegation led by Wolfram Harald Otto Leibe, Mayor of Trier, Germany, paid a visit to XMU.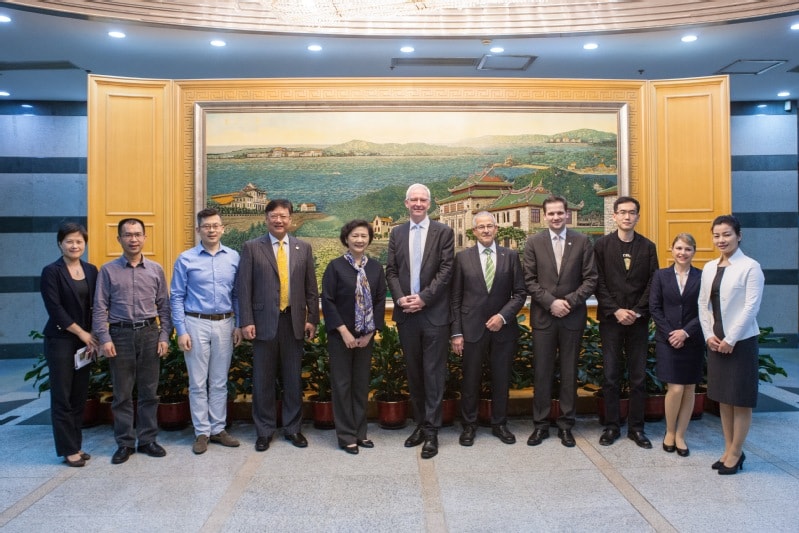 Zhu Chongshi, President of XMU, extended a warm welcome to the delegation. President Zhu pointed out that Xiamen and Trier, the two sister cities, resemble each other in many ways. As the most prestigious universities of both cities, Xiamen University and Trier University,have established extensive and in-depth cooperation with each other. So far both universities have carried out a wide range of activities including the co-construction of German Department in the XMU College of Foreign Languages and Cultures, exchanges of visits between teachers and students, joint research and University Day, etc. Meanwhile, both sides have vigorously promoted the sisterhood as well as the cooperation in education, economy and trade between Xiamen and Trier.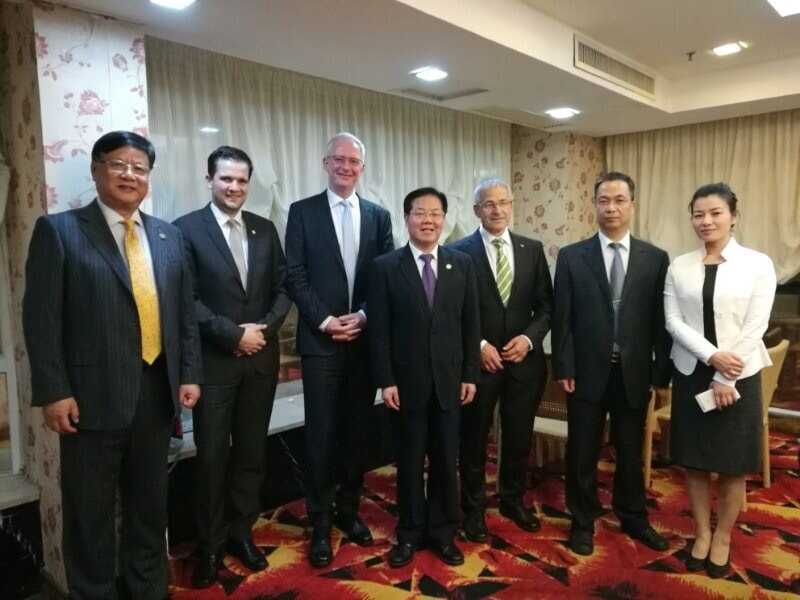 Mayor Leibe expressed gratitude to XMU's hospitality and hoped to take the occasion of the 200th anniversary of Karl Marx's birth to enhance partnership between two sides. President Zhu echoed and noted that XMU is about to send a batch of young scholars of Marxism to Trier, the hometown of Marx, for academic exchanges. Meanwhile, a symposium on Marxism and its theories will be held by both schools in honor of Marx. Moreover, as the year of 2018 happens to be the tenth anniversary of the Confucius Institute co-founded by both sides, by then XMU will arrange to send its symphony orchestra to Trier for cultural communication activities.
Next, Vice President Zhan Xinli, together with several notable alumni entrepreneurs had a talk with the Trier delegation. Both sides exchanged thoughts and experiences with regard to the opportunities and challenges facing both schools and cities.