6 Foreign Academician Join ZJU Overseas Academician Workshop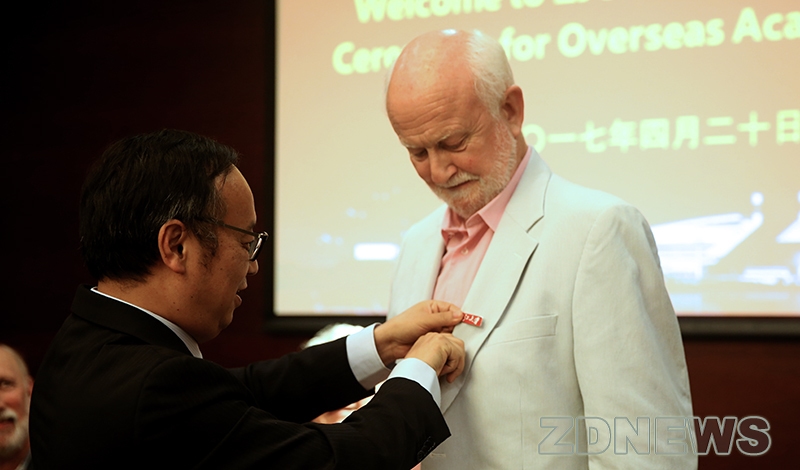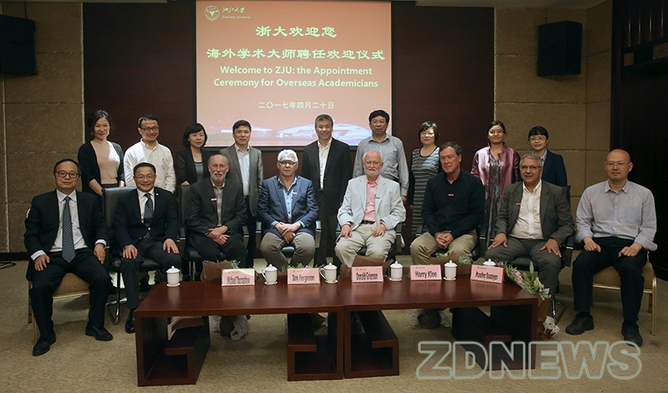 On the afternoon of April 20, Zhejiang University held a grand appointment ceremony to welcome 6 overseas academicians, including Donald Grierson, a fellow of the Royal Society of England, Michael Thomashow and Harry Klee, fellows of the National Academy of Sciences of the United States, Ian Ferguson, a fellow of the Royal Society of New Zealand and Mondher Bouzayen, a fellow of the European Academy of Sciences. They joined the Joint Overseas Academician Workshop for Fruit Quality Biology.
It is one of ZJU's pioneering initiatives to set up a pilot joint overseas academician workshop. The participation of these academicians who are armed with expertise skills and superb academic assets in fruit science, genetic engineering and gardening in the workshop will definitely facilitate the development of fruit quality biology at ZJU.
Li Yong, Director of Zhejiang Administration of Foreign Experts Affairs, pointed out that there has been a gradual shift from low- and middle-end experts to high-caliber experts, from short-term services to long-term services, and from individual experts to teams and groups in terms of the introduction of foreign experts. Zhejiang University has introduced a galaxy of world-renowned experts, which is highly instrumental to promoting the process of internalization and the construction of a world-class university, thus setting a prime example for institutions of higher learning in Zhejiang Province.
Executive Vice President Song Yonghua stressed that ZJU is making every endeavor to build a world-class comprehensive and innovation-driven university, attract domestic and overseas experts and cultivate students' global vision.
Donald Grierson expressed his hope that this partnership will further enhance disciplinary power and propel the future via science.
---
ZJU Postgraduate Xie Zheniye Wins 4x100m brozne at IAAF World Relays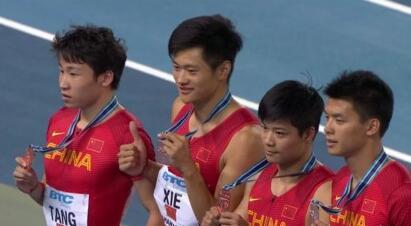 The 2017 IAAF World Relays was held in Bahamas on April 23. Xie Zhenye, a postgraduate student of the Department of Physical Education, Zhejiang University, clinched the bronze medal in men's 4X100 meters relay race together with Tang Xingqiang, Su Bingtian and Liang Jingsheng. The Chinese team clocked 39.22 seconds to finish third in the final, thus securing a berth in the 2017 IAAF World Championships in London.
---
ZJU's "Flying man" Xie Zhenie Clocks China's Best In Men"s 100m
At the NTC/Pure Athletics Spring Invitational in Clermont, Florida, on April 16, Xie Zhenye, a postgraduate student in the Department of Physical Education, Zhejiang University, won his heat in 9.91, aided by a 4.1m/s following wind. This is the record time in men's 100m in China.
This remarkable performance gave Xie Zhenye a boost. One of the major tasks for China's sprinter team this year is to attend the IAAF World Championships London 2017 in August. It is hoped that Xie will give a dazzling performance.