SBC Successfully Hosts the 2017 Discovery Day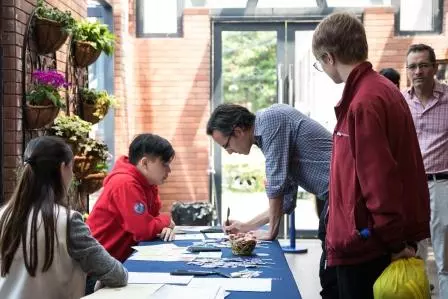 The 2017 Discovery Day was successfully hosted at SBC campus on Saturday, 16th April. Nearly 30 students and parents from different countries, including Taiwan, Hong Kong and Macao visited the campus. Professor John Wilson, Principal & CEO of SBC, welcomed all visiting guests, students and parents to the campus. A presentation about SBC was given by Professor Wilson, Dr Christine Mortimer, Director of Academic Quality and Business Development, Dr Vernon Sommerfeldt, Head of the School of Business and Management, Gordon Callan, Head of the School of Languages, Education and Cultures and Iris Yuan, Director of International Affairs.
The opening presentation was then followed by various activities including academic demonstration classes given by Dr Gareth Lewis, Tony Ryan, Hyacinth Onillon and Dr Vernon Sommerfeldt. A presentation to parents on the College careers service was given by Jackie Liu, CSD Manager. Information on scholarships, future career planning and visas was also provided. Current SBC students Chang Man-Lun from Taiwan, 2015 Business Management student, Lucy Espagnol from France, 2015 Business Management student, and Mashiat Fariha Alam from Bangladesh, 2014 Business Management student were also on hand to give advice and share their stories as to why SBC and Shanghai is a great place to study. The event also included a tour of the campus and an option to visit the USST main campus.

The Discovery Day is a great opportunity for students to meet and talk with SBC's academics and to give students and their parents first-hand experience of the 'Britishness' of SBC and the British way of teaching and learning in an international campus environment: a unique combination of one Chinese university and nine British universities.
At the conclusion of the whole event, many visiting students and parents expressed the view that they had acquired a more rounded picture of British educational resources, teaching features and the advantages of studying at SBC by all the interactive events, academic and cultural experience activities. They also mentioned that they saw the potential and possibility of having a fulfilling and wonderful study life at SBC in the four years ahead. This impression was reinforced by the fact that an Easter family day was held at the same time for all staff and students with various activities taking place in the reception area of the Teaching Building and around the campus.

---
SBC Student to Serve as the Bid Ambassador for the 46th WorldSkills Competition

Held every two years, the WorldSkills Competition is the greatest vocational education and skills excellence Competition in the world. Shanghai is currently bidding for the 46th WorldSkills Competition in 2021. After a series of activities and in-depth study by the committee, the election themed "New youth, New skill, New dreams" has selected 5 bid ambassadors. Fu Yicheng, year 2 Manufacturing Systems Engineering student from SBC has been chosen to be one of the 5 bid ambassadors for this competition and is the only student amongst the ambassadors.
In order to expand the influence of Shanghai's bid to host the Competition in 2021, the Competition Organizing Committee organised a bid ambassador election activity from 23rd February 2017. SBC student Fu Yicheng is very creative and has previously won the Junior Edison Award when he was in high school. Fu Yicheng said he doesn't like a learning style which focuses simply on passing examinations. ; however, he feels he is lucky that SBC provides him an environment where teachers encourage students to innovate.

Fu Yicheng told us that his short-term goal is to go abroad to study: "I want to promote my own projects into industry but there are difficulties, at least my personal ability is not enough, so I want to continue my studies abroad and continue to promote the industrial application of my ideas." The international atmosphere in SBC also helps Fu Yicheng to achieve this" small target " and, in the long run, he hopes to undertake scientific research.



---
CEO for One Month Campus Talk

Youth unemployment is a global challenge. There are 71 million young people that are not employed in 2016 based on statistics and in the same time many recruiters believe that lack of experience is the biggest concern when it comes to hiring young people. To address this issue, Adecco Group launched its 'CEO for One Month' project in 2014.
On 30th March, Adecco Group came to SBC campus for the third year and offered a wonderful session to SBC students.
At the beginning of the session, Steven Shan, Recruitment Manager from FESCO Adecco, shared his perspective as a recruiting expert. He encouraged students to step into the shoes of an employer and think about what a company would like to see in a candidate, instead of just what students would like to demonstrate to employers. This approach was very important, he emphasised, as he received many resumes that did not meet the basic requirements. He continued to talk about tips for writing a resume and interviewing and urged students to plan their career path as early as possible.
In the second part, Frank Zhang, PR Manager, presented the overall process for 'CEO for One Month' project. Then he explained the rationale for this project and what the winner would do as a CEO during the period. As the global winner from last year explained in a video, by working at the side of a CEO of a Fortune 500 company, the project actually enabled her to learn more in the month than in the previous 10 years,. Mr Zhang encouraged students at SBC to apply and grab the opportunity, even though they may not feel prepared for everything at this moment.
Lin Dian, the overall winner in China in 2016, is a sophomore at SBC now and shared what she had learned. . She did not know she would go this far when she applied but did everything she could to prepare. She asked her fellow students at SBC to learn and take responsibility and, most importantly, to enjoy the experience. Her success, as a role model, was a big inspiration.

The whole session was a great success as 45 students attended the talk and more than 30 registered on the spot to sign up for the challenge.

'CEO for One Month' is part of Adecco's Way to Work Program, the Adecco Group global initiative to support young people at the beginning of their careers. Through Way to Work, the Adecco Group provides internships and apprenticeships (over 5,000 between 2015/2016), career guidance, training, and the chance to become the 'CEO for One Month'.


---
Senior delegation from Shanghai Publishing and Printing College visit SBC
On 6 April, a senior delegation from Shanghai Publishing and Printing College visited The Sino-British College (SBC). Members of the delegation included Ms Wang Dan, Director of International Office, Ms Su Yiyin, Director of Finance Office, Professor Wang Zhengyou, Director of the Department of Film and Art, and Ms Shen Yikun from the Centre of International Education. The delegation was met by Professor Linda Liu, Vice-Dean of SBC and senior colleagues from the departments of finance, HR and Registry.
On behalf of SBC, Professor Liu extended a warm welcome to the visitors. She gave a brief introduction on the establishment and recent development of SBC, including the unique model of partnerships, teaching, research and mechanism for internal management at SBC. Following the presentation, in-depth discussions were held on the running of Sino-foreign JV education, collaboration with partners, academic staffing, teaching quality assurance, student recruitment, student management and campus development.

Professor Liu expressed that communication with educational institutions is greatly encouraged by SBC. It is hoped that collaboration between the two institutions can be enhanced in the future to promote the development of international education together.


---
Officials from the Chinese Ministry of Education visit SBC




On 30th March, a senior delegation from the Chinese Ministry of Education (MoE) visited The Sino-British College (SBC). Members of the delegation included Mr. Yu Jihai, Deputy Director-General of the Department of International Cooperation and Exchanges, Mr. Che Weimin, Deputy Director of the Chinese Service Centre for Scholarly Exchange (CSCSE), Mr. Wang Yi, Deputy Head of the Division of Chinese-Foreign Cooperation in Running Schools, the Department of International Cooperation and Exchanges, Mr. Zhao Tiejun, Deputy Head of the Department of Degree Endorsement, CSCSE, Mr. Cui Yining, Officer, Department of Chinese-Foreign Cooperation in Running Schools, CSCSE and Ms Wang Jing. The delegation was accompanied by Mr. Liu Jiangyuan, Associate Researcher, Division of International Affairs, Shanghai Municipal Education Commission.
Members of the SBC executive team met with the officials on their arrival, including Professor John Wilson, Principal and CEO of SBC, Professor Linda Liu, Vice-Dean of SBC, Dr Liu Bin, Secretary of Joint Party Branch and Deputy Director of Campus Management Committee, Fuxing Campus, and Dr Christine Mortimer, Director of Academic Quality and Business Development.

Following the welcome speech given by Professor John Wilson, Professor Linda Liu gave a brief presentation on the establishment and recent development of SBC, in particular the innovative managerial approaches and uniqueness of the College. It is reported that over the past 10 years, following the concept of 'morality education is the top priority for people-oriented education', in-depth consideration has been given on talent cultivation in terms of aims and approaches. SBC has also established an effective mechanism for the running of the College with an innovative model for educational cooperation under the framework of University of Shanghai for Science and Technology (USST). This allows double-degree students and direct entry students, and Chinese students and international students to have the same opportunities for receiving international education by making full use of the unique strength and multi-cultural environment of SBC. In addition, the quality educational resources from SBC's UK partner universities are also being introduced into USST, making SBC a valuable bridge for transferring international education.

Mr. Yu Jihai highly recognised the success achieved by SBC in all aspects and congratulated the team on the recent successful renew of the licence. He is pleased about the fact that the UK partner universities are fully supportive for the development of the College. It is expected that SBC will continue to succeed with its advanced concept for Sino-foreign JV education, a stable team of foreign teachers and leadership team.

Mr. Wang Yi enquired about the matters relating to teaching quality assurance, introduction of educational resources and strategic planning for the future. In response, Professor John Wilson expressed that teaching quality at SBC is standardised and implemented effectively through the NCUK platform for academic management. In the process of selecting degree partners, the academic strength, research capacity and level of international accreditation are highly regarded by SBC as key criteria. Under the three overarching themes as set in the Vision 2025, i.e., responsible leadership, enterprise and innovation, and cultural empathy, SBC is committed to fulfilling its strategic goals by enhancing the overall quality and level of the College, rising from scale to quality.
Mr. Che Weimin expressed that officials at MoE are currently discussing about the possibility of holding the Sino-UK high-level people-to-people exchange dialogue in the UK this year. It is hoped that SBC could provide full support for the event by making use of its international reputation and UK partner university network.

On behalf of the Shanghai Education Commission, Mr. Liu Jiangyuan thanked the MoE officials for their visit. He expressed that as a secondary college and a JV institution, SBC has grown as a fine example for Sino-foreign JV education in Shanghai, with full support from officials at the Shanghai Education Commission. It is expected that in the next 10 years, the College will play a more significant role in enhancing the overall development of international education in Shanghai.

Following the meeting in the SBC English Tearoom, the senior visitors were shown around the campus. The officials highly recognised the efforts made by SBC in offering a truly international learning environment to students, combining both the Chinese and European architectural styles.

---