International Marathon Entering NWAFU

On April 9th, 2017 Besun Yangling International Marathon was held in mild drizzles.




This marathon had around 20,000 participants. NWAFU marathon racing track is around 1.8 kilometers. The finishing point of half marathon is set in Seasons Square in the south campus. Marathon passes by the west gate of the south campus.

As the co-sponsor of the competition, NWAFU put into over 1600 staff, including 1300 student volunteers, 200 security officers, and 20 medical workers.
---
Delegation of Taiwan Chunghwa Yu Youren Research Society Visiting NWAFU

Date:2017-04-20

On the afternoon of April 7th, Lai Canxian – president of Asia Taiwanese Chambers of Commerce – led the delegation of Taiwan Chunghwa Yu Youren Research Society and visited NWAFU to make inquiries about NWAFU's founder Mr. Yu Youren.

Visiting Yu Youren Educational Thought Memorial Hall



Visiting Agricultural History Memorial Hall
The delegation highly praised the picturesque and the characteristic Exposition Garden. They also expressed appreciation for NWAFU's exploration of Yu Youren's education thoughts and the elaborate decoration of the memorial hall.
Visiting No.3 Building in the north campus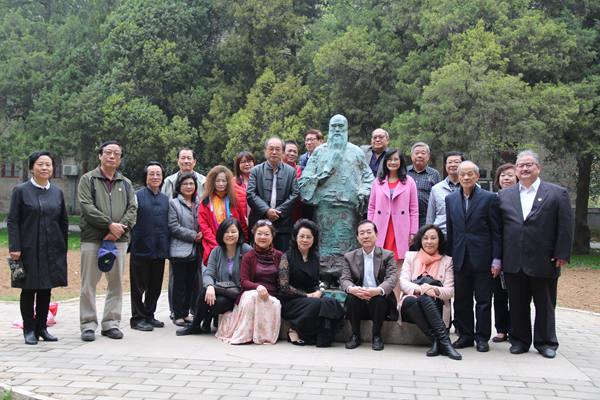 Adoring Yu Youren's bronze statue
---
Yang Ling Marathon VI Design on Show

Date:2017-04-19

On April 9th, 2017 Yang Ling International Marathon kicked off. Yang Ling Marathon Visual Identity Design completed by Wei Yixiao, teacher at the College of Landscape Architecture and Arts, was proudly on show.

Half Marathon arch

Mini Marathon medal

Family Run medal

Marathon & Half Marathon medals



This year's medals for Marathon and Half Marathon are based on the ancient wagon wheels, with the 24 Solar Terms distributed around.
Mini Marathon medal derives from clover – a common plant in Yangling, symbolizing every running participant, and the happiness, the gratitude, and the miracle in the ordinary life.
Family Run medal originates from 2015 Yangling Marathon mascot Ling Ling, standing for enthusiasm, joy, harmony, and happiness.