Delegation of Bashkir State Medicine University, Russia, Visits SCU






On the afternoon of April 7th, Mr. Xie Heping, President of Sichuan University, met with the delegation led by Valentin Pavlov Nikolaevich, President of Bashkir State Medicine University, Russia, and Associate Academician of Russia Academy of Sciences. Li Hong, Vice Executive President of SCU, and Yan Shijing, Vice President of SCU, together with related officers of the University, attended the meeting.
SCU and Bashkir State Medicine University are the members of Sino-Russian "Medical Alliance" and the "Alliance of Two Drainage Basins" (the upper reaches of the Yangtze River and the Volga River Federal District), both of which have gained fruitful achievements based on their close relationship. During the meeting, Present Xie highly praised the long-term and favorable partnership between the two universities, and expressed his hope to have a further insight into the notable universities in Russia, including Bashkir State Medicine University, so as to carry out more practical cooperation and communication in talents cultivation and scientific researches, etc, thus making more contributions to promoting the cultural and educational exchanges between both countries.
President Valentin Pavlov Nikolaevich briefed the basic situation of Bashkir City, especially Bashkir State Medicine University. He also agreed with the suggestions proposed by President Xie and expected that both universities could implement a comprehensive cooperation at a greater depth and higher level, in an effort to facilitate the development of both sides.
The delegation will attend the "Conference of Chinese Urine Therapy Association", visit the West China School of Medicine/West China Hospital, and hold discussions with the teachers and students.
Bashkir State Medicine University, founded in 1932, was located in Bashkir City, Russia. In Nov. 2013, the delegation of the University visited SCU and signed a cooperation agreement. Until now, both universities have carried out several programs of teachers and students exchanges.
---
James Watson Becomes the Honorary Professor of SCU and Delivers a Keynote Speech
April 2nd, afternoon, Dr. Watson arrived at the studio of SCU's Wangjiang Campus,made a keynote speech titled Science·Cooperation·Life and communicated with SCU's students.President Xie, on behalf of SCU, granted the certificate of SCU's honorary professor to Dr. Watson, and the "Father of DNA" became a member of SCU. The students on site greeted with the warmest applauses Dr. Watson's official joining, who is expected to help the SCU to build itself into a world-class university.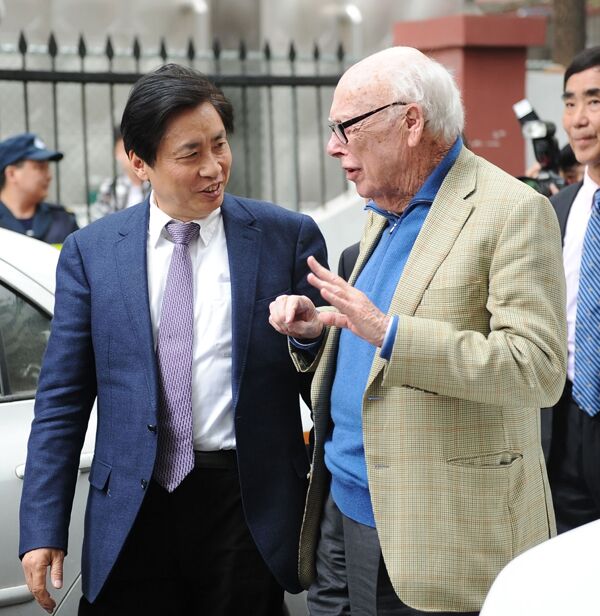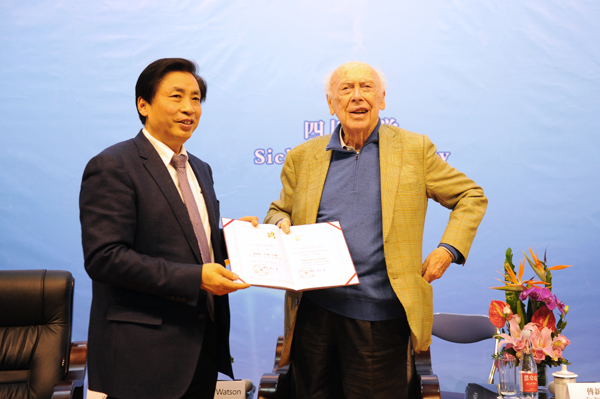 In his speech President Xie remarked that the visit of Dr. Watson and his brilliant speech can not only offer us more insight into the latest frontier knowledge and development tendency of bioscience research, but broaden our innovative thinking and research vision to explore academic frontier. He expected that there could be an opportunity to establish a "Watson Precision Medical Center" in SCU as well as in Chengdu together with Dr. Watson, and jointly launch precision treatment of cancer based on genome and life health big data, so as to make greater contributions to the solution of major medical puzzles and the enhancement of human well-being.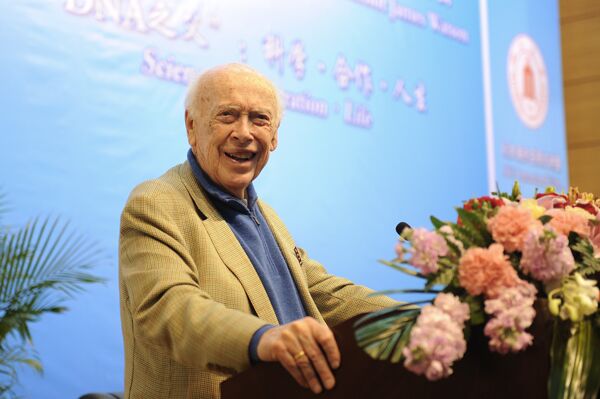 Amidst the warm applause, Dr. Watson delivered a keynote speech titled "Science·Cooperation·Life". During the lecture, Dr. Watson shared with the students his personal experience accumulated in reading and researches. He believes that "reading" is the foundation for learning knowledge and making innovation; "having a goal" is the precondition of a successful career; "a strong enterprising spirit" is the impetus for engaging in scientific researches; and "working with excellent people" is the key to success.
According to Dr. Watson, he doesn't talk that much, while instead he spends half of everyday reading, as he thinks books are more exciting than people, and reading can help generate inspirations. By reading, a person can not only accumulate knowledge, but also motivate and exercise thinking.
"You should only spend much time with someone who does something better than you", said Dr. Watson, "and always have someone you can learn from"; for a successful career, one must learn from people who are smarter, and learn how to work with other people; and a great team is critical to the success of research. Citing his own story, he attributed the discovery of the DNA double helix structure to his cooperation with Mr. Crick, plus the guidance from many outstanding professors.
Particularly, Dr. Watson highlighted the importance of family education and school education to personal growth. He believes the most important trait of a great university is its cultural inheritance. Beyond formulas, the university teachers should guide students, teach them culture, ideas, and spirit that will benefit students through life. He added that, the happy time he spent and the quality education he received in the University of Chicago laid a foundation for his success, and the most important things taught by the university were culture and thinking training; meanwhile, his family, since his childhood, taught him culture, and gave him a desire for success, which later became a strong impetus for him.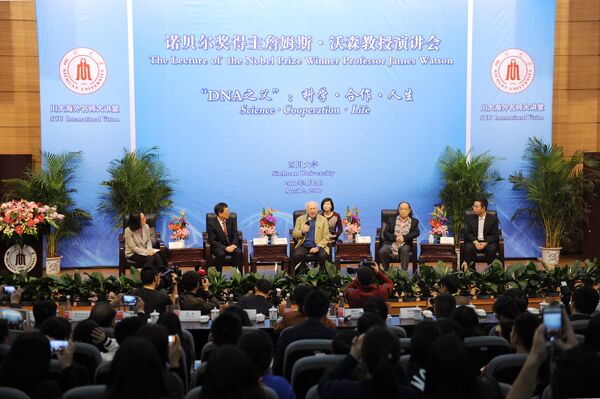 After the lecture, the teachers and students present had a dialogue with Prof. Watson on such questions as "How to read scientific journals and write scientific papers?", "What kind of research system should be established by the developing countries?", "How to grow into an excellent scientist?", and "What is the necessary personality for a scientist?"
Prof. Watson commented that the person who wants to become a scientist must dedicate himself/herself to thinking about and researching on major issues, and the key to success lies in a vision to discover key problems and unremitting efforts. In his words, Sichuan University is a great university which provides students with great research facilities, thus the students should take full advantage of the university's quality resources, learn from distinguished professors, study hard, concentrate on researches, and join hands to overcome series of world-class science conundrums such as cancer.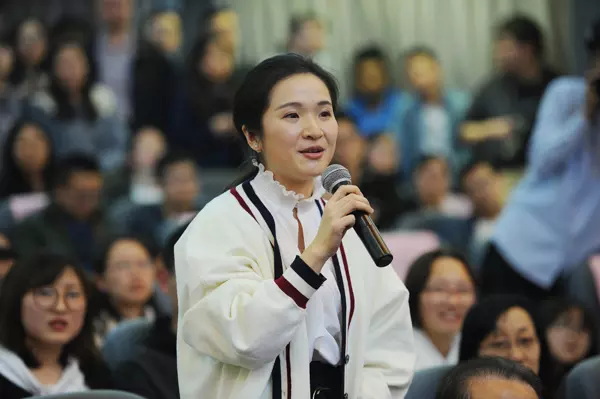 When one student asked about "What is the most important personality for a scientist", Prof. Watson tastily answered: "Do not be selfish". He holds the opinion that, as a scientist, one has to spend more time with smart people, learn to cooperate with others, respect others' wisdom and achievements, and acknowledge others' contributions; only by making friends with the people better than self can one learn from other people and make continuous progress.
During the whole lecture, Prof. Watson was sometimes humorous, sometimes straightforward, sometimes contemplative, and sometimes laughing heartily, and his speech was greeted with bursts of laughter and applause. After the lecture, SCU's students said that it was exciting and honorable for them to see the legendary person in textbooks deliver a report in our university and serve as our honorary professor. Huang Cheng, a postdoctor in SCU's State Key Laboratory of Biotherapy, expressed that, "the dialogue with such a great scientist as Prof. Watson gives us a great inspiration, especially for me at the beginning of my research career; it further steadies our ideal and belief in concentrating on scientific researches and serving our nation".
The lecture was chaired by Wei Yuquan, Vice President of SCU, and attended by Zhou Xuedong, Vice Chairman of SCU University Council, Yan Shijing, Vice President of SCU, Liu Ruyin, CEO of Cheerland Investment Group, and Lan Xinguo, former Chairman of Sichuan Airlines Group, as well as over 500 teachers and students of SCU.
It is learned that one of the important goals of this visit is to facilitate the settle-down of "Watson Precision Medical Center" in China. On the afternoon of April 2nd, right before the lecture, the delegation led by Watson made a special visit to SCU's State Key Laboratory of Biotherapy for a negotiation on cooperation issues. As a core unit of Major Special Project for "Significant New Drugs Development", a national comprehensive new drugs R & D platform, the State Key Laboratory of Biotherapy has set up a series of key technology platforms ranging from gene discovery to drugs R & D, pilot production and clinical treatment. In 2013, the Biotherapy Collaborative Innovation Center headed by SCU, with the State Key Laboratory of Biotherapy as the core unit, was listed in the first batch of national "Collaborative Innovation Center 2011". In 2015, the State Key Laboratory of Biotherapy, as a core unit, was approved by the state to establish "National Major Science and Technology Infrastructure for Translational Medicine (National Biotherapy Translational Medicine Center)".
Profile:
James Dewey Watson
Dr. James Watson is one of the most notable scientists in the 20th century, and one of the most influential scientists in today's world as well.
As the discoverer of DNA's double helix structure, Dr. Watson was awarded the 1962 Nobel Prize in Physiology or Medicine, and was reputed as "Einstein in the Field of Bioscience" and the "Father of DNA".
Dr. Watson is also the founder and flag-bearer of molecular biology, as well as the first director of Human Genome Project. In his nearly 70-year career, he promoted the development of biology towards molecular biology and biomedicine, and built the Harvard University and Cold Spring Harbor Laboratory (CSHL) into global powerhouses in that field successively.
Since early 1980s, Dr. Watson has visited China for several times, offering help to a host of Chinese scientists of different ages, including Tan Jiazhen, Wang Yinglai, Li Zaiping, and Chen Zhu; meanwhile, he invited and sponsored a great number of Chinese students and scholars to join in Cold Spring Harbor Laboratory or other institutions for further education, thus having made remarkable contributions to the cultivation of Chinese high-caliber talents in the domain of bioscience. In recent years, he has been absorbed in the research of cancer treatments, in the belief that rather than DNA sequencing, only the combination of biology and chemistry can find a way to really cure cancer. He hopes the Watson Bioscience Laboratory to be built could guide Chinese specialists in the field of biochemistry to conduct far-reaching bioscience researches, and better facilitate the discovery of solutions to cure cancer.
---



Warm Welcome – the Father of DNA's SCU Tour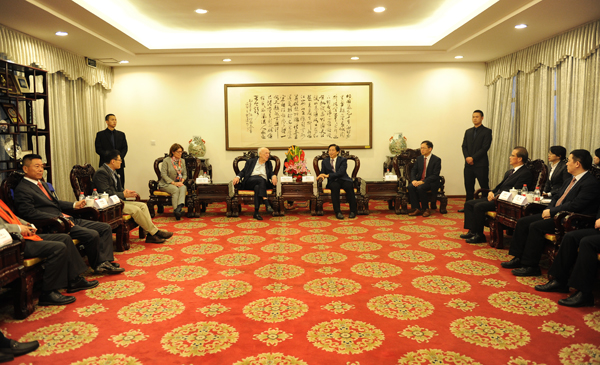 April 1st, afternoon, one of the greatest biologists in the 20th century -- James Watson, laureate of Nobel Prize in Physiology or Medicine who is reputed as "Einstein in the Field of Bioscience" and the "Father of DNA", paid a visit to Sichuan University.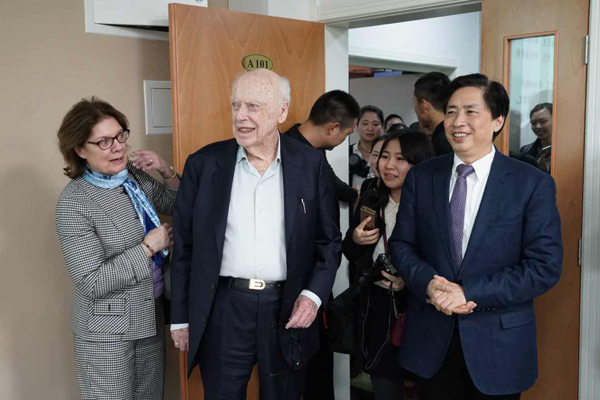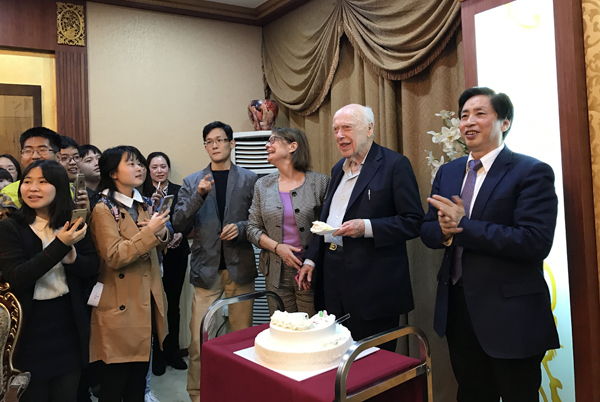 President Xie Heping extended a cordial welcome to Dr. James Watson and his delegation. President Xie indicated that, Sichuan University has the largest single hospital worldwide – West China Hospital, and the sole State Key Laboratory of Biotherapy in China; the research projects of SCU's several institutes have some intersection with Dr. Watson's research. Then he expressed his desire that Dr. Watson could pay attention and offer support to SCU's development of biomedical treatment-related disciplines, and cooperate with SCU in relevant research.
Dr. James Watson expressed his appreciation to SCU's warm reception, and he humorously remarked that SCU is a highly modernized university, hoping that the books won't vanish from the campus due to advanced digital teaching apparatus.
James Watson received warm cheers from students while visiting our university's seminar room. This senior scholar in nearly 90s was touched by the students' passion, and drew in person the schematic diagram of the classic DNA double helix on the whiteboard of the classroom and signed his name. This is the first time he wrote down his epoch-making findings at a Chinese university. And this board will be specially collected by SCU.
After being aware of James Watson's 90th birthday is coming, the university specially prepared a birthday cake for him. As President Xie and the faculty members and students present sang the birthday song, James Watson, with flowers in his hand, smiled really happily. Moreover, more students eager to see James Watson packed outside the room.
The meeting was joined by Ma Weihua, Director General of National Fund for Technology Transfer and Commercialization, Liu Ruyin, CEO of Cheerland Investment Group, Lan Xinguo, former Chairman of Sichuan Airlines Group, Guo Xiaoyong, Vice Chairman of China International Public Relations Association, Wei Yuquan,Vice President of SCU, Yan Shijing, Vice President of SCU, along with the heads of the University's relevant departments.
---
DCM of the Indian Embassy in China, Mr. Narang and His Delegation Visits SCU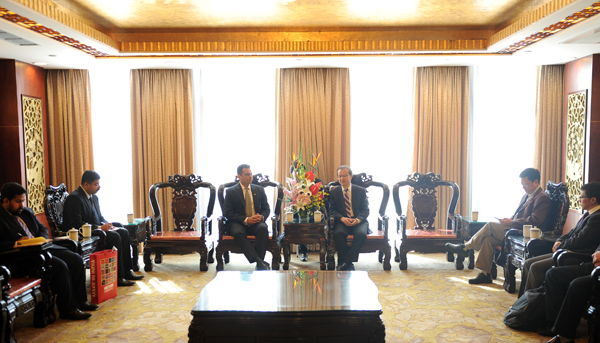 March 30th, morning, Vice-president Yan Shijing met with the delegation headed by Mr. Amit Narang, the deputy chief of mission (DCM) of the Indian Embassy in China.
Yan Shijing, on behalf of Sichuan University, extended his appreciation to the Indian Embassy for their support to SCU and its Institute of South Asian Studies; he briefed the guests on the basic information of SCU and represented that, as one of the universities with the longest historical standing, the largest scale and the most complete disciplines in China, SCU boasts a high level in the study of South Asia, and especially in the study of Indian issues; the university is willing to serve as a bond in facilitating the academic and cultural exchanges between China and India, and play an active role in consolidating the friendship between the two countries.
Mr. Narang expressed his gratitude to the hospitality of SCU; he remarked that, China and India, both countries with ancient civilization, were the two largest emerging economies on the globe. He was so glad to find that many Indian students study in SCU, he added. And he hoped that SCU could go deeper in India-related academic studies and do a lot more in boosting the interaction and exchanges between the youths of the two nations.
The heads of SCU's relevant departments attended the meeting. Two sides had a heated discussion on the "India Week" activity to be held in SCU and other cooperation-related issues.