Prof. Frank Giblin from the University of Oakland visited Hubei University of Medicine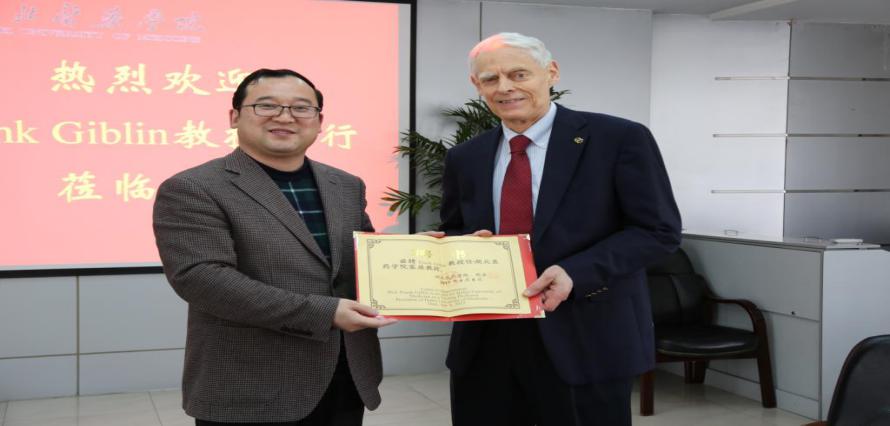 On the afternoon of April 8, Prof. Frank Giblin from the Univeristy of Oakland visited Hubei Uniersity of Medicine. President Tu Hanjun hosted the Welcome Ceremony. In attendance were Vice President Yan Shirong, key members from the Department of Scientific Affairs, Department of Human Resources, Graduate Department, and Department of International Affairs.
During the Welcome Ceremony, Prof. Tu Hanjun extended warm welcome to the guests, followed by a brief introduction to HUM, including the school size, postgraduate and international education as well as the five hospitals affiliated with HUM. Prof. Tu said HUM has established partnerships with universities in the UK, Australia and USA, and look forward to developing collaborations with UO in any possible areas. HUM and UO have its own strong points. HUM has large population of students and patients, but is lack of teaching, research and health care resources, which are just the strong points at the University of Oakland. He suggests that we explore possible collaborations in the following fields: student exchange, inviting UO's professors to give lectures at HUM, HUM faculty going to UO for study and observation, and make joint efforts to contribute to medical development.
Prof. Frank Giblin gave a detailed introduction to the University of Oakland, the Eye Research Institute, and the retinal research. Prof. Frank Giblin was appointed as HUM's Visiting Professors and presented with the Certificate of Appointment by President Tu Hanjun.
In the evening, Prof. Giblin gave a lecture on "How to prepare an excellent manuscript for an international journal". The lecture was hosted by President Tu Hanjun, and more than 300 faculty and students in attendance. Prof. Giblin gave a detailed introduction on how to write an excellent manuscription from several aspects: the current status of Chinese articles, why do scientists publish, preparations before starting, construction of an article, technical details, revision and response to reviewers, and ethical issues. Jane Giblin gave a lecture on "Bringing Nature home- My life in the USA".
After the lectures, the audience exchanged ideas with professors on how to write an excellent manuscript and life in the USA.
HUM Lecturers Teaching International Students of Clinical Medicine
2015-09-06 09:32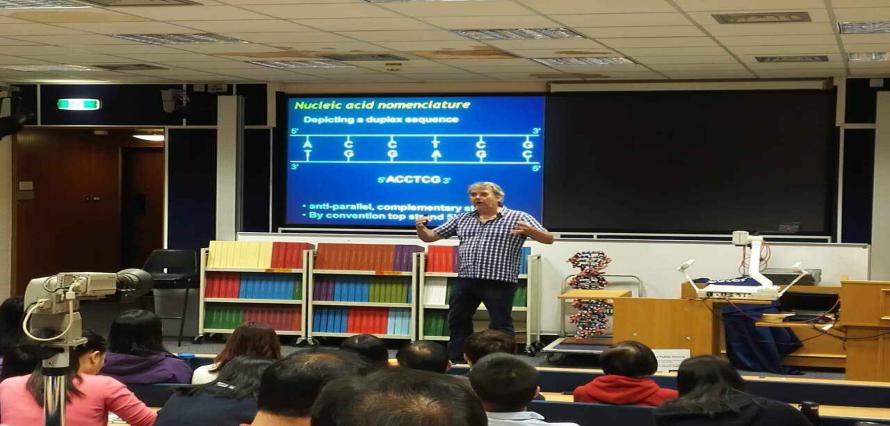 During the month of August 2015, an academic delegation of 15 lecturers teaching MBBS students went to the UK for a 3 week training program. This training program was run by the College of Medicine, Biomedical Sciences and Psychology at the University of Leicester through the Biomedical CPD Project. This program consists of an excellent course of practical English listening and speaking skills, teaching methodology, guided experiments and medical research presentations.
All of the delegates learned of common teaching methods in biomedical education in the UK, of tools and techniques in bioinformatics, and observed demonstration lectures in genes, genetics, forensic genetics as well as genetic experiments. The delegates were totally impressed by the passion and enthusiasm demonstrated by the tutors at Leicester. They also acquired a unique experience of being students themselves once again, to witness how to combine teaching with entertaining. The teaching methodologies PBL, CBL, TBL, as well as assessment and feedback, were integrated into the teaching sessions.
Visiting the lab at Leicester made a deep impression on the delegates because it is people protective and people oriented. On the "academic theme day", they had the opportunity to hear 15 researchers' reports in biomedical sciences which were useful guidance to their own research development.
During the training, the delegation took the good opportunity to discuss furthercollaborations with the University of Leicester for personnel exchange,distance teaching and research cooperation. This will offer new opportunitiesfor extensive international exchanges and collaborations between the two institutions.
The 3rd English Speech Contest Was Successfully Held in HUM
On the evening of December 4, the 3rd HUM English Speech Contest was held in the Multi-functional Hall within the No. 8 Teaching Building. Vice President Prof. Yan Shirong attended the opening ceremony. Also in attendance were leaders of the Department of Academic Affairs, Department of Student Affairs, and different schools of HUM.
At the opening ceremony, Prof. Yan Shirong pointed out that HUM holds the English speech contest to build a productive learning environment, stimulate students' learnig enthusiasm, and select the winners to participate in higher levels of English speech contests in Hubei Province . She hopes that teachers and students can take this opportunity to make full use of the excellent English learning conditions provided by HUM and spend more time educating themselves so as to lay a solid foundation for the future development.
The Speech Contest was made up of two parts, impromptu speech and question answering. A total of 17 students took part in the competition. After heated competition, Li Yunguo from the Institute of Medicine and Nursing won the special-class award. Li Zhiyu from the Second Clinical School and Wu Shidi from the Third Clinical School won the first prize