ECNU's International Students Football Team takes crown
ECNU's International Students Football Team ousted 5 other squads to take the champion of 2017 Normal Universities International Student Football Competition on May 7. The international football tournament, hosted by the Ministry of Education at Beijing Normal University, composed of 11 teams from six universities - Beijing Normal University, East China Normal University (ECNU), Central China Normal University, Northeast Normal University, Shaanxi Normal University and Southwest University - of which competed for the title in a series of eight matches. The teams organized a total of 60 students from 35 countries.

Kunqu Classic "The Peony Pavilion" live, real, full of thrills
At the concert hall of the Zizhu International Education Park at ECNU's Minhang Campus, an audience gathered to experience the ancient, romantic charms of "The Peony Pavilion". It was performed by the actors of the Shanghai Kunqu Opera Troupe live on the evening of April 26.
"The Peony Pavilion" - a play written by Tang Xianzu during the Ming Dynasty - is one of China's most beloved and cherished opera classics. This enchanting tale, a love story that transcends both time and space, takes place in a garden setting where the characters encounter both dreams and supernatural elements. The heroine of the story, Du Liniang, is the daughter of the Nan'an Prefecture's chief governor Du Bao. One day, Du Liniang falls asleep in the family garden of the governor palace, she has a vivid dream of falling in love with a handsome young scholar named Liu Mengmei. Although it has traditionally been performed as a Kunqu opera, today all Kunqu theater troupes include it in their repertoire of opera performances.
The drama on the ECNU stage was starred by young actors of the Shanghai Kunqu Opera Troupe - Zhang Li, Ni Xuhao and Lei Siqi - who displayed a heroic and sensational performance; the audience was most impressed with their soft voices and peculiar movements in their manifestations of the story.
The Shanghai Kunqu Opera Troupe was invited by the Daxia Stage to give this particular performance. As the solid leader and organizer of ECNU's cultural activities since 2012, Daxia Stage is widley popular among ECNU teachers and students as a sponsor of fantastic Chinese cultural events ECNU's life-force entertainment.
Kunqu Opera is one of the oldest forms of classical-Chinese opera style. It evolved from the Kunshan melody that dominated the Chinese theatre performances from the 16th to the 18th century. This style of opera originated in the Wu cultural area of eastern China's Jiangsu Province. Since 2001, UNESCO has listed the Kunqu Opera as one of the Masterpieces of the Oral and Intangible Heritage of Humanity.


Shanghai-HK Principals Forum, integration and cooperation
On April 28 and 29, principals from Shanghai and Hong Kong held a forum at ECNU's Zhongbei campus to commemorate the 20th anniversary of Hong Kong's return to Chinese Mainland. The theme of the forum was "Sharing Development and Carrying on Innovation". It was hosted by the National Training Center for Secondary School Principals of the Ministry of Education, and co-sponsored by the Hong Kong Greater China Association, Shanghai Chinese Overseas Friendship Association, Shanghai Municipal Education Commission and Hong Kong Education Bureau.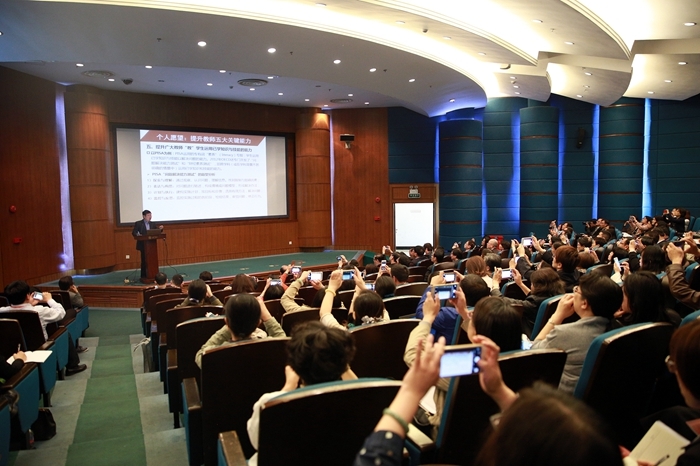 More than 200 representative officials from various academic circles and other entrepreneurs from the two cities exchanged views on ambitions and improvements for state-of-art education reform, research achievements, and school management. The attendees also visited Qiyi High School, a century-old public middle school in Shanghai and an affiliated of Tongji University.

The Ministry of Education's National Training Center for Secondary School Principals was established in October 1989, entrusted to ECNU as the sole leader of its organization and implementation strategies, is the only State-level training agency for middle school principals in China, of which includes serving a national base for middle school principals in Hong Kong and Macao. Over the years it has teamed up with many of China's education circles to host dozens of training programs for faculties of Hong Kong middle schools to which around 650 principals and education leaders have participated.