Job fair for international students held in Donghua
DONGHUA University held its first large-scale job fair for international students on Tuesday with about 50 companies offering 150 internships and full-time jobs, attracting about 400 students.
"China has included retaining outstanding international students into its talent strategy to boost economic development and facilitate cultural communication with other countries," said Wu Xiaojun, vice dean of the International Cultural Exchange School of Donghua. "We will do our best to help international students settle down in Shanghai and China."
The university also established an International Student Center for Career Development on Tuesday to provide policy consultation and guidance in looking for jobs or starting up their own businesses.
Aalina Shenderivk, a Russian student learning Chinese at Donghua, told Shanghai Daily that she was in her second year of bachelor program and wanted to find some internship in local companies so as to know better about Shanghai.
"I would like to stay in Shanghai after graduation as I think there are more opportunities here than in my homeland," she said. "I have some advantages as I know both Chinese and Russian cultures and I'm also learning business in Russia during vocations."
Rock Wang, recruitment and training manager of the Meorient International Exhibition Co, said they were very interested in international students as their business is expanding in the world.
"International students can help us better communicate with companies in their homelands with not only fluent languages, but also understanding of the native cultures and rules," he said.
The company offered 14 internship positions in seven foreign languages and students could work full-time after graduation if they perform well, he added.
(Students apply for jobs at a job fair in Donghua University Tuesday. -- Ti Gong)
---
"UK-China Fashion Forum·Innovation & Entrepreneurship in the Fashion Industry" Held at DHU

On March 28, co-sponsored by China Fashion Association, Cultural and Education Section of British Embassy, Shanghai Promotion Center for City of Fashion and Donghua University (DHU), the "UK-China Fashion Forum·Innovation & Entrepreneurship in the Fashion Industry" was held at the Yan'an Road Campus of DHU, which is deemed as a continuation of China-UK exploration in fashion education and innovation & entrepreneurship in the fashion industry after the visit of Justine Greening, the British Secretary of State for Education, to DHU last December.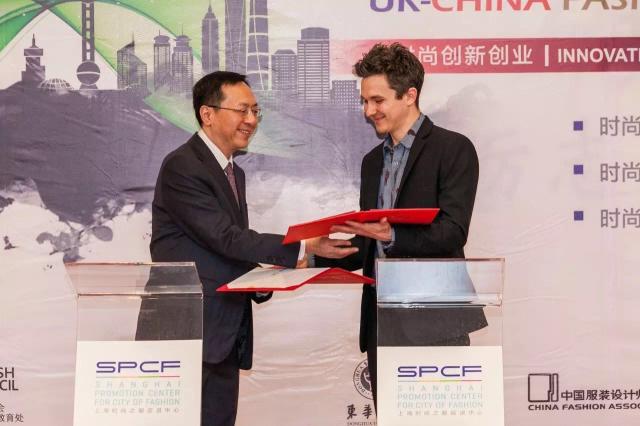 Matthew Knowles, East China Area Director of the British Council, Kendall Robbins, Fashion Director of British Council, Jenico Preston, Commercial Director of British Fashion Council, Paul Alger, Director of International Affairs at UK Fashion & Textile Association, outstanding British designer Phoebe English, Bian Xiangyang, Vice Chairman of China Fashion Association and Director of Shanghai Promotion Center for City of Fashion, Zhi Yuebei, Vice Director of Shanghai Promotion Center for City of Fashion, DHU Professor Gu Qingliang Wu Xuekai, Winner of Jinding Award, and Xu Yiwei, Founder of ALL COMES FROM NOTHING, together with dozens of designers, fashion education experts, senior executives from fashion incubator enterprises and senior commentators attended the forum presided over by Li Jun, Deputy Dean of Shanghai International College of Fashion and Innovation.
Bian Xiangyang and Matthew Knowles delivered speeches respectively and they both hoped to take advantage of this opportunity to strengthen the mutual understanding and learning, thereby boosting the fashion development in China and UK. Besides, the two sides entered into a memorandum of friendship and cooperation, which lays a solid foundation for promoting the China-UK fashion and cultural exchanges and cooperation to a higher level, deeper and broader area.
Seven Chinese and British fashion experts and outstanding designers gave wonderful keynote speeches concerning fashion education and brand incubation. Jenico Preston, Paul Alger and Kendall Robbins introduced the experience of their respective associations in supporting fashion innovation and entrepreneurship. Prof. Gu Qingliang and Designer Wu Xuekai gave, from the perspective of education and industry respectively, a brief exposition of the history of China's fashion industry as well as looked into the future development trend. Based on their own experience in establishing and managing brands, designers Phoebe English and Xu Yiwei pointed out that guidance and assistance from the alma mater and industry association is of huge importance to the success of fashion innovators and entrepreneurs.
The participating designers identified themselves with aforesaid speakers. In the subsequent roundtable discussion, they interacted with fashion education experts, industry association leaders and senior executives of fashion incubator enterprises with respect to brand promotion, support from industry association, ecological environment of fashion and other aspects, deeply exploring the developmental trends and direction of innovation and entrepreneurship in the fashion industry.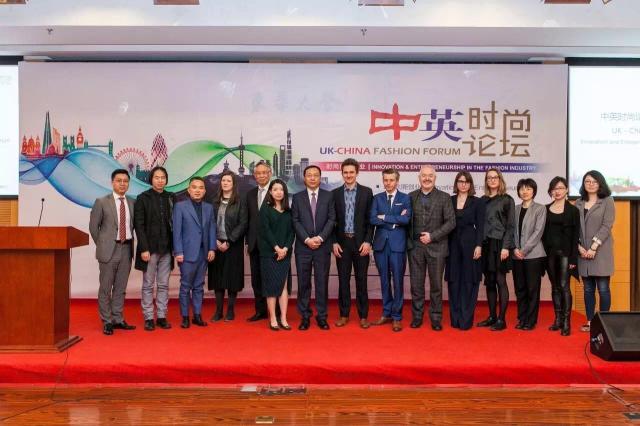 ---
Professor Wang Xiaodong from Columbia University Appointed as Adjunct Professor of DHU
On March 23, the appointment ceremony of Professor Wang Xiaodong as an Adjunct Professor at Donghua University (DHU) was held at Songjiang Campus. Qing Fengling, Vice President of DHU, along with officials from Personnel Office and teachers and students from the School of Information Science & Technology, attended the ceremony presided over by Li Wei, the Director of Office of Talent Affairs.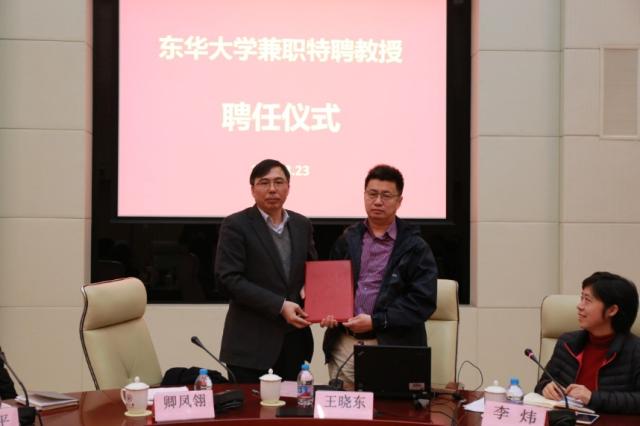 Awarded with the doctoral degree by the Department of Electrical Engineering at Princeton University in 1988, Wang Xiaodong is currently a professor at the Department of Electrical Engineering of Columbia University in the United States, a chair professor under Chang Jiang Scholars Program initiated by Chinese Ministry of Education and a chief researcher at NEC Labs. In 2008, he became a Fellow of Institute of Electrical and Electronics Engineers (IEEE) and has served as editors for several top international journals including IEEE Transactions on Information Theory, IEEE Transactions on Signal Processing and IEEE Transactions on Communications, as well as chairman, vice chairman and committee members of several international academic conferences. His research direction is primarily concerned with communications and signal processing and he, as of now, has published more than 800 papers in wireless communications, statistical signal processing, wireless networks, smart grid and other fields.
---