Vice-premier meets US Caltech president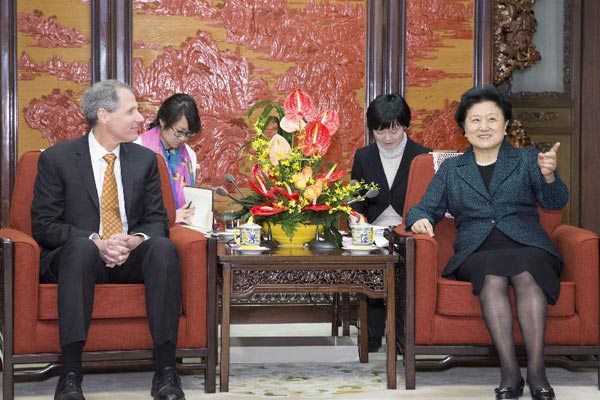 Vice-Premier Liu Yandong (R) meets with Thomas F. Rosenbaum, president of the California Institute of Technology (Caltech) in Beijing, capital of China, March 19, 2015. (Photo/Xinhua)
BEIJING — Vice-Premier Liu Yandong on March 19 met with the California Institute of Technology (Caltech) President Thomas Rosenbaum.
Liu said people-to-people exchanges play an important part in building new type of China-US relations and promoting understanding and friendship between the two peoples.
She recalled prominent Chinese scientists, including Zhou Peiyuan, Qian Xuesen and Hua Luogeng, who studied at Caltech in 1940s and 1950s.
"I expect Caltech to deepen exchanges and cooperation with Chinese universities and research institutes and make positive contribution to China-US people-to-people exchanges," Liu said.
This is Rosenbaum's first China visit since taking office as Caltech's ninth president in July 2014.
Xi greets president of Harvard
President Xi Jinping meets with visiting Harvard University President Drew Gilpin Faust at the Great Hall of the People in Beijing on Monday. (Photo/China Daily)
President Xi Jinping called for more people-to-people exchanges between China and the United States on Monday as he received visiting Harvard University President Drew Gilpin Faust for the second time in seven years.
Calling such exchanges a key pillar of the Sino-US relationship in the new era, Xi said China makes education a priority and attaches great importance to exchanges and cooperation with the US in the education, science and technology sectors.
Xi called for closer ties between the nations' universities, adding that he would like to discuss the buildup of the new type of relationship between major countries during his visit to the US in September.
Faust, the first female president in Harvard history, said the university has established long-term cooperation with China and is willing to strengthen exchanges and cooperation in education and science sectors.
Sino-US cooperation in education has played a role in improving public understanding and in the development of the relationship, she said.
Harvard, one of the world's most prestigious universities, has long had relations with leading Chinese institutions, including Peking University and Fudan University.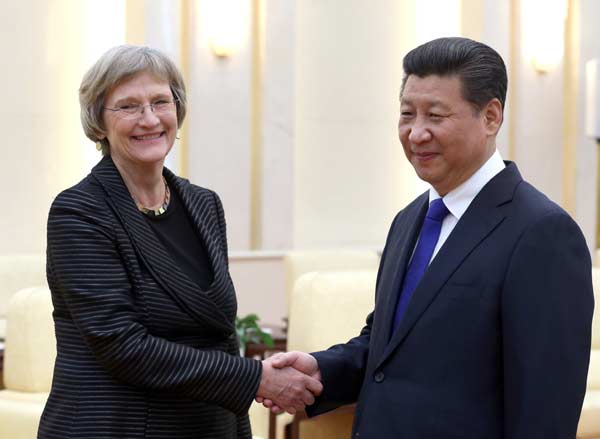 Faust was scheduled to give a speech at Tsinghua University, Xi's alma mater, on Tuesday.
In March 2008, Xi met Faust during her first visit to China after assuming the presidency of Harvard in 2007. People-to-people exchanges between the two countries have seen progress since then.
In 2009, US President Barack Obama announced the 100,000 Strong Initiative to encourage more US students to pursue studies in China. Michelle Obama, his wife, said last year that China was the fifth-most popular destination for US students.
China is the largest source of foreign students attending US universities, with more than 270,000 students studying there last year.
In another development, Xi met European Parliament President Martin Schulz on Monday at the Great Hall of the People.
Xi said he believed China and Europe could find new opportunities for cooperation in the coming 13th Five-Year Plan (2016-20), a blueprint for China's development. Schulz said that despite challenges in the relationship, the European side would like to strengthen pragmatic cooperation with China in various fields.
Schulz is leading a delegation in China from Sunday to Wednesday. He will visit Tianjin later and give a speech at the Chinese Academy of Social Sciences.
The EU has been China's largest trading partner for years. Two-way trade volume reached more than $615 billion last year, up 9.9 percent from the previous year.
Beijing and Brussels are expected to conclude an investment pact soon, China Daily quoted Schulz as saying earlier this month.
State Council sets the goal of soccer reform
An overall reform plan to boost the development of soccer in China has been issued by the State Council General Office.
The reform and development of soccer in China is an important component to build a sports power, said the plan issued on March 16. The changes should be "issues oriented" and the system needs innovation, the plan added.
It requires China Football Association to terminate its affiliation to General Administration of Sport of China, and the Association will have no administrative ranks inside.
Sports lottery will be used to increase investment in boosting soccer, and two more soccer training centers at the national level will be established, the plan said.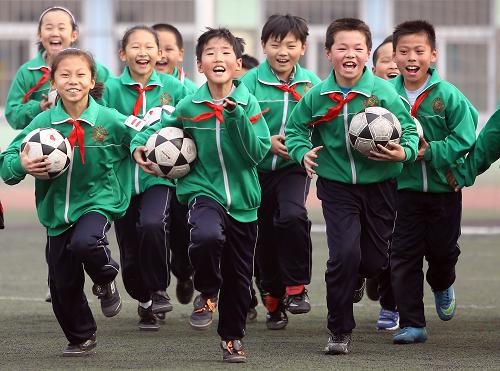 The total number of elementary and middle schools featuring soccer will increase from the current figure of around 5,000 to 20,000 in 2020 and 50,000 in 2025.
Short, mid- and long-term goals have been defined by the plan to boost both professional and amateur soccer in the country.
The long-term goals include bidding for hosting the FIFA World Cup and bringing the game of the national team to the rank of international teams