CWU Signs Cooperation Memorandum with BWU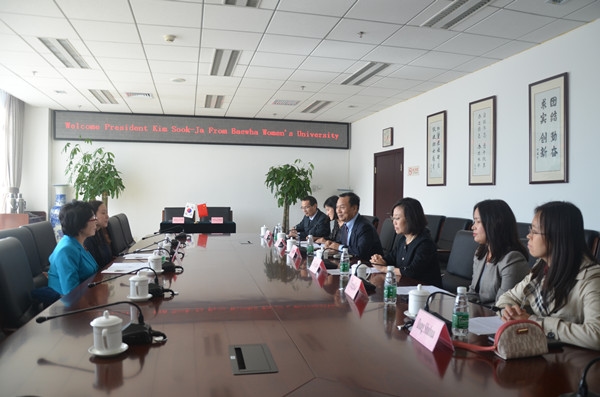 On October 12, Li Mingshun, the Chairperson of China Women's University(CWU) Council, and its president Liu Liqun received Kim Sook Ja, president of Baewha Women's University (BWU), Republic of Korea.

Li Mingshun warmly welcomed Kim Sook Ja for her participation in the forum, and introduced CWU's development situation, department layout, and professional features.
Kim Sook Ja introduced BWU's history and notable characteristics. Li and Kim discussed the issues of student exchange, curricula and specialist cooperation. They reached consensuses on the construction of characteristic disciplines and subjects, and signed a memorandum of cooperation.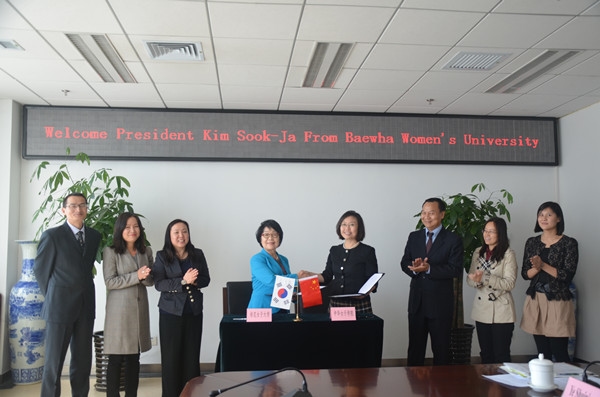 BWU was founded in 1978. It is a Christian university committed to fostering talented young women on the basis of honesty, diligence, and service. BWU has maintained steady development as a women's higher-education institute. Today, it is recognized as a prominent university for female professionals in Korea.
Kim Sook Ja is a doctor of law, contract researcher in Peking University, and visiting scholar at Minzu University of China.
Teachers from Academic Affairs Office, the Law School, the Department of Foreign Languages, and Foreign Affairs Office also attended the reception.
Duksung Women's University Delegates Visits CWU
A delegation of officials from Duksung Women's University (DWU), Korea, visited China Women's University (CWU) on January 19. CWU vice-president Liu Meng welcomed the guests and presided over a seminar.
The delegates included Seung Hoon Choi, director of the DWU International Affairs Office; Hyo Jin Kwak, assistant secretary for DWU International Affairs; and, Yong Hwan Lee, leader of the Project on Global Partnership between UN Women and DWU.
Directors from the CWU Administrative Office of Scientific Research, Student Affairs Office, and Foreign Affairs Office participated in the event.
During the gathering, the two sides discussed the bilateral development status of teachers and students since they had formally established the cooperative relationship, and exchanged opinions on how to promote the program for exchange students.
Liu expressed full agreement with the DWU's suggestions on further developing the global partnership with UN Women and gave a positive response. Liu also further discussed the specific cooperation programs and details with guests.
Lee outlined the Building Global Partnership of Young Women project, and detailed the project's vision, planning and characteristics. Li Mingshun, Chairperson of the CWU Council, had previously participated in the second world conference which was sponsored by the DWU in 2014.
Lee expressed heartfelt gratitude towards Li's support and contribution, and invited CWU delegates to attend the third world conference that will be held in August 2016.
DWU is a comprehensive women's university founded in 1920. CWU signed a protocol on October 2013, and started a student exchange program in the second semester of 2014.
DWU signed a memorandum of cooperation with the UN Women in 2011, and co-sponsored the world conference for young women in 2012. They also launched several training courses during the conference, which attracted some 100 universities from 30 countries to participate.

CWU Holds Award Ceremony for Dr. Feng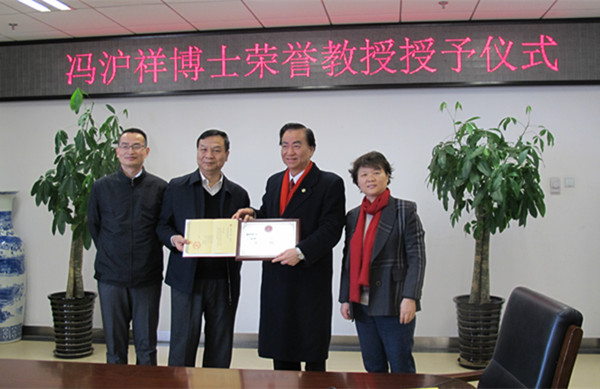 China Women's University (CWU) appointed Dr. Feng Huxiang as honorary professor, and held an award ceremony for him on January 19. Directors from the International Chinese Education Department and Foreign Affairs Office participated in the event.
Feng Huxiang is a scholar famous in Taiwan, former professor of the Philosophy Research Institute of National Central University (NCU), and honorary director of the People's Service Association Across the Taiwan Strait. He also takes charge of the Taiwan Cross Strait Culture, Education, and Economic Trade Association, and works as visiting professor at the School of Economics and Administration at Tsinghua University.
Feng has researched widely on comparative philosophy, Chinese cultural philosophy, the ideological system of Sun Yat-sen, and Marxist criticism. Following the "China-based" research method, Feng has remained committed to explaining Chinese philosophy within the Chinese paradigm.
Feng said that there may be considerable scope for cross-Strait cooperation in women's higher education and female leaders training. Women's universities have unique cultural mission to popularize Chinese culture and family construction, women's education, and aesthetic education, he said. These universities should also help young women to build cultural confidence.
In the face of social problems, students should hold critical thinking, and solve problems from the perspective of gender culture. Only in this way, could the students give full play to the advantages of gender, and become a contributing member for the rejuvenation of China, Feng added.
Li expressed his heartfelt gratitude towards Feng, and hoped that the professor could fully play his roles as well-known scholar and cross-Strait social activist, establish platforms for the cooperation with higher institutes in Taiwan, and contribute to improving CWU's international level, and the building of characteristic campus culture.