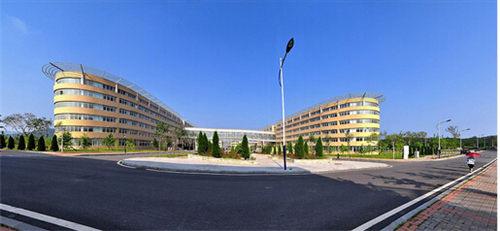 Dalian University of Foreign Languages (DLUFL) is located in the beautiful coastal city of Dalian. Formerly known as Dalian School of Japanese Language, it was founded in 1964 with the gracious attention of late Chinese Premier Zhou Enlai. It aimed at training foreign affairs officials, Japanese translators and Japanese interpreters. It is now under the administration of the Education Commission of Liaoning Province. Through 40 years of development, DLUFL has fledged into a multi-disciplinary foreign language university which also offers programs in other fields like arts, economics, management, engineering and law.
DLUFL offers 20 bachelor programs among which 10 lead to master programs. The 20 bachelor programs include Japanese, English, Russian, French, Korean, German, Spanish, Arabic, Italian, Chinese, Chinese Literature, Teaching Chinese as a Second Language, Art Design, Tourism Management, International Economics & Trade, Computer Science & Technology, Information Management and Information System, Computer Software Engineering, Journalism and Music Studies. Japanese Language & Literature and English Language & Literature are named key disciplines at the provincial level.
Altogether over 20,000 students are currently studying at the university, including 700 postgraduates, 10,000 undergraduates, 900 international students, and nearly 10,000 students for adult education and on various training programs. Since its establishment, more than 50,000 students have graduated from the university and over 300,000 students have received language training here. The university cherishes a staff of nearly 900 members, including more than 300 professors and associate professors. Over 20 scholars are appointed as discipline leaders at the provincial or municipal level. In the meantime, we employ on a regular basis about 80 language teaching experts from other countries such as the United States, Japan, Russia, the United Kingdom, France, Germany, Austria, Canada, Australia, and the Republic of Korea.
DLUFL has a pre-departure training center for overseas studies approved by the Ministry of Education, a training base for the International Cooperation Project on 21st Century Human Resource Development of Liaoning Province. It is in charge of the assessment of the students on the provincial self-study programs teaching English, Japanese, International Trade English, and Korean. There is also a test center directly under the Ministry of Education administering over 20 language tests such as TOEFL, GRE, HSK, JLPT, BJT, KPT, and WSK.
DLUFL attaches great importance to international exchanges and has established a multiple training model. We have entered into partnership with over 100 universities, research institutions and civil societies from 20 countries. Over 300 undergraduates and postgraduates are sent abroad each year to study at prestigious universities in Japan, Russia, the Republic of Korea, France, Germany, Austria, New Zealand, the United Kingdom, the United States and other countries.
DLUFL takes it as its mission to cultivate talents with multidisciplinary knowledge, multiple skills and an international orientation; hence its graduates enjoy a good reputation in the society.
DLUFL is a cradle for foreign language talents and a bridge leading to the world.