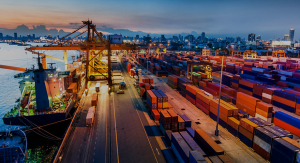 Logistics- the most important subject now a days. Imagine you explaining your entire incident in a court in front of the judiciary and have no data or evidence to support your tragedy, you will find it simply rejected. That's the importance of logistics now a days.
As it is well said,
            "Without data you are just
                     Another person with opinion"
                                              -W. Edwards Deming
There are many benefits of studying logistics in china.
Some of the benefits of studying logistics in china are as follows:
Job opportunities:
As the global economy has expanded, logistics has become increasingly important. Outsourcing has provided new challenges and new opportunities in logistics. There are never unavailability of job opportunities for a student with a degree in logistics.
Logistics careers can be started anywhere.
Unlike some careers that require you to relocate to a specific area or region, careers in logistics can begin anywhere. Nearly every company and organization has a need for logistics workers and managers.
Fee:
Studying logistics in china is not that much expensive. The Chinese government has always cared about the people who want to contribute any good in this country or in the world. The fee for each major under different programs i.e. bachelors, masters and postgraduate programs are different. The fee averagely ranges from 20,000 RMB to 60,000 RMB per year depending upon the following factors:
1.  The university you choose
2. The major you choose
3. The degree you choose
4. Scholarship
Expenditures:
It is to be believed that even in this modern era when everything is out of the hands of a financially mediocre person, china still cares about people. Students studying in the cities like Beijing and shanghai can still easily spend a month with pocket money in between 1500 to 2500 RMB. However the above mentioned value is just for the comparison and may vary from person to person and the life-style you choose.
Excellence of education:
As china has rapidly increases its educational standards from past couple of years meeting all the international standards, the quality of education offered to the overseas students is according to the international education system. Come join us today to enjoy all these modern day facilities with other overseas students from all over the world.
Learning mandarin:
All though you will be studying your courses in English but even then you will be unexpectedly provided by enough chances to learn a new language and not just the language with that language you may interact with the locals make some new friends and learn more about the country.
Best universities for logistics:
There are many universities in china with great international reputation. The universities are ranked highly due to the standard of their education, facilities they provide to the students and infrastructure.
The best universities in china for the logistics are as follows:
Nankai University
Beijing Jiaotong University
Beijing Technology and Business University
Shanghai Maritime University
Xi`an International University
Shandong Yingcai University
Beijing Normal University, Zhuhai
Huazhong University of Science and Technology
Shanghai University of International Business and Economics
Yunnan University of Finance and Economics
Xinjiang University of Finance & Economics
Hefei University
Beijing Wuzi University
Zhejiang Wanli University
Zhuhai College of Jilin University
Changsha University
City College of WUST
Opportunities:
By learning the logistics in china will open many doors for you in the future. China always appreciate the hardworking and talented people from all over the world especially the ones who are interested in studying in china. Moreover the degree from china is like a golden ticket that will take you anywhere in this world.