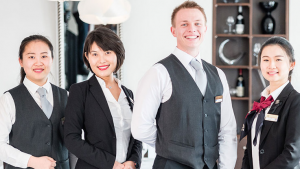 Managing a hotel comes with a range of everyday jobs. You must be able to adjust to new challenges, help different departments and certify that the hotel maintains a standard of excellence. As a hotel manager, you will be responsible for supervision and having a strong knowledge of finance, planning, service and organization. While you have a team of managers working along with you, as hotel manager you have to lead rather than follow. You must also make sure your staff are managing their time and departments professionally, whether that be through improving their monthly profits or simply ensuring a guest's expectations are exceeded.
Is a degree in hotel management worth it?
If you're planning to pursue a hospitality career, diploma is a must for those who don't want to spend years before getting a management position in a prosperous hotel chain. Any area in the industry has opportunities only readily accessible for workers with degrees, including most management positions. China as we know today expanding day by day and covering every field of education; hotel management is also one of the most appreciated degree in the world especially when you have a international degree and one from china!
Job opportunities:
There are many job opportunities for the graduates of hotel management especially from china. Here is a list of places where you can start hunting for your job after your graduation in hotel management:
BANQUET & CONFERENCES
FOOD & BEVERAGE MANAGEMENT
FRONT OFFICE RECEPTION
RESORT MANAGEMENT
RESTAURANT MANAGEMENT
SPA AND WELLNESS MANAGEMENT
CONCERTS, FESTIVALS & EXHIBITIONS
WEDDING COORDINATION
AIRLINES
AMUSEMENT PARKS
CASINOS
CATERING
CRUISES
CONSULTING
For the graduates from china, SKY IS THE LIMIT!
Details of hotel management in china:
The hotel management in china is offered under many programs I.e. bachelors, undergraduate and post graduate. The bachelors degree for hotel management in china is a 4 year program with all the syllabus taught in English.
The tuition fee is somewhat in between 10,000 to 12,000 RMB per year however for the accommodation the fee is around 3000 RMB.
Famous universities in china for hotel management:
There are many universities in china that are famous not only in the country but also in ASIA as well as in entire world. Here is a list of some of the famous universities in china for hotel management,
Suzhou Centennial College
University of Surrey
Zhejiang University
Jiangsu University
Shandong University
Tianjin University
Dalian University of Technology
Ecole de Management de Lyon / Sun Yat Sen University
Surrey International Institute Dongbei University of Finance and Economics